---
GOVERNOR'S NEWSLETTER January 2017
In This Issue
FROM THE DESK OF THE GOVERNOR
KNOW YOUR GOVERNOR-ELECT
CHAPTER ACHIEVEMENTS
EDUCATIONAL & SCIENTIFIC COMMITTEE ACTIVITIES
BLOCK YOUR CALENDAR
SAVE THE DATE for the 2nd ACP India Chapter Congress
NEW FELLOWS
NEW MEMBERS
ACP STUDY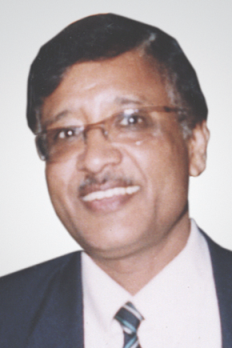 S.B. Gupta, MD, FACP, ACP Governor
---
FROM THE DESK OF THE GOVERNOR
Dear Colleagues,
It is almost 2 years since the ACP India Chapter was launched and I am happy to announce that it has grown in size and today we have 562 members - 2 Masters, 174 Fellows, 269 full members, 14 Resident/Fellows, 86 medical students and 17 Physician Affiliate members. I encourage you to participate in the ACP's Recruit-a-Colleague Chapter Rewards Program so we can strengthen and grow the chapter further. For details visit .
We shall be conducting a Chapter survey next month and I would like each one of you to take out some time to give us your honest feedback and suggestions so we can better understand member expectations and plan activities and member engagement, across regions, accordingly.
I would like to extend my heartiest congratulations to the Governor-elect, B.A. Muruganathan, MD, FACP who will take over as Governor in April 2017. I look forward to working closely with him and the new Advisory Council to make the ACP India Chapter one of the largest Chapters outside of the United States. You would be delighted to know that the ACP India Chapter has won the 2016 Chapter Excellence Award. The award recognizes chapters which successfully meet the standards for managing a chapter. To support the chapter's operations ACP HQs rewards the chapter US $2000. The Chapter will also be given a certificate at the next Chapter meeting and will receive an acknowledgement of this award during the Awards Luncheon at the Board of Governors Meeting at Internal Medicine 2017 to be held at San Diego, California. It should be our endeavor to win this award year on year.
The next ACP India Chapter meeting will be held in New Delhi from 11-13 August, 2017. Details of the venue, registration and scientific program shall be posted on the India Chapter website . Nitin S. Damle, MD, MS, MACP, President, ACP (2016-2017) and Jack Ende, MD, MACP, President-Elect have very kindly agreed to grace the meeting and share ACP's vision for the region. We expect other international faculty to participate. In this Chapter meeting we would like to hold a Clinical Skills workshop as also hold the finals of the 'Doctor's Dilemma' competition. The winning team can be one of the 50 teams that will participate in the 'Doctor's Dilemma' competition at the Internal Medicine Meeting to be held in New Orleans, LA in 2018.
I have enjoyed my tenure as Governor of the Chapter and would like to wish you and your families a Merry Christmas & a Happy, Healthy and Successful 2017!
Warm regards,
S.B. Gupta, MD, FACP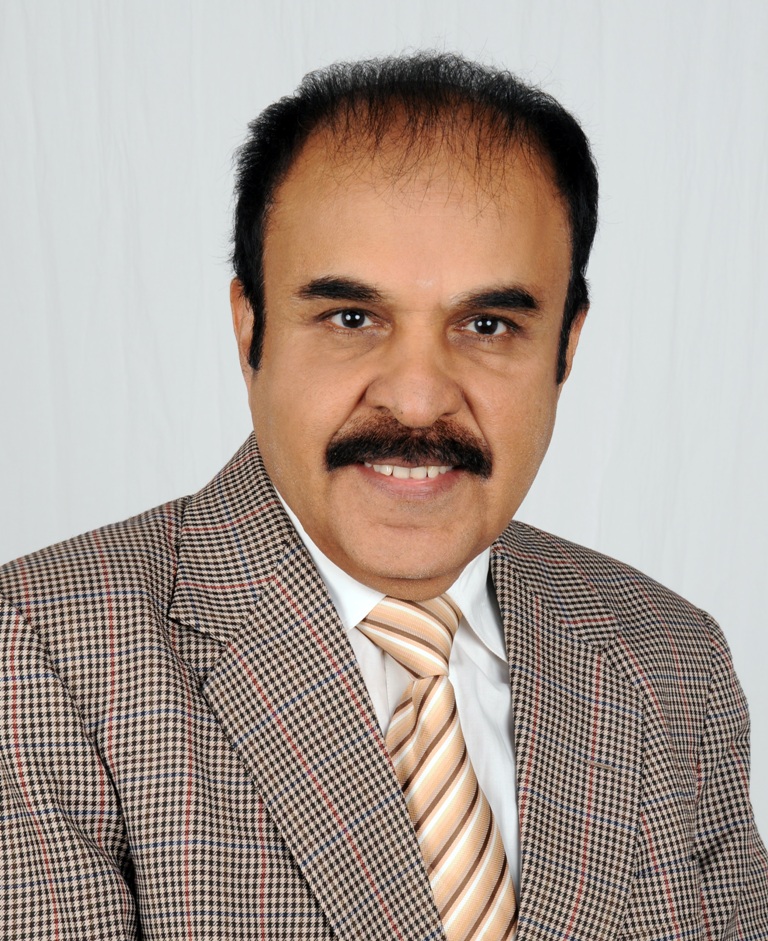 Congratulations to the India Chapter Governor-elect, B.A. Muruganathan, MD, FACP. Our new Governor-elect (GE) will start his four-year term as Governor in the Spring of 2017. As Governor, Dr. Muruganathan will serve as the official representative of the College for the India Chapter, providing a link between members at the local level and leadership at the national level. In the meantime, Dr. Muruganathan will be working closely with Dr. Gupta (the current Governor) and College staff to learn about the College and his duties as Governor. To learn more about the new GE, feel free to read his bio below.
Education: MBBS, 1973 from Stanley Medical College. MD, 1978 from Madras Medical College, Madras University
Post Doctoral Training: 6 Months as a Special Trainee in Intensive Medical Care at Government General Hospital at Chennai (Apr 1978 to Sep 1978)
Certification: FICP-Indian College of Physicians (2008). FRCP (Glasgow) 2010, FACP (USA) 2012, FPCP (Philippines) 2013 & FRCP (London) 2014
Present Position: Consultant Phys. & Chairman of AG Hosp., Tirupur. Emeritus Prof. & Planning Board Member TN. Dr. MGR. Medical University
ACP Chapter Activities/Leadership Activities: Governing Council member of the ACP India chapter till date. Finance Committee member. Helped in organizing and fund raising for "1st ACP India Chapter Congress – Medicine 2016" held at Mumbai. Delivered a talk on "Dengue, Malaria and H1N1: When to get concerned and Challenges in Management" in the above conference. Motivated many delegates and API members to join ACP.
ACP National Activities: Fellow since 2012. Participated as a dignitary on the dais in the convocation ceremony held in April 2013 as an invited guest of the ACP President. Met the President, Prof. Bronson, Vice President Mr. Ott, and Regents Drs. Kutty and Mir. After the conference, visited ACP Headquarters in Philadelphia to discuss ACP India chapter formation and initiated the discussion on starting the ACP India chapter. Proposed around 25 senior physicians for ACP Fellowship.
Other Appointments/Activities: President – Hypertension Society of India (H.S.I) 2015-2016 (Associate Member in WHL); Dean – Indian College of Physicians (2016-2017). President – Association of Physicians of India (2013-2014); Honorary Prof. IMA CGP; JNU Institute for Medical Sciences and Research Centre, Jaipur. Editor, Annals of Internal Medicine (Indian Issue) from 2015 till date; Chief Editor of the Books namely, Manual of Hypertension 2015, Adult Immunization Book 2014; API Medicine Update 2013; and Assist. Editor – Journal of Association Physicians of India (JAPI) 2015 till date; In recognition of the exemplary leadership – received the following awards:-Dr. B.C. Roy Award from President of India, Best Performing Doctor Award from Tamilnadu Government, "Medical Teacher of the Year Award 2015" by National IMA, Lifetime Achievement Award from 1. Tamilnadu IMA, 2. KG Foundation Coimbatore, 3. Dr. Mohan's Diabetic Foundation, 4. Tamilnadu DR. M.G.R. Medical University, 5. Saveetha Med. Univ., Service above self, meritorious service and distinguished service awards from Rotary International.
Areas of Professional Interest and Expertise: Hypertension, Diabetes, Obesity and Adult Immunization
The ACP India Chapter is a proud recipient of the 2016 Chapter Excellence Award! In order to achieve the Chapter Excellence Award, chapters must meet all basic criteria and ten optional criteria. Criteria include such activities as formulating an effective Governor's Council and committees, communicating frequently with membership, providing educational opportunities, recruiting and advancing members and celebrating membership through local awards.
EDUCATIONAL & SCIENTIFIC COMMITTEE ACTIVITIES
The ACP India Chapter in association with the Association of Physicians of India (API), Mysuru Chapter, celebrated World Elders Day with a free health camp for the elders at Dr. Sri Rajendra Bhavana, JSS Hospital on 1 October 2016.
The event was inaugurated by senior journalist Niranjan Nikam who in his address at the silver jubilee of World Elders' Day. He appreciated the initiative taken by the ACP India Chapter and API in organising the event.
M. Suresh Babu, MD, FACP and Prof. of Medicine, JSS Hospital, Chair - Membership Development, ACP India Chapter and President of API Mysuru Chapter in his welcome address, spoke about the prevalent discrimination against the elderly in the health care and the association's efforts to address them through these health camps. Four senior physicians Dr. C. D. Sreenivas Murthy, Dr. B. V. Rajgopal, Dr. Balakrishna Achar and Dr. (Capt.) G. S. Venkatesh were felicitated on the occasion.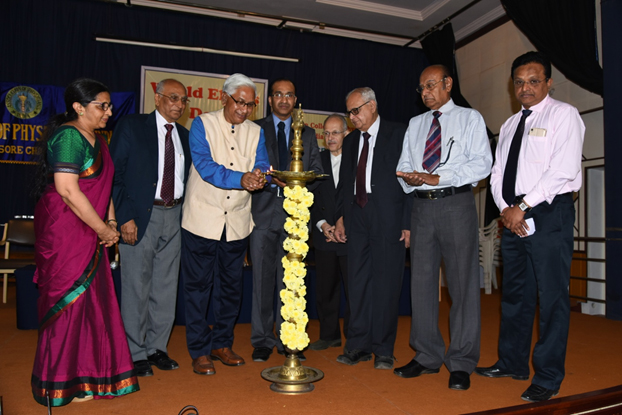 Senior journalist Sri Niranjan Nikam inaugurating the World Elders' Day programme organised by the Association of Physicians of India (API), Mysuru Chapter & the ACP India Chapter. Also seen from L-R: Dr. Prathima Pereira, Dr. C. D. Sreenivasa Murthy, M. Suresh Babu, MD, FACP, Dr. Balakrishna Achar, Dr. B. V. Rajagopal, Dr. (Capt.) G. S. Venkatesh & Dr. Bhanukumar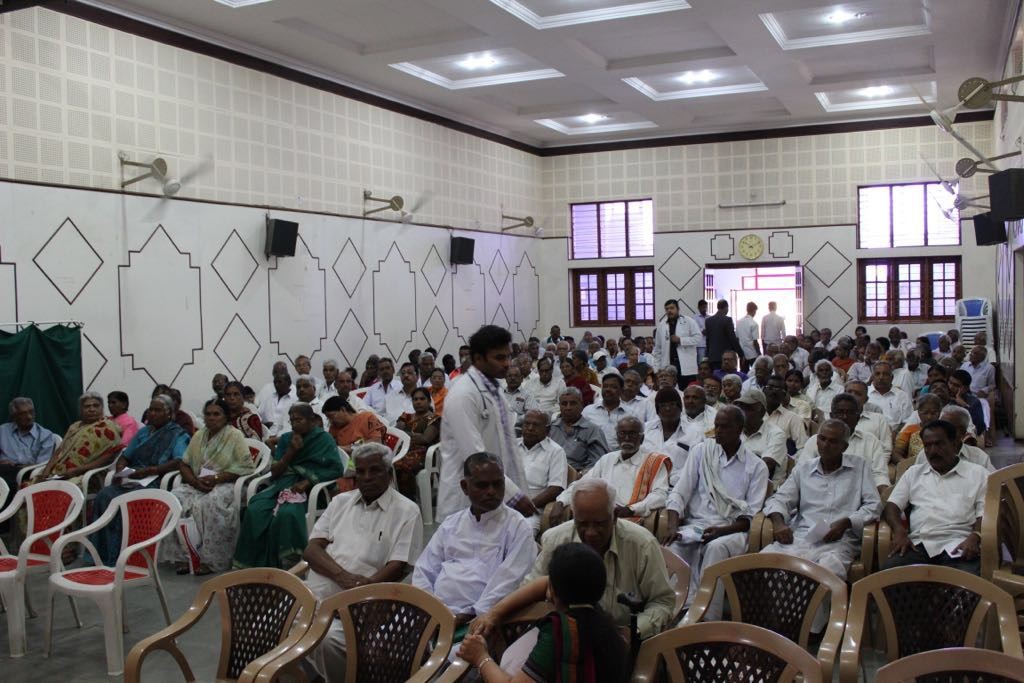 Suresh Babu, MD, FACP treating an elderly lady at the Health Camp.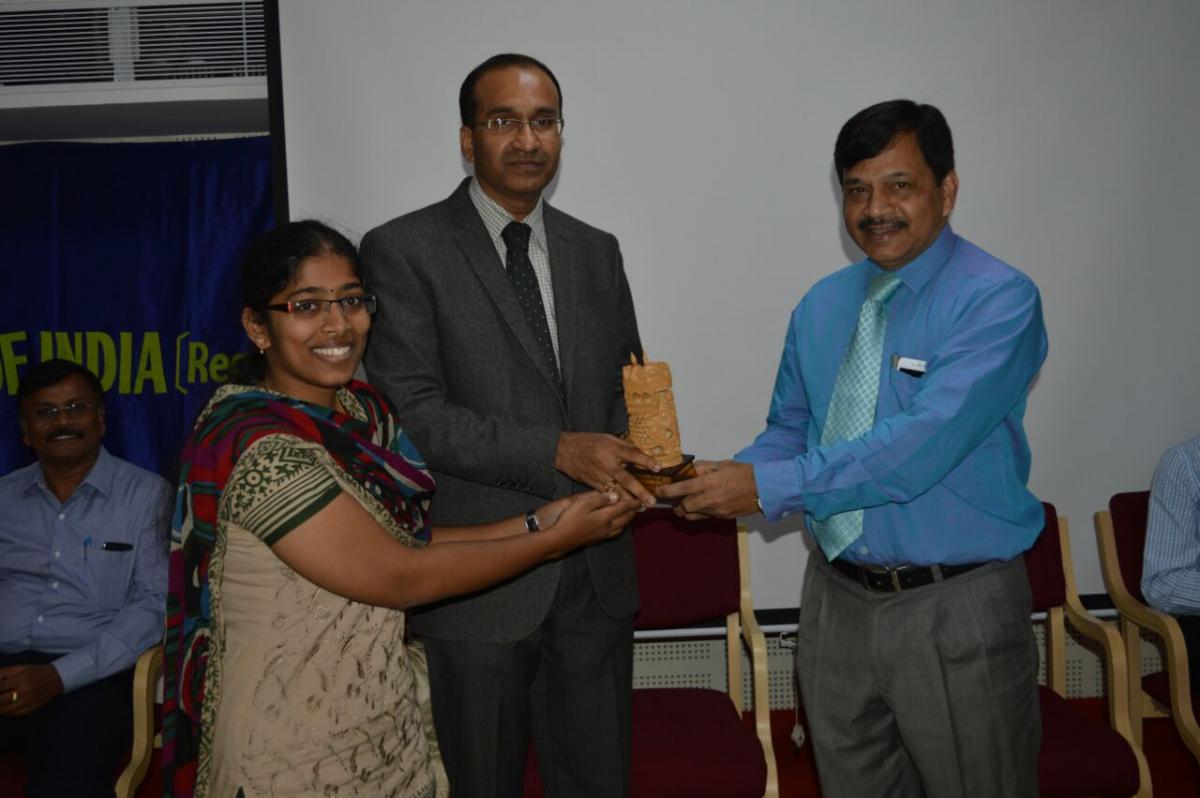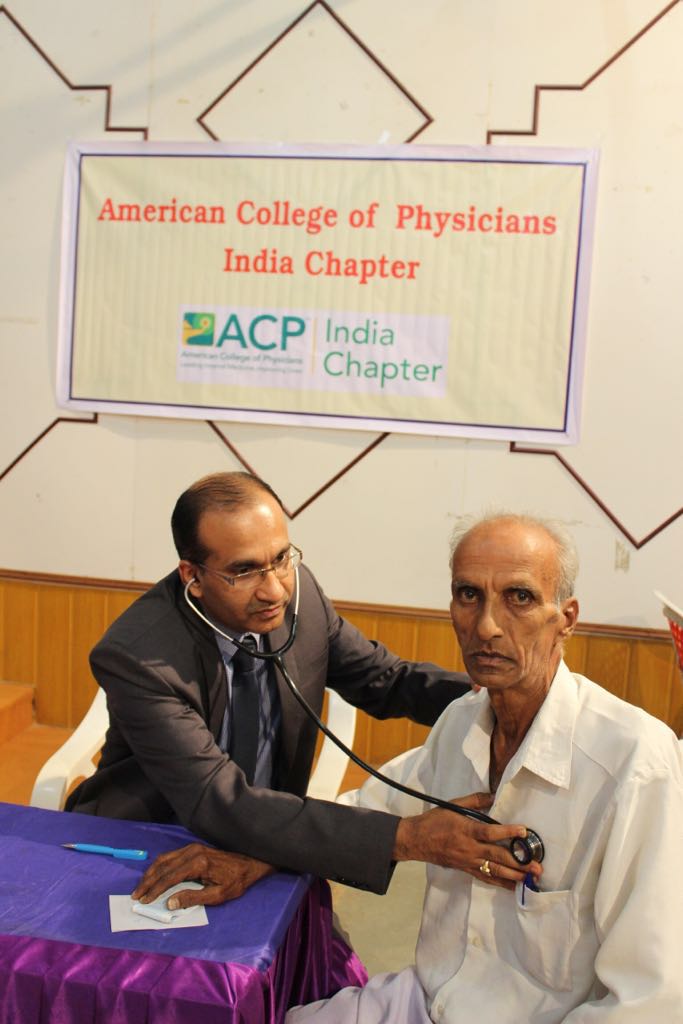 A rural outreach camp was organized by the ACP India Chapter in the village of Aralikatte, Chamrajnagar in Karnataka on 15h October, 2016. Led by M. Suresh Babu, MD, FACP, the health camp focused on free health check-up for low-income households in the village.′
Radiology Symposium Series
The Association of Physicians of India (API), Mysuru Chapter in association with the ACP India Chapter organized a series of lectures on Chest X-Ray, CT and MRI on 6th, 13th and 20th November, respectively. The series of lectures were facilitated by a panel of eminent practitioners who shared their knowledge with the participants. Led by the efforts of M. Suresh Babu, MD, FACP, the series was a resounding success.
Catch the vibe at the Internal Medicine Meeting 2017
Register for the most comprehensive conference in Internal Medicine in San Diego, California, from March 30th to April 1st, 2017.. The attendees of IM2107 will have a chance to refresh their knowledge and practice management skills through:
Pre-Courses and Scientific Sessions
Clinical Skills Instructions
Distinguished Speakers / Faculty
Hands-on-Training and Workshops
Networking opportunities with the brightest physicians from around the world

Please make sure you are going through the Register Now link in the Low Income Countries.
If you face any issues in registering for the Meeting, please get in touch with us.
Receive your Fellowship in person at the Convocation!
The Convocation is s moving ceremony, where new Fellows march alongside their ACP governors and local awardees. Designed to showcase excellence in medicine, the Convocation includes the presentation of Mastership and specific individual and organizational awards granted by the College.
This is a great opportunity for the elected Fellows of 2016-17 to attend the Convocation Ceremony that will be held at 6 pm on Thursday, 30 March, 2017 at the San Diego Convention Centre during the ACP Internal Medicine Meeting 2017.
"I felt like I had covered the entire text book of Internal Medicine in just three days at IM2016. A memorable learning and networking experience with ACP delegates from all over the world. The most exciting part was a workshop on Dementia using 3D glasses to understand anatomy of the brain. I look forward to attending IM2017 at San Diego from March 30 to April 1 2017."
S. V. Kulkarni, MD, FACP
SAVE THE DATE for the 2nd ACP India Chapter Congress

Fellowship is an honor achieved by those recognized by their peers for personal integrity, superior competence in internal medicine, professional accomplishment, and demonstrated scholarship. The Chapter recognizes and congratulates the following physicians who were elected to Fellowship in the College in the past 6 months:
Aritakulu K Badrinath, MBBS MD FACP
Sangram Biradar, MD FACP
Eswar Ganti, MD FACP
Peter George, MD FACP
Rajat Jhamb, MD FACP
Vivek Kumar, MD FACP
Mahesh Mahadevaiah, MD FACP
Girish Mathur, MD FACP
Vishnu N Mishra, MD FACP
Alok D Modi, MD FACP
Jayant K Panda, MD FACP
G D Ramchandani, MBBS MD FACP
B D Sharma, MD FACP
Jugal Kishor Sharma, MD FACP
Sushum Sharma, MD FACP
Kauser Usman Siddique, MD FACP
Jai Prakash Singh, MD FACP
Rajesh Deshwal, MD FACP
Jalees Fatima, MD FACP
Ashok Kumar Grover, MD FACP
Sameer Gulati, MD FACP
Wahid Khan, MD FACP
Sudhir Mehta, MD FACP
Shamima Sultana, MD FACP
Narsingh Verma, MD FACP
Amitesh Aggarwal, MD FACP
Ananda Bagchi, MD FACP
Sekhar Chakraborty, MD FACP
Sandeep Garg, MD FACP
Hemant Malhotra, MD FACP
Manabendra Nayak, MD FACP
We are proud to welcome the following members who have joined the Chapter during the past 6 months:
Prabhat Kumar Agrawal, MBBS MD
Sujoy Barua
Shashi Bhushan
Gowrishankar Erode Singaravelu, MBBS
Ashish Gautam, MD
Anirban Ghosh, MD
Sankar Gorthi, MD
Udhayvir Grewal
Ashish Gupta
Sakteesh Gurunathan
Nikita Irani
Kamal Jain
Ashutosh Jaiswal, MBBS
Merin Jose
Kapil Joshi
Karthik Kalianasudaram
Akshita Khosla
Anil Manchanda, MD
Vinayak Mishra
Madhura Myla, MBBS
Syed Nawaz
Arunabh Negi
Aswin Pankajakshan
Swapnil Parve, MD
Dhruvkumar Patel
Rakeshkumar Patel, MBBS
Anmol Pitliya, MBBS
Natarajan Rajagopalan, MD
Ria Roy
Sharon Wesley Dev Sahadevan, MD
Vedha Sanghi, MBBS
Rajib Sardar
Nishikant A Sharma
Anuja R Shikhare
Prameel Shukla, MD
Minakshisundram Shunmugavelu, MD
Karan Singh, MBBS
Sanjay Tandon, MD
Alankrita Taneja
Fatima Zeba
ACP Study: Prescribing Antibiotics, Narcotics, and Opioids is Common but Little Benefit for Patients
A study by ACP's High Value Care Task Force found that overuse of antibiotics, aggressive non-palliative treatment in patients with limited life expectancy, treatment of chronic pain, and dietary supplements may be the most frequently used low value treatment interventions used by doctors. The study was published in Annals of Internal Medicine on December 6, and is based on a random survey of 5,000 ACP member physicians asking them to identify two treatments frequently used by internists, but unlikely to provide High Value Care to patients.