---
---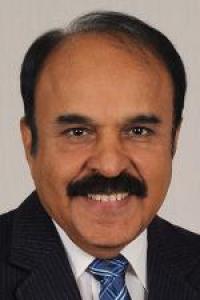 B.A. Muruganathan, MD, FACP, ACP Governor
---
From the Desk of the Governor
Wish you All a Happy & Prosperous New Year!
I am very happy to connect with you through this newsletter. The ACP India Chapter is growing, thanks to your support, co-operation and involvement. We do not compete with any other professional association/organization instead, ACP compliments it being an association for doctors of internal medicine.
Happy winter!
I hope everyone had a relaxing fudgy and cakey Christmas!
I am exultant & exuberant to pronounce our chapter winning the Chapter Excellence Award!
ACP has launched I.M. Proud campaign in mid Nov 2018, running a contest to solicit quotes contest from our members about why they are proud to be an Internist!
May we expect few rewards / awards for the same
---
ACP Internal Medicine Meeting 2019
American College of Physicians (ACP) Internal Medicine Meeting will be held on April 11-13, 2019 at Pennsylvania Convention Center, 1101 Arch St, Philadelphia, PA 19107, USA. We look forward to seeing you in Philadelphia.
More information about the group delegation rates can be found here on the ACP Internal Medicine Meeting website. Attending the Congress is an excellent way to update your medical education and staying abreast of global best practices and trends. If you need any help please contact the secretariat. You can choose your own travel agent and make your own arrangements.
INTERNAL MEDICINE MEETING 2019 RATES
Meeting Details:
April 11-13, 2019 (Pre-Courses April 9-10)
Pennsylvania Convention Center, 1101 Arch St, Philadelphia, PA 19107
Please note that discounted rates are only available to ACP Members. You will need to log in with your ACP username and password when you register for the meeting.
If you are not an ACP member, consider joining the College to enjoy a wide variety of benefits, including significant savings on the annual ACP Internal Medicine Meeting.
Register at annualmeeting.acponline.org/register

---
India Chapter Congress - Medicine 2019
Our ACP India chapter has been busy for last few months, Effectively running the 3rd Annual Conference in September 2018, announcement of next Conference to our 1800 members vide mailers, inviting pharma to sponsor for a stall or to fund research activities! Reminders sent to unpaid members to renew and revive the membership benefits!
This year ACP India Chapter 4th Annual Internal Medicine Congress will be held on August 30th, 31st and 1st September 2019 at Hotel Hyatt, Kolkata, under the Dynamic Leadership of the S. B. Ganguly, MD, FACP as Chairman and Jyotirmoy Pal, MD, FACP as Secretary with the support of Eminent and Erudite Apurva Mukrejee, Sekhar Chakraborty., MD, FACP and Dwijen Das, MD, FACP in the Organising Committee! On a bright note, many International plenary speakers have accented to be our speakers for 4th Annual ACP Conference 2019 and some more international speakers are in the pipeline including the ACP Ambassador! I request you to actively participate and promote the conference among your friends.
I would like to record my Profound "Thanks" to
Kenji Maeda, MD, FACP – Governor-Elect, Japan Chapter
Toshihiko Hata, MD, FACP - Japan
Priya Radhakrishnan, MD, FACP - USA
James Abraham, MD, FACP - USA
Trini Mathew, MD, MPH, FACP - USA
Jose Bonamigo, MD, FACP – Governor, Brazil Chapter
Prabir Roy Chaudhary, MD – USA for their acceptance to be speakers for the 4th Annual Conference on Internal Medicines in 2019!
---
ACP India Chapter Secretariat
ACP Vice President & ACP Internal Medicine Conference 2019 Organising Secretary Dr. Jyotirmoy Pal visited the ACP India Chapter Secretariat to discuss about the ACP India Chapter Annual Internal Medicine Conference 2019 at Kolkata. Along with Governor ACP India Chapter Dr. A. Muruganathan, Office Administrator Ms. Mano Kumar and Governor Secretary Mr. Venkatesan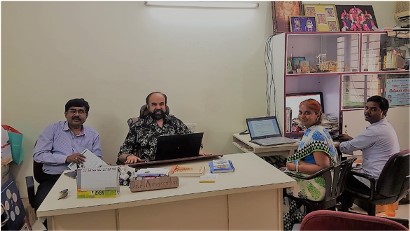 MID-TERM ACP INDIA CHAPTER INTERNAL MEDICINE MEETING:
Midterm ACP India Chapter Internal Medicine Meeting will be held at New Delhi, on 27-28 April 2019. The committee is formed, Divya Saxena, MD, MACP (Org. Chairperson), Anurag Arora (Org. Secretary), V. K. Goyal (Chairman Scientific Committee), and Rajesh Rajput (Co-Chairman Scientific Committee). Details to follow on the ACP India Chapter website: www.acpindiachapter.org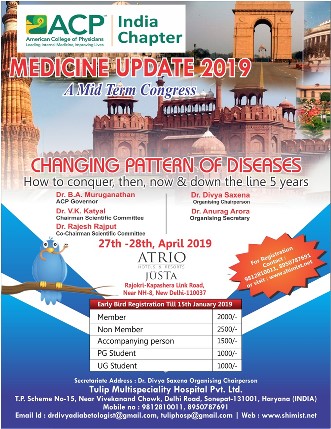 ---
Board of Governors Fall Conference (Seattle)
It was an honor to meet President ACP 2018-2019, Chair, Board of Regents and Board of Governors during the Board of Governors Meeting (BOG) held from September 27-29, 2018 at Seattle, Washington, USA. It was a wonderful experience and learning from the same was boundless!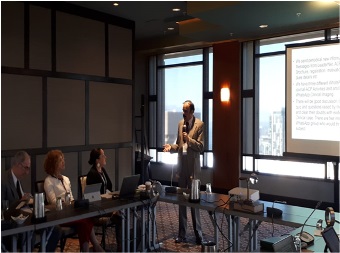 Delivering a talk during the BOG Meeting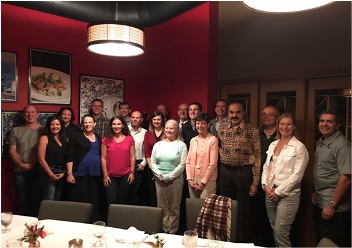 Class 2021 Board of Governors
---
ACP India Chapter Annual Internal Medicine Congress 2018
The 3rd ACP India Chapter Congress – Medicine 2018, was held successfully on August 31st- 2nd September 2018 at Lucknow. The theme of the conference was "Practicing Wellness to Prevent Illness". My Appreciation & Applauds to Anuj Maheshwari, MD, FACP (Organising Secretary), Narsing Verma, MD, FACP (Organising Chairman), M. K. Srivastava, (Editor Souvenir Book) and entire team for conducting the conference commendably!
The third Chapter Congress brought together renowned physicians like Thomas G. Cooney, MD, MACP, (Chair, ACP Board of Governors), Nazmul Ahasan, MD, FACP, (Governor, Bangladesh Chapter), Takahiko Tsutsumi, and Tetsuya Makiishi (Japan, ACP Chapter), Krassimira Hristova (Bulgaria), Suranga Manilgama (Srilanka) and Viswesvaraiah (UK) among many others from across the country to share their knowledge in internal medicine practice.
The two-day conference was designed for general internists, hospitalists, subspecialists in internal medicine, family physicians, general practitioners, and residents. The conference had sessions and panel discussions with eminent speakers, experts in their field, who shared their insights on "Challenges and Solutions of Medical Practice," "Hospital Medicines Story-US, Japan & Brazil," "Gut Brain Link," "ACP Diabetes Guidelines: Do they really turn the clock back?," "Refine & Redefine the Target & Risks in Hypertension" and other important topics in internal medicine.
Response for the abstract and poster presentations was Good & Appreciated well. Pan Indian Participants got a great platform to present to senior physicians. "Medical Dilemma" was very successful and well appreciated.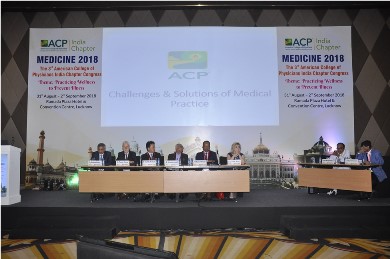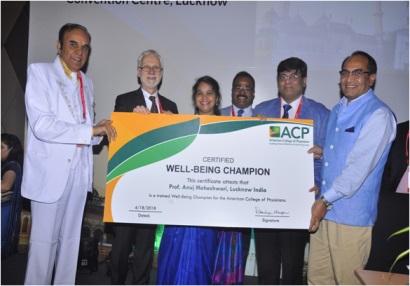 Anuj Maheshwari received the certificate of Well-Being Champion from Thomas G. Cooney, (Chair, Board of Governors) during the ACP India Chapter Congress 2018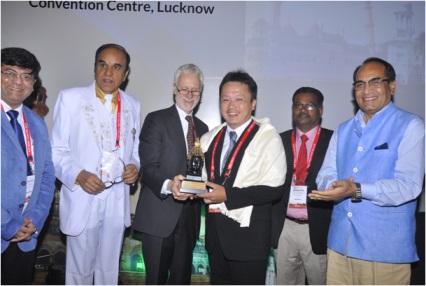 Tetsuya Makiishi received the momento from Thomas G. Cooney, MD, MACP, (Chair, Board of Governors) during the ACP India Chapter Congress 2018
---
Participation of ACP India Chapter in Other Medical Conferences
International Diabetes Update 2018 , July 20th 2018
ACP India Chapter in alliance with Dr. Mohan's Diabetes Education Academy conducted a meeting on International Diabetes Update @ Chennai.
Shri. Gopalakrishna Gandhi Former Governor of West Bengal gave the inaugural address
Our Governor Dr.A.Muruganathan was the Guest of Honor and addressed the gathering!
There were around 2000 participants!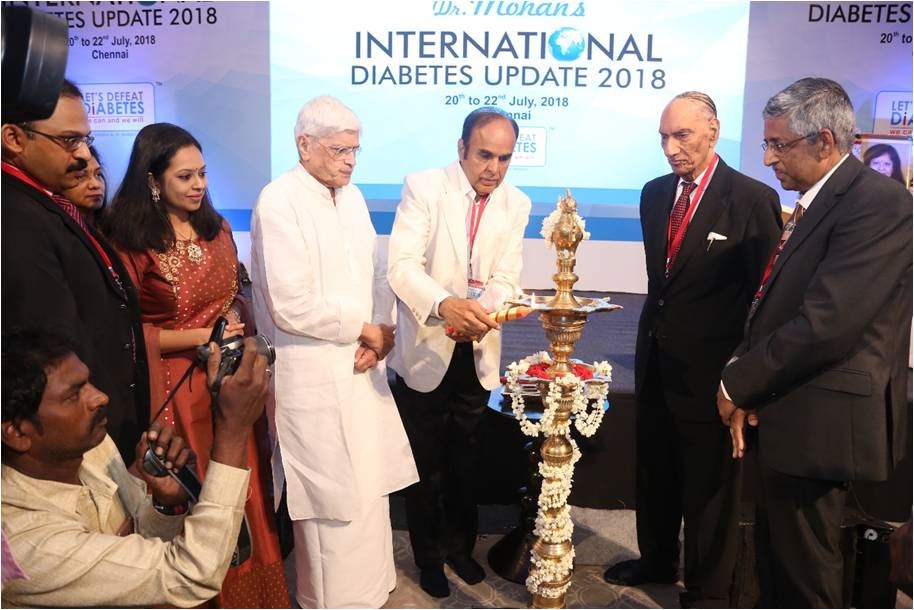 GCDC 2018 Edition:
ACP India Chapter in association with Indo Global Cardio Diabetes Academy conducted Global Cardio Diabetes conclave at Mumbai from 28th September to 30th September 2018 on the theme "Monitor Diabetes and Liberate Heart"
The conclave addressed various aspects of Cardiovascular Disease, Diabetes, Obesity, Hypertension and Dyslipidemia by Orations, Guest Lectures, Symposia, Panel Discussions, Workshops, Debates, Controversies, Path Breaking Trials and Case Discussions.
Hospital Medicine Conclave 2018 at Cochin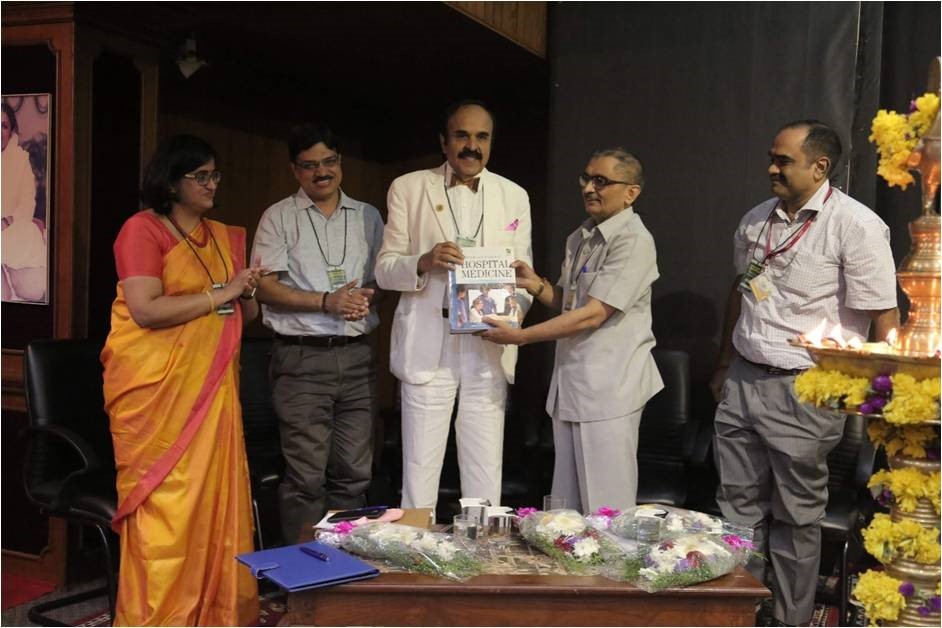 The American College of Physicians (India Chapter) and Amrita Institute of Medical Sciences, Kochi conjointly called for "Hospital Medicine Conclave 2018" at Kochi on June 22-23, 2018.
ACP India Chapter proudly introduced "Hospital Medicine" in our country, considering the significant national interest. The one-and-a-half-day conference paved the way to establish a role for Hospitalist in Health Care. The conference brought prominent healthcare administrators/physicians across the country for a group discussion to evaluate the role of hospital medicine in India and chart out a roadmap. The CME on the following day focused on recent updates in acute patient care and quality improvement.
There were special sessions by senior faculty from the University of Massachusetts and University of Michigan to share their expertise and provide a valuable learning experience for the delegates. Panel Discussion was on the Role of Hospital Management in India
ASPICON 2018
National Conference cum Workshop on "Antimicrobial Stewardship Practice" under ACP India Chapter on December 3-4 2018 at AIIMS Rishikesh, Uttarakhand was Great and Grand!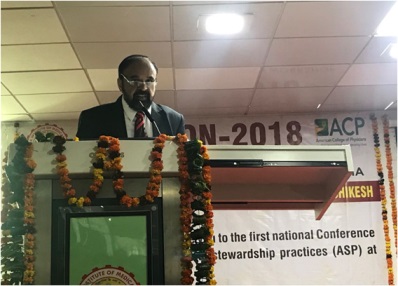 Delivered a talk during the ASPICON on 3rd Dec 2018 at Reshikesh
Bangladesh Annual Internal Medicine Conference
H. A. M. Nazmul Ahasan. MD, FACP (Governor ACP Bangladesh Chapter) invited me as a Keynote speaker for the Bangladesh Society of Medicine (BSM) annual international conference, which was held on 7-9 December 2018 at Dhaka. I delivered a talk on "My Fight Against Hypertension" in the conference partook and delivered talk during this conference. Anuj Maheshwari, MD, FACP from our chapter was invited as a faculty.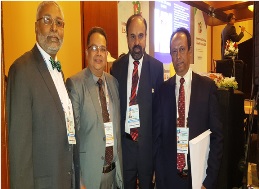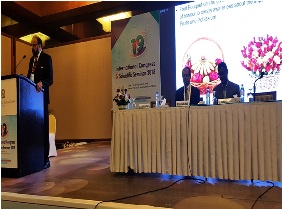 Participated and delivered a talk during the East APICON Conference at Siliguri, Uttrakhand APICON, Assam State API annual conference and Rajasthan API Conference in the month of December 2018. Motivated the delegates about the benefits of joining ACP.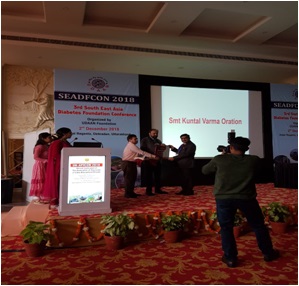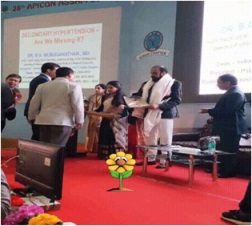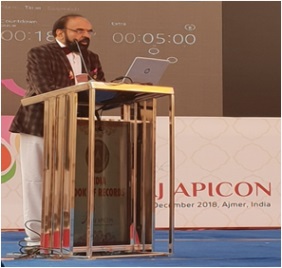 ---
Educational & Scientific Committee Activities
ACP India Chapter Treasurer R. Rajasekar., MD., FACP, conducted a CME on 20th Oct 2018 at Kumbakonam under the banner of ACP India Chapter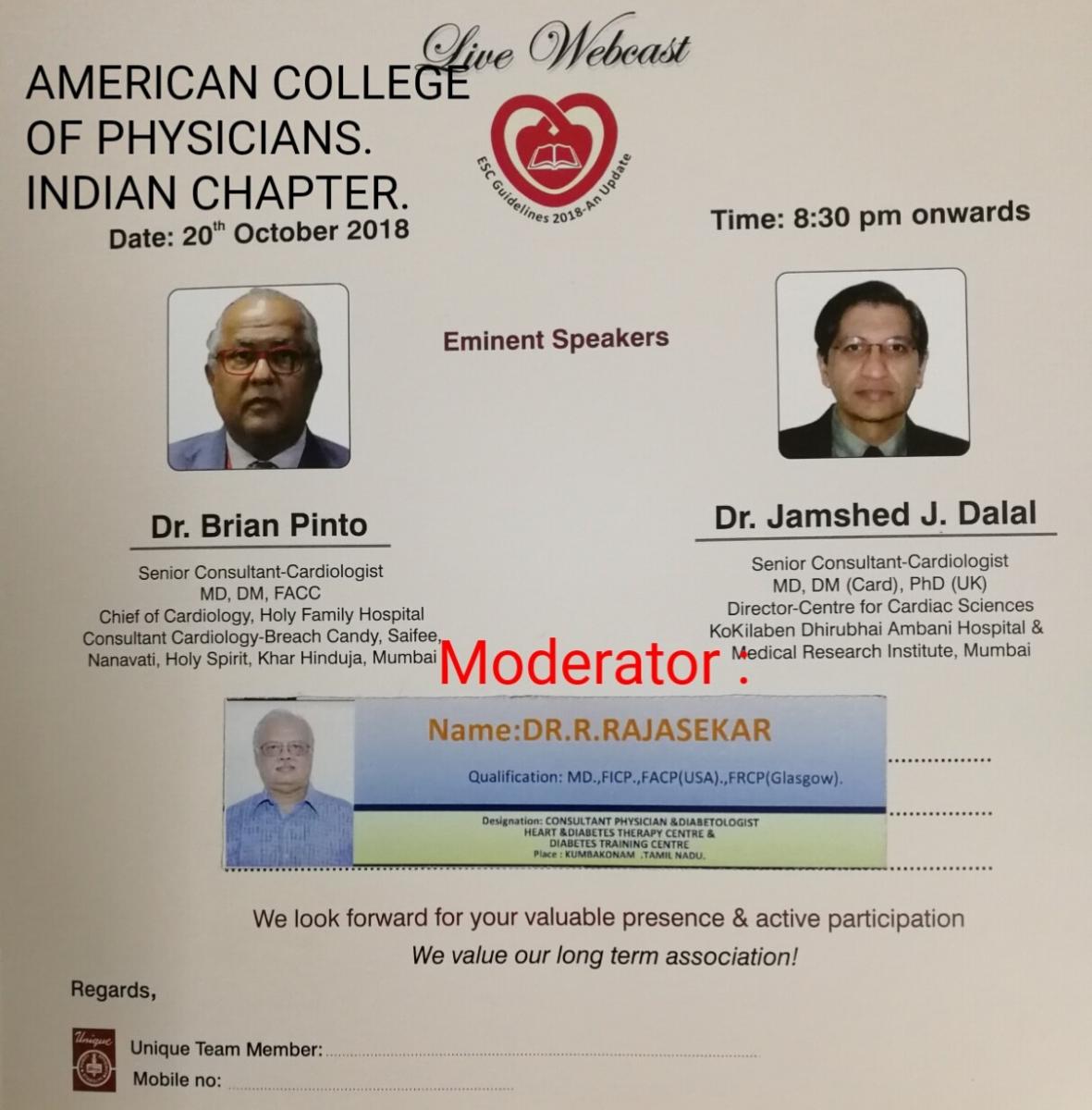 One Day Scientific Programme at Kolkata:
Prof. Partha S. Karmakar conducted a scientific CME at R G Kar Medical College, Kolkata, West Bengal, India on 26th April 2018 under the banner of ACP India Chapter. This program was attended by many UG & PG students with much enthusiasm. They took part actively in scientific discourse & case presentations! Faculties of internal Medicine from R G Kar Medical College & other Medical colleges too of Kolkata, Senior Physicians & Members of ACP practicing in different places of this city also graced the scientific program by their valuable presence.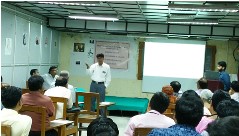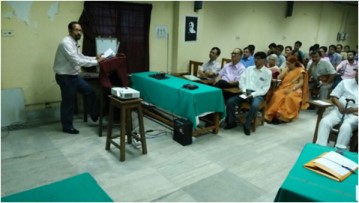 Career Counseling Programme at JSS Hospital
Prof. B Manjunatha, Registrar, JSS Academy of Higher Education & Research inaugurating the career counseling programme for medical interns organized by JSS Academy of Higher Education & Research and ACP India Chapter at JSS Hospital, Mysuru. Seen from L to R – Dr (Col ) M. Dayananda, Director, JSS Hospital, Dr.Sarma VSN Rachakonda (Resource faculty) Emeritus Professor, RIMS, Andhra Pradesh, Prof. H Basavanagowdappa, Principal, JSSMC, Dr. M Suresh Babu, Deputy Director and Prof of Medicine, JSS Hospital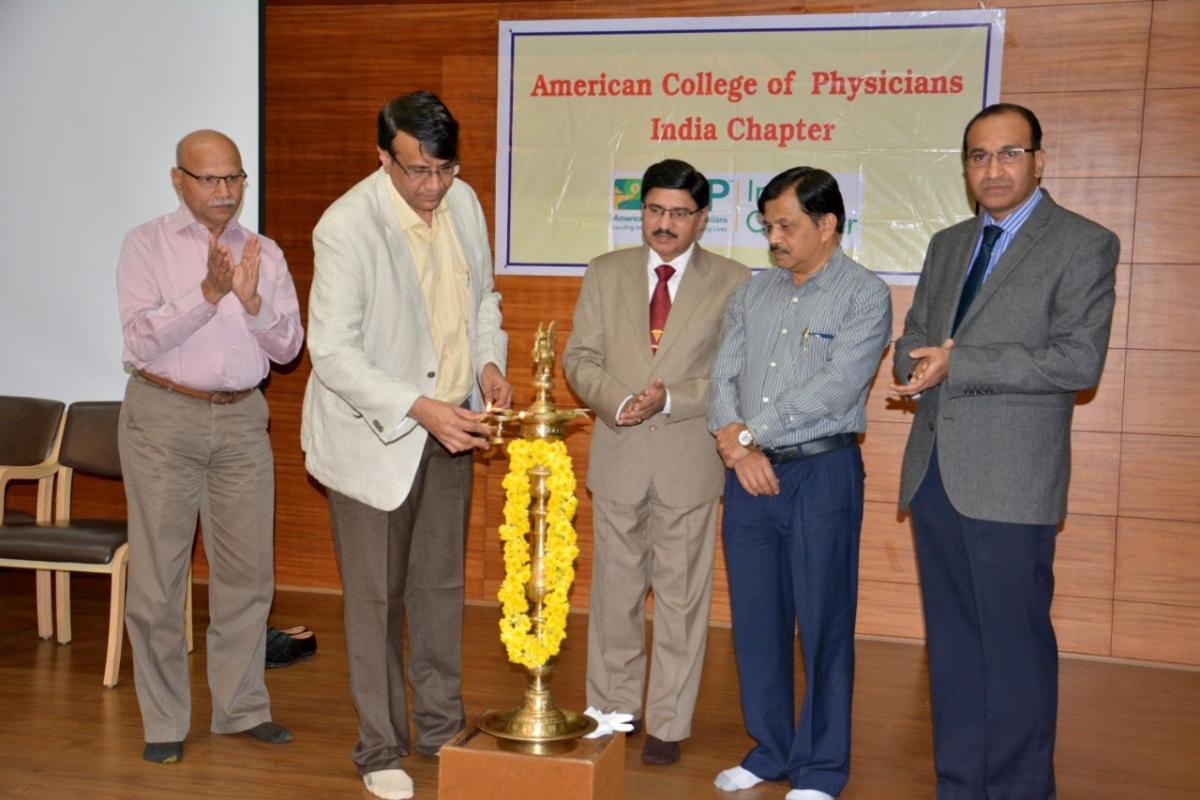 ---
Future Educational Activities
I request you to kindly organize some CMEs one day / half day under the ACP India Chapter in your region / town / at Medical Colleges and invite new members as a membership development promotion. You can involve and invite local Residents / Fellows / Members, Medical College Students and Early Career Physicians.
The ACP India Chapter can partially fund the fruitful and effective CMEs. Kindly
Get Medical Council Accreditation for the CMEs.
Send your plans and proposals.
Encourage some research activities and
Observe world medical days like World Heart Day, World Diabetes Day … etc. with suitable programs.
With your continued support our Association is emerging well and we would like to fortify / strengthen our Chapter by welcoming more members (EACH ONE REACH ONE).
Let us join hands to enroll / recruit more medical students (free membership), more physicians and residents to our membership!
Recognition & Awards awaits members who recruit more members to our chapter at the next Annual Internal Medicine Conference 2019!
Members who Calls for and Conducts CME Fruitfully, will be Awarded & Rewarded!
With a new year about to begin, it's natural to think about the Personal & Professional goals you like to achieve!
Please contact me or our office if you need any clarification
Mobile: 98430 60666 / 98941 45678
Email: governoracpindia@gmail.com
ACP India Chapter Office Mr. Venkatesan - 97874 55111
Ms. Mano Kumar - 96551 42542 / Email: manokumaracpindiachapter@gmail.com
ACP RELEASES PRINCIPLES TO GUIDE PATIENT PARTNERSHIP IN HEALTH CARE
The American College of Physicians (ACP) examines the rationale for patient and family partnership in care and reviews outcomes associated with this concept, including greater adherence to care plans, improved satisfaction, and lower costs.
Principle 1: Patients and families should be treated with dignity and respect.
Principle 2: Patients and families should be active partners in all aspects of their care.
Principle 3: Patients and families should contribute to the development and improvement of health care systems.
Principle 4: Patients and families should be partners in the education of health care professionals.
Patients and families are playing a larger role than ever in health care, as partners in their own care and as advisors in improving care delivery.
---
ACP MKSAP 18
The standard in Excellence for lifelong learning
The Medical Knowledge Self-Assessment Program (MKSAP) has been the most trusted resource in lifelong learning for internal medicine physicians and residents. The tradition continues with MKSAP 18.
As a comprehensive learning management system, MKSAP 18 remains the standard in excellence for equipping residents and practicing physicians with the information they need to stay current in medicine and prepare for their board exams.
Limited Time Offer! Save 10% on MKSAP 18 Complete, Digital or Print when you order by 1/31/19 and use code MKSAP18STAR
Please visit https://mksap18.acponline.org/ for more information.
---
Last Chance: Dues Delinquent Members
I recently learned that some of your membership in the American College of Physicians will expire because your dues are not current. As Governor of your local ACP India chapter, I urge you to remain an active member of our community of internists and renew your membership online.
Membership in the College offers a network of 152,000 internists, world-class educational resources, highly regarded scientific programs, and comprehensive publications like Annals of Internal Medicine that help you to provide the best possible care for your patients.
In addition, our India Chapter holds an excellent scientific meeting offering convenient CME credit and a place to connect with your colleagues. We also have active committees to involve chapter members in planning the meeting and other programs. For more information, visit Web site at https://www.acponline.org/node/290333 and clicking on the link for India Chapter
Please remain a member of ACP. You can easily renew your membership online call Customer Service at 800-ACP-1915 (M-F, 9 a.m.–5 p.m. ET) and pay the current year's dues. Your unpaid dues for the prior year will be waived.
I hope that you will remain a member of ACP and our India Chapter!
OUR CHAPTER COMMITTEES WELCOME FRESH IDEAS.
We are all better and stronger together than apart! We have shown progress in our membership, day in, day out increasing by 80%, since June 2018.
As on June 2018 Membership strength - 998
As on December 2018 Membership strength – 1852