---
---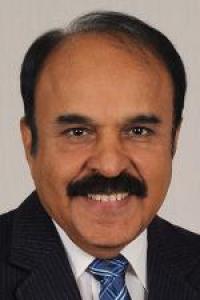 B.A. Muruganathan, MD, FACP, ACP Governor
---
FROM THE DESK OF THE GOVERNOR
Wish all of you a Happy New Year!
I am very happy to connect with you through this newsletter. The ACP India Chapter is growing thanks to your support, co-operation and involvement. The ACP India Chapter does not compete with any other professional association/organization instead it compliments it being an association for doctors of internal medicine.
The American College of Physicians (ACP) is the largest organization of internists - physician specialists who apply scientific knowledge and clinical expertise to the diagnosis, treatment, and compassionate care of adults across the spectrum from health to complex illness. ACP is focused on advancing the science through its publications, in particular the Annals of Internal Medicine, setting clinical standards, advocacy efforts for better healthcare. I hope each one of you is benefitting from these publications.
I request each one of you to explore the opportunity and organise scientific CMEs in your region. You can also conduct health camps along with other organizations. This will help create brand awareness, visibility and increased outreach for ACP. Please also send your contact details (email address & mobile numbers) so that we can make a directory of the members of the India Chapter. Also do participate in ACP WhatsApp group. This will allow us to be in regular touch and do more things by way of teaching, learning and sharing. It offers many simple-to-use advantages, like sharing clinical discussions, CMEs, Images, Audio and Video, Articles and Recommendations. It is a group that you can join and leave at your will, without any obligation or cost.
---
INDIA CHAPTER CONGRESS - MEDICINE 2018
This year ACP India Chapter Annual Internal Medicine meeting will be held on 1-2, September 2018 at Lucknow led by the Organising Secretary, Anuj Maheshwari, MD, FACP & Organising Chairman, Narsing Varma, MD, FACP. I request you to actively participate and promote the conference among your friends. We are also planning to organise one Midterm ACP India Chapter Internal Medicine Meeting at Kumbakonam, Tamilnadu in the last week of March under the able leadership of Treasurer, R. Rajasekar, MD, FACP. Details to follow on the India Chapter website.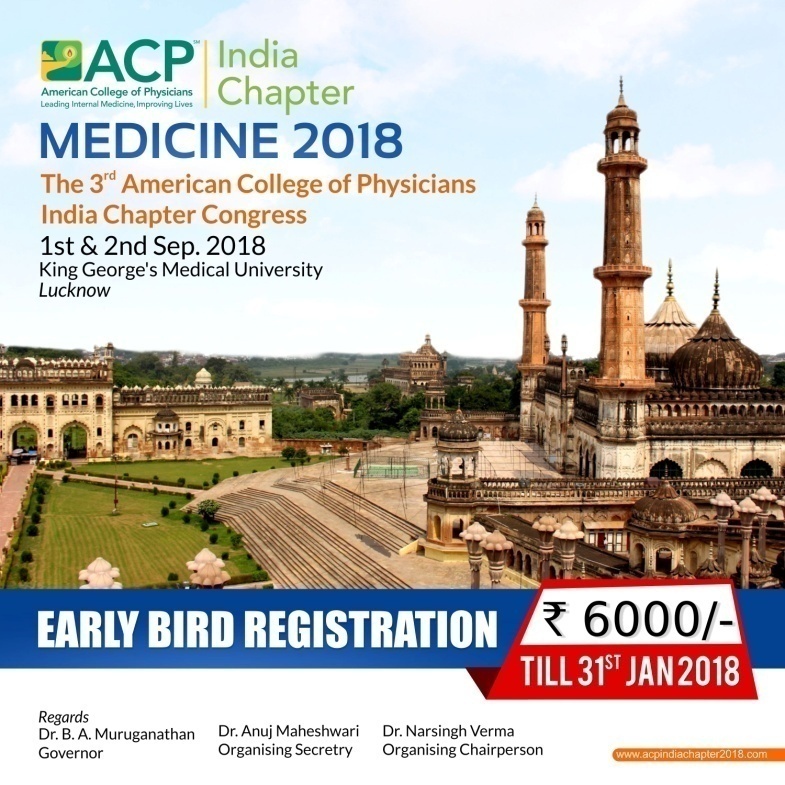 ---
INTERNAL MEDICINE MEETING 2018

American College of Physicians (ACP) Internal Medicine Meeting will be held on Apr 17th - 21st 2018 at Ernest N. Morial Convention Center at New Orleans, Louisiana, USA. We look forward to seeing you in New Orleans.
We wanted to inform you that ACP has special registration rates for international groups of 10 or more. More information about the group delegation rates can be found here on the ACP Internal Medicine Meeting website. Attending the Congress is an excellent way to update your medical education and staying abreast of global best practices and trends. If you need any help please contact the secretariat. You can choose your own travel agent and make your own arrangements.
International Group Rates LOW/LOW-MIDDLE INCOME COUNTRIES
Per Member $342
Per Non-Member $470
The guidelines require that one person organize the group, provide the registration forms, and submit one payment by check or credit card for the entire group. Not all participants in group delegations are required to be ACP members.
Those who are interested please contact governoracpindia@gmail.com.
---
BOARD OF GOVERNORS MEETING (MONTREAL)
It was an honour to meet Jack Ende, MD, MACP, President ACP 2017-2018 and Board of Regents during the Board of Governors Meeting (BOG) held from October 4th - 7th 2017 at Montreal. It was a wonderful experience and I learnt lot of new things.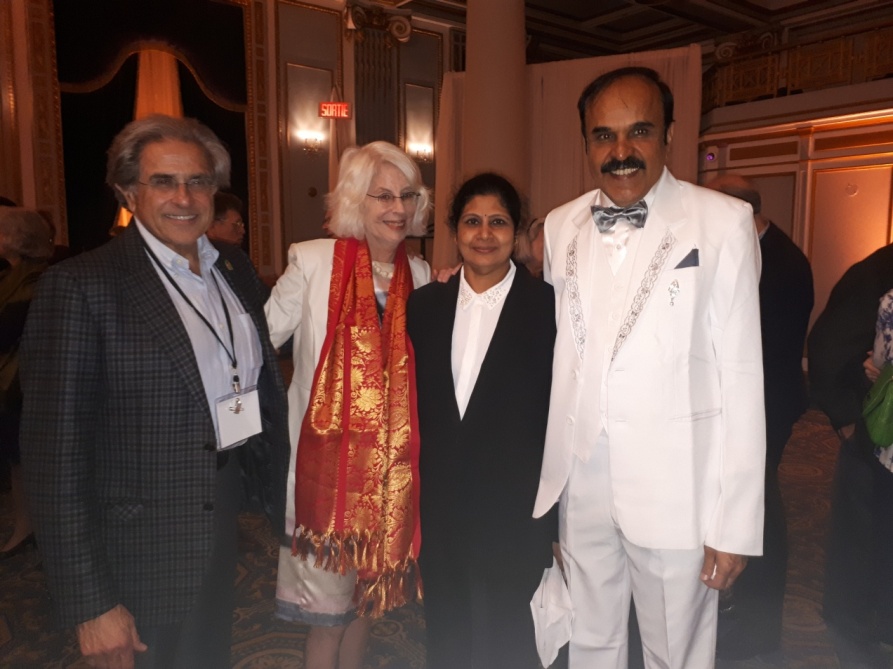 ---
ADVISORY COUNCIL MEETING
Advisory Council Meeting was held at Bhubaneswar 3 November, 2017. We discussed the problems, challenges we faced regarding registering ACP India Chapter as a society. Many suggested the possibility of registering it as a trust. Discussions with State and Central government officials in this regard are in progress.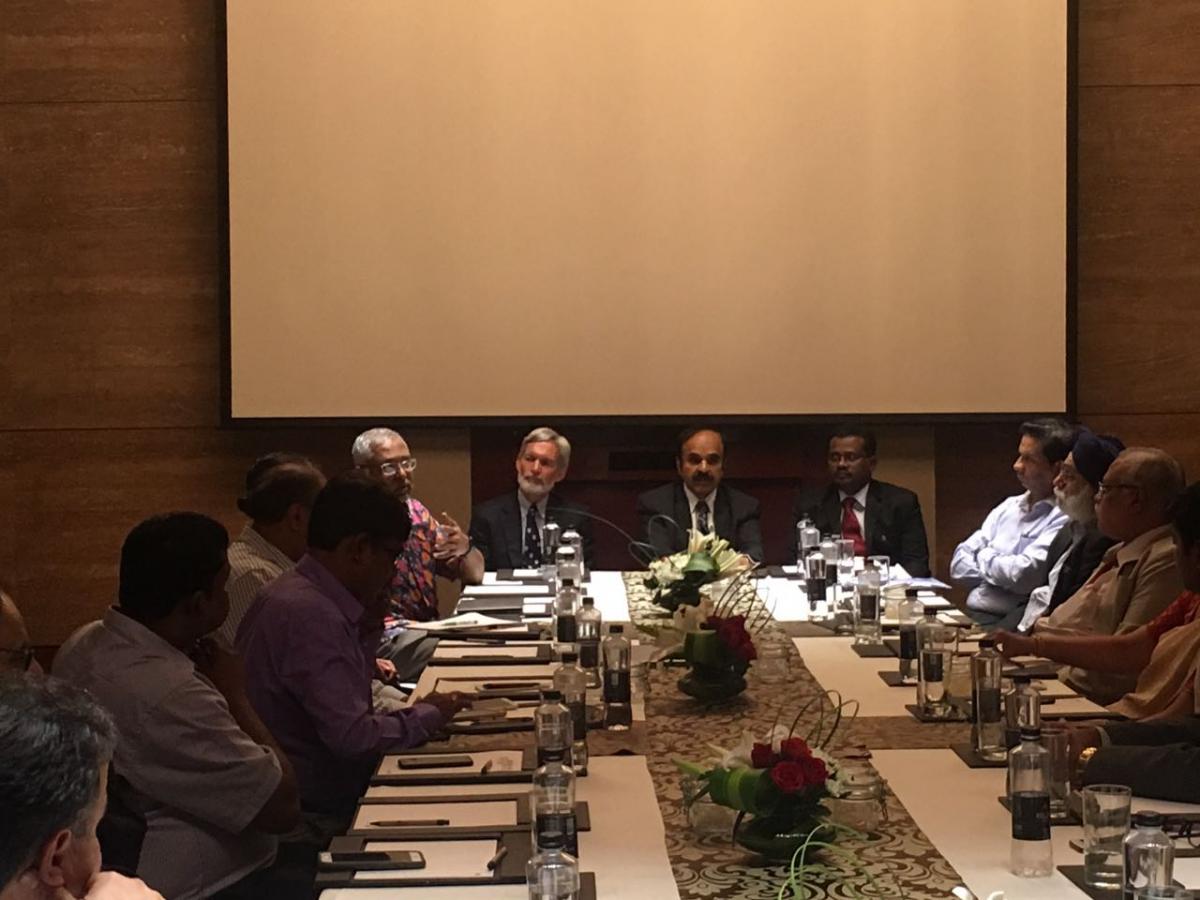 ACP India Chapter Advisory Council Meeting on 11th August, 2017 at New Delhi.
---
AWARD
Heartiest congratulations to Jatinder K. Mokta, MD, FACP (Shimla) for receiving the Oscar E. Edwards Memorial Award.
---
MEMBERSHIP DEVELOPMENT & MEMBERSHIP RETENTION
We want everyone to induct, recruit new members including student members and junior doctors. We have many professors as Fellows who can talk to medical students and junior doctors about the benefits of ACP Membership. Each One Reach One!
Also kindly request all your friends and colleagues who have not renewed their membership to pay the dues at the earliest.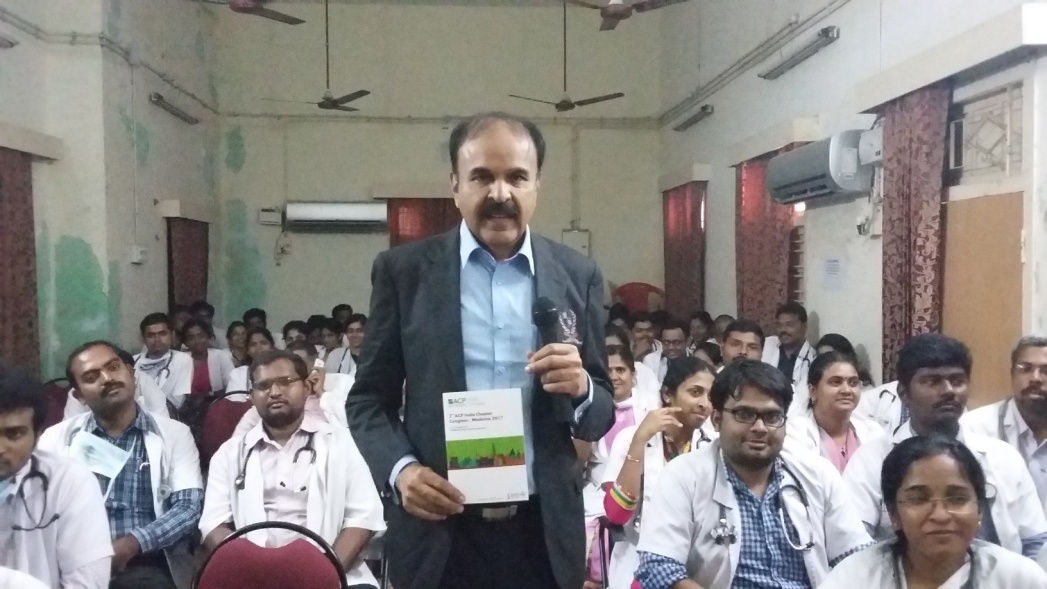 Dr. A. Muruganathan sharing benefits of ACP student membership at the Coimbatore Medical College.
---
PARTICIPATION OF ACP INDIA CHAPTER IN OTHER CONFERENCES
ACP India Chapter participated in several national medical conferences by taking a booth.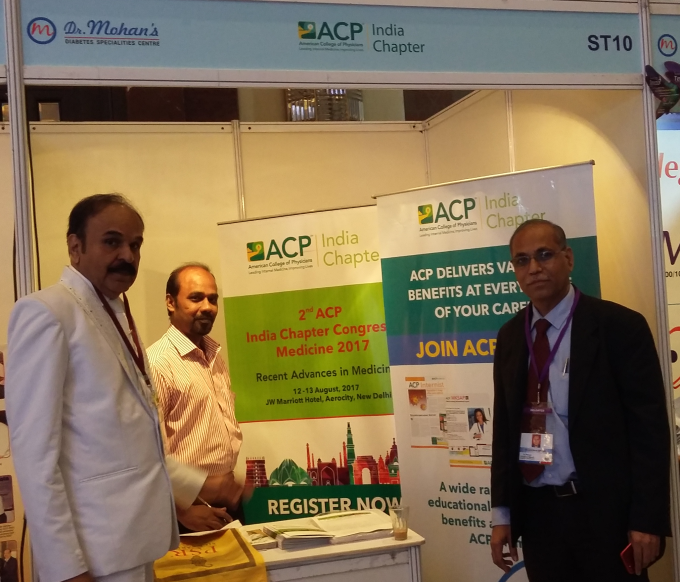 ACP India Chapter booth at Dr. Mohan's International Diabetes Update 2017 on 28-30 July, 2017 at Chennai.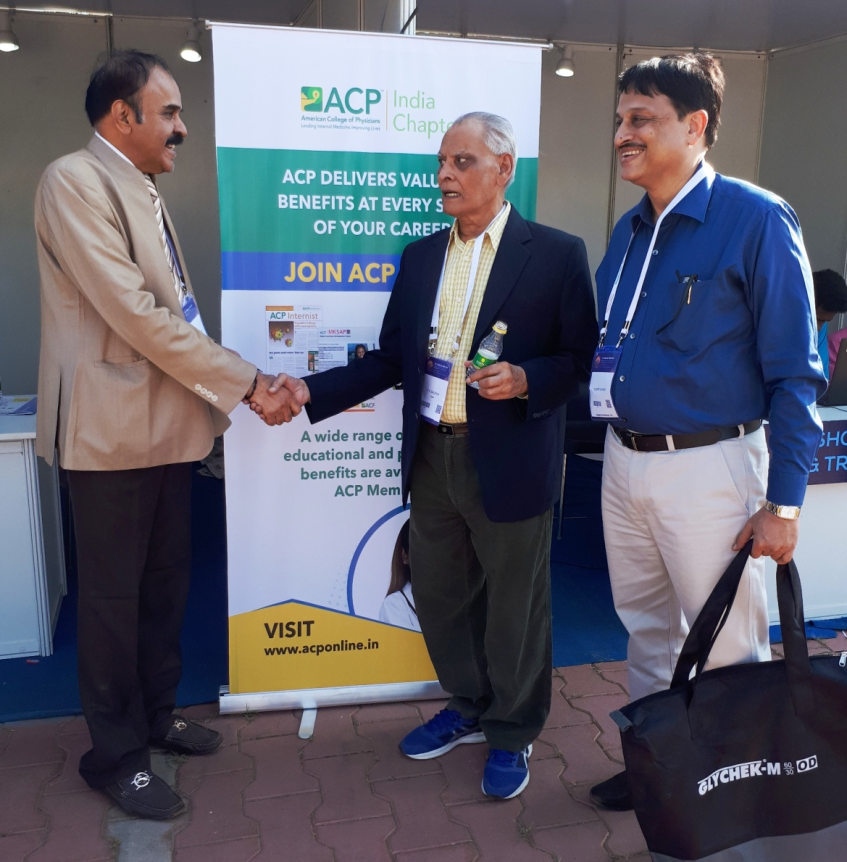 ACP India chapter booth at the RSSDI 2017 held on 3-5 November, 2017 at Bhubaneswar.
---
EDUCATIONAL AND OTHER SERVICE ACTIVITIES
CME programs under the banner of ACP India chapter.
ACP encourages you to host your CME programs under the banner of the American College of Physicians and partner for a great outreach of your CME program.
CME programs are helpful in gathering hands on knowledge on useful topics related to medicine. ACP has always promoted CME programs and you earn CME credits when you attend any CME program. This also helps you advance to the next level in your ACP membership.
I am delighted to inform you that many CMEs including 'Internal Medicine CME' at New Delhi, 'Medicine Update 2017' at Lucknow, 'Expert Meet' at New Delhi, 'GI Update for Physicians' in Kochi, 'Teachers Day' celebration at Mysore, CME on 'Hypertension Management' at Kumbakonam were conducted successfully.
I would like to take this opportunity to thank everyone who conducted activities in their regions under the aegis of the ACP India Chapter and for making the 2nd ACP India Chapter Annual Internal Medicine Meeting held at New Delhi, a grand success. Kindly send your CME action photographs to be published in the newsletter.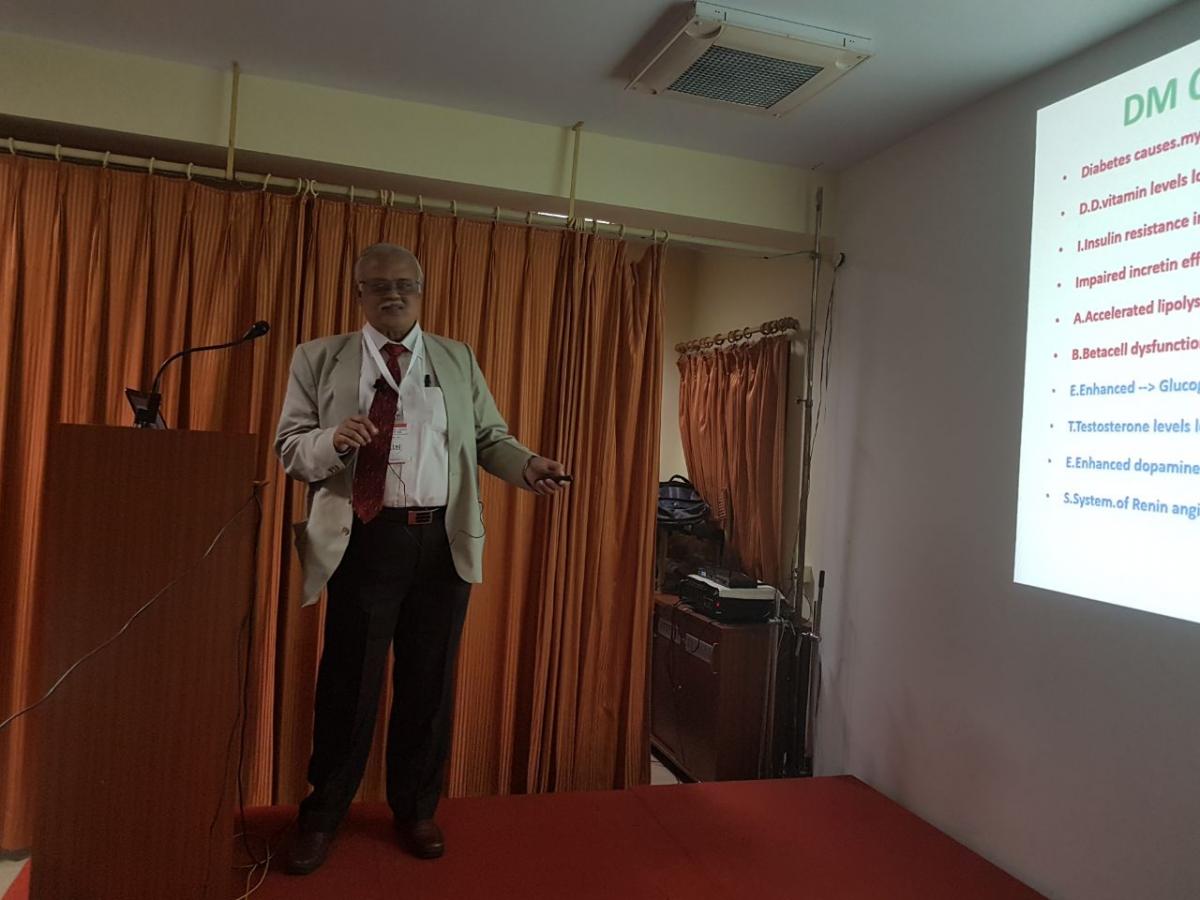 R. Rajasekar, MD, FACP (Treasurer ACP India Chapter) conducted a CME on 26 th July, 2017 at Kumbakonam.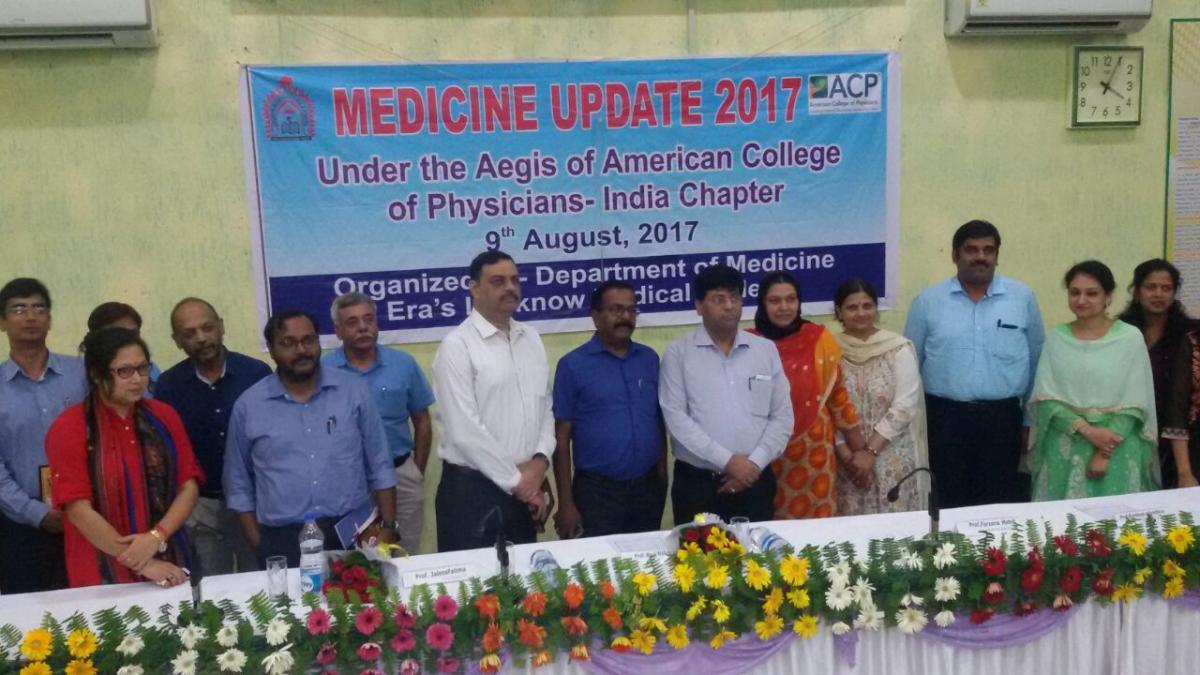 Conducted Medicine Update 2017, a one day CME programme held under the aegis of American College of Physicians India Chapter on 9th August, 2017 at Lucknow.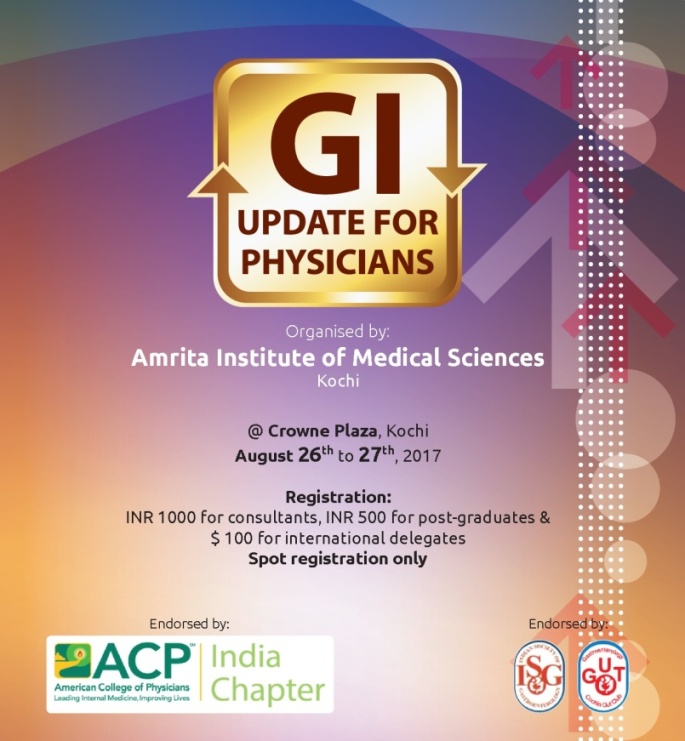 Two days scientific programme on GI Updates for Physicians held on 26-27 August, 2017 at Kochi.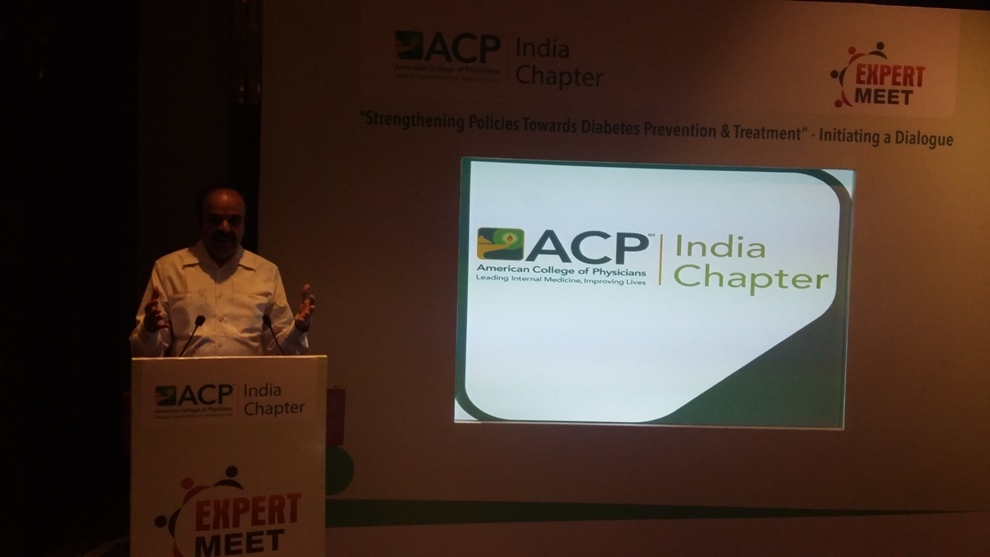 CME Expert Meet on "Strengthening Policies towards Diabetes Prevention & Treatment - Initiating a Dialogue" held on 26 th August, 2017 at New Delhi.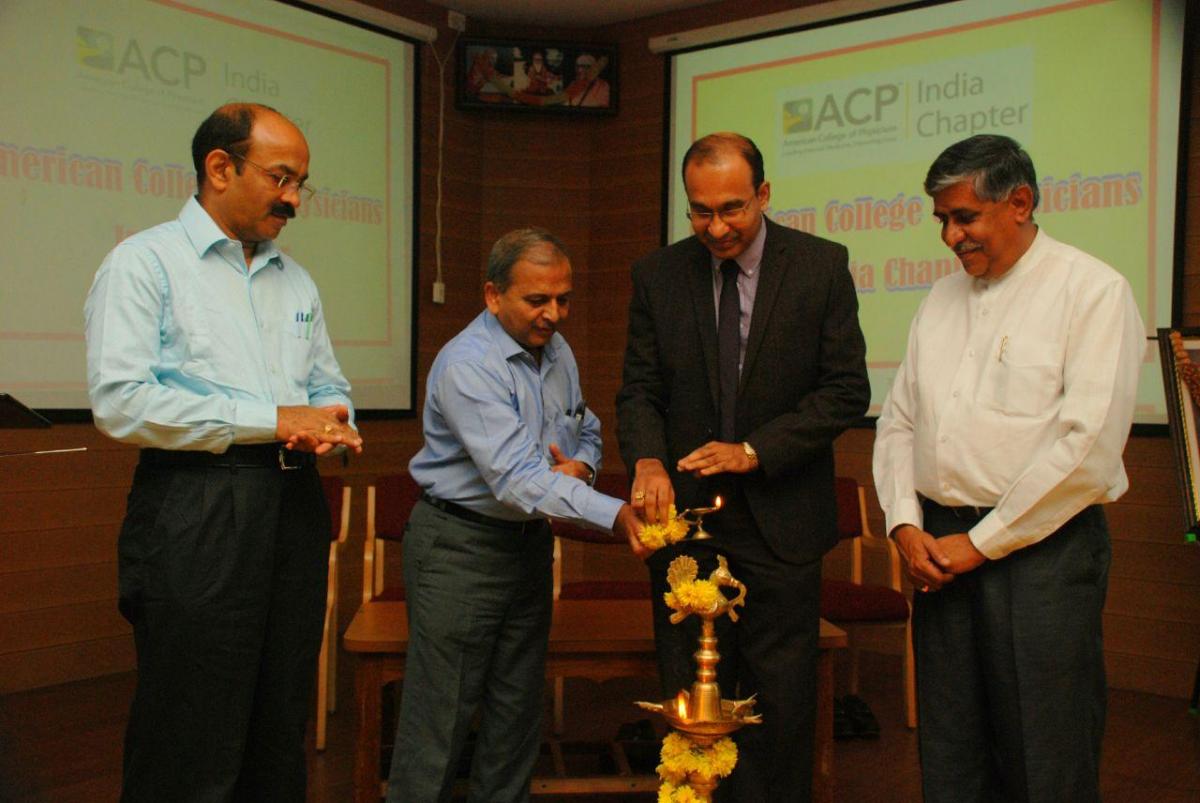 The American College of Physicians, India Chapter in association with JSS Hospital, Mysuru celebrated Teachers day on 5 Sept., 2017 with a health camp for teachers of JSS Science and Technology University, Mysuru. Prof BG Sangameshwar, Vice Chancellor, JSS S & T University inaugurated the health camp. Dr. Nagabhushan, Principal and Dr. Lokesh, Registrar, JSS S & T University were present on the occasion. In his inaugural address Prof BG Sangameshwar appreciated the social commitment of ACP, India Chapter. About 200 faculty members participated in the health camp. Free diabetic and blood pressure check up, consultation services were also provided in the camp.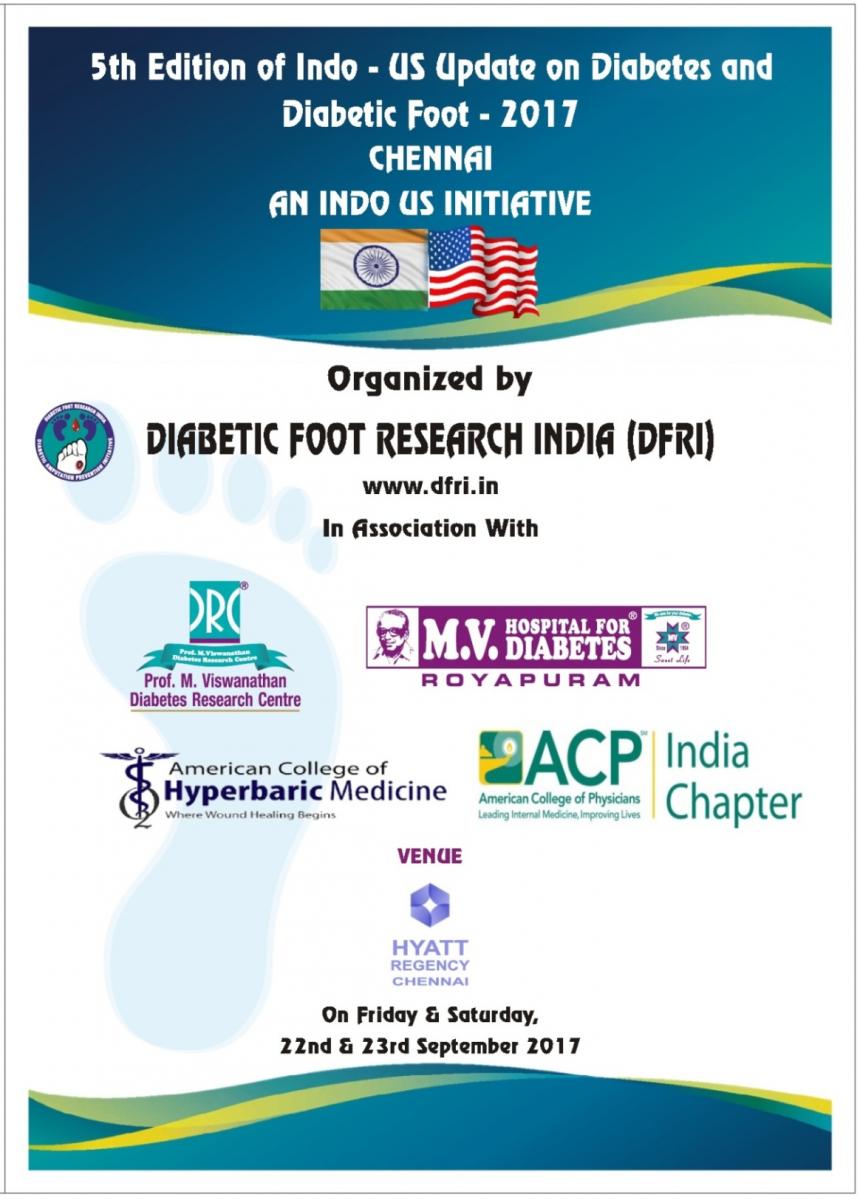 ACP India Chapter associated with 5th edition of Indo - US Update on Diabetes and Diabetic Foot on 22-23 September, 2017 at Chennai.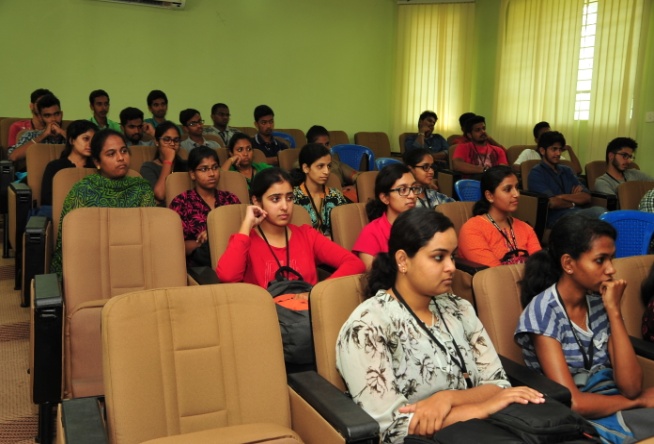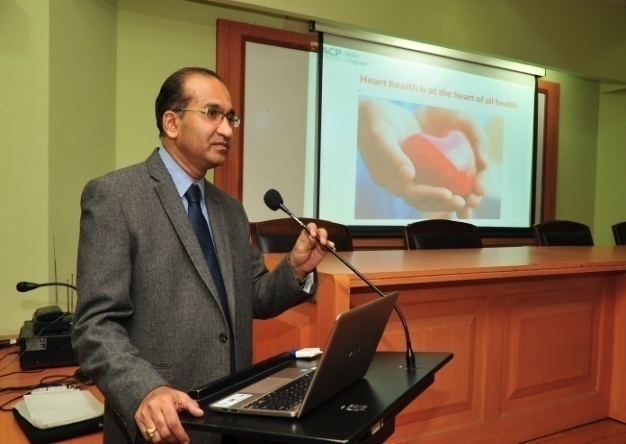 ACP, India Chapter celebrated World Heart Day – 2017 on 29th September at Mysore with health awareness program on prevention of heart diseases for engineering students and health check up camp for staff of National Institute of Engineering, Mysuru.
Delivering the lecture on prevention of heart diseases, M. Suresh Babu, MD, FACP, Professor of Medicine, JSS Hospital and Governing Council member, South Zone, ACP India Chapter, mentioned the increasing prevalence of heart diseases in younger age group and emphasized the importance of adopting healthy lifestyle measures at the young age. He stressed the need to inculcate daily physical activities and healthy food habits with abstinence of alcohol, smoking and junk food for prevention of heart diseases. The symptom presentations related to heart diseases was explained on the occasion. Health check up along with blood pressure and blood sugar check up for teaching and non-teaching staff was organized at the institutional premises. An interaction program with the students and staff was also arranged on the occasion.
---
2 nd ACP INDIA CHAPTER CONGRESS - MEDICINE Chapter Congress – Medicine 2017
The 2nd ACP India Chapter Congress – Medicine 2017, was held successfully on 12–13 August, 2017 at JW Marriott Hotel, Aerocity, New Delhi.
The second Chapter Congress brought together renowned physicians like Alpesh N. Amin, MACP; Philip Masters, MD, FACP, Vice President of Membership and International Programs; George M. Abraham, MD, MPH, FACP, Chair-elect, Board of Governors; Fumiaki Ueno, MD, MACP (Japan ACP Governor) among many others from across the country to share their knowledge in internal medicine practice.
The two day conference was designed for general internists, hospitalists, subspecialists in internal medicine, family physicians, general practitioners, and residents & fellows in internal medicine and subspecialties. The conference had sessions and panel discussions with eminent speakers, experts in their field, who shared their insights on critical health topics like 'Role of Digital Technology in Modern Medicine', 'Obesity in India', 'Approach to the Indian Diabetic', 'Chronic Fatigue Syndrome' and other important topics in internal medicine.
There was also a great response for the abstract and poster presentations. Participants from across the country got a great platform to present to senior physicians.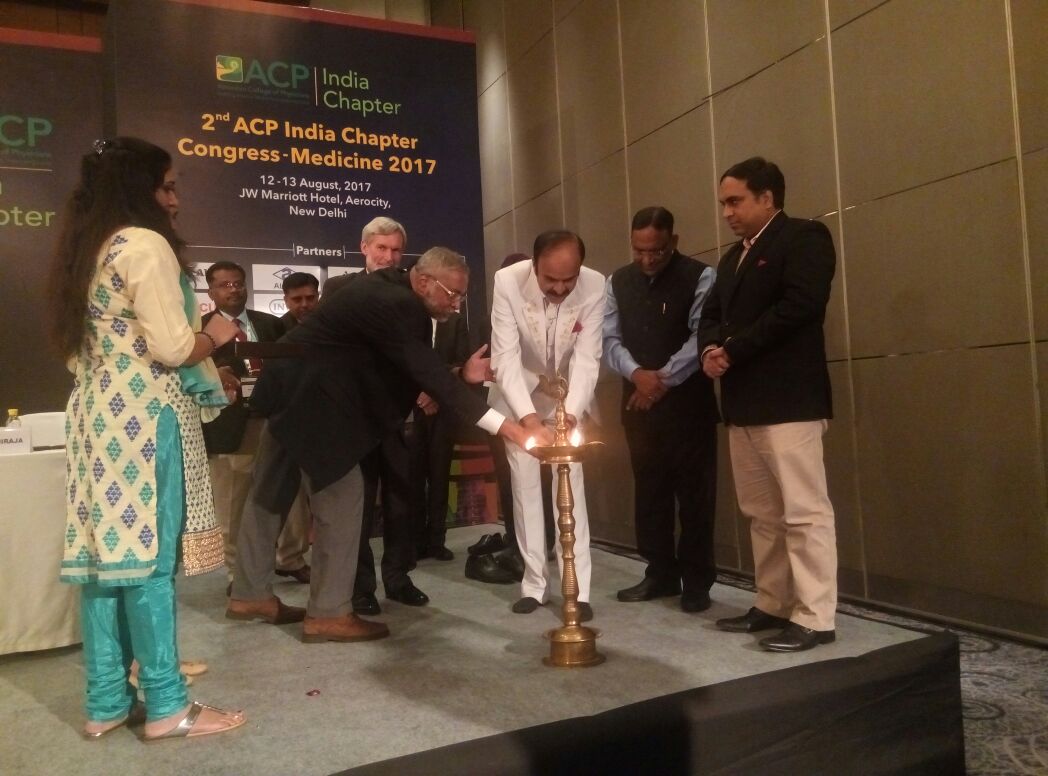 George M. Abraham, MD, MPH, FACP, (Governor ACP Chapter- Massachusetts) lighting the lamp during the 2nd ACP India Chapter Congress – Medicine 2017 at New Delhi.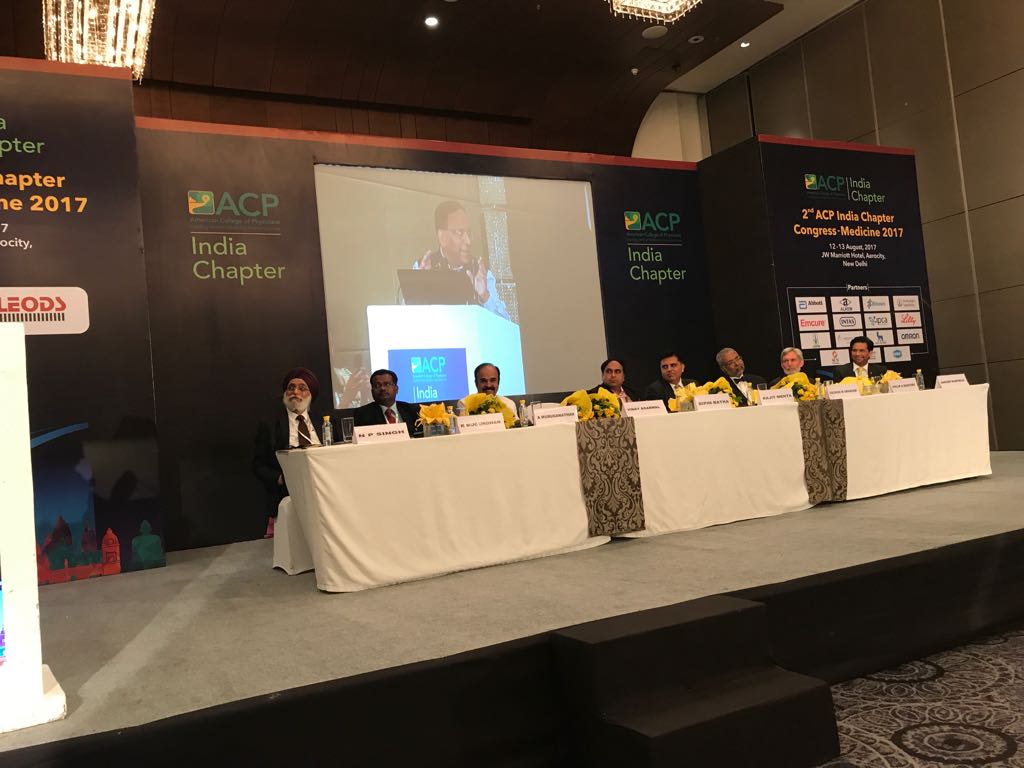 Inauguration: ACP India Chapter Congress - Medicine 2017 at New Delhi
---
FAMILY AND FUN DAY FOR TYPE-1 DIABETIC CHILDREN
Dr. Ramchandani, under the banner of American College of Physician, organized a free camp and family fun day on 24th Sep 2017 at Kota, Rajasthan. A total of 70 underprivileged type-1 diabetic children (mostly girls from rural areas) with their family attended the camp. He conducted workshop on ACR test and insulin injection techniques.
All attendees of the workshop and diabetes camp were given free consultation, free HbA1c test, free fundus examination along with giveaways like Glucometers, Glucostrips, Lancets, Syringes, and Insulins for 3 months and Insulin carry bags. These were given to all 70 Type -1 Diabetic Children. This initiative was hugely successful and was covered by local newspapers.
---
ECG QUIZ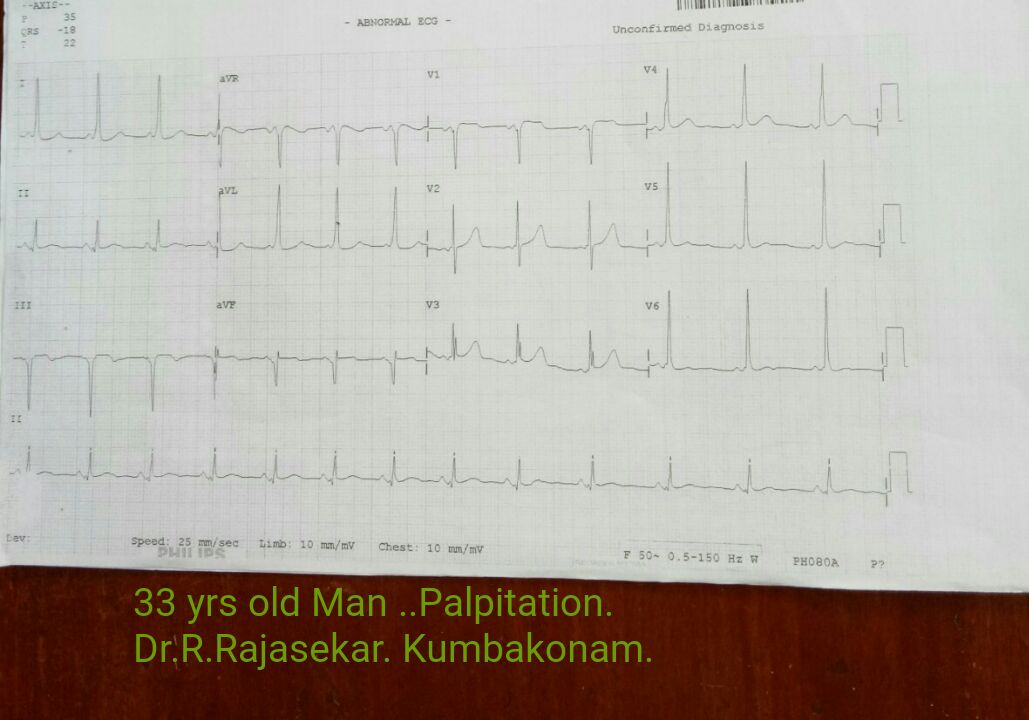 ECG
Answer on the last page
Case Study:
30/yr old Man- HIV positive-Fatigue, Dyspepsia Respiratory rate- 28/mt.BL.Lungs exam-Crepts present.
Chest Xray–>Pulmonary edema.
Lab evaluation:-
Na-138 meq/L.K.5.2.mEq/L
CL.102mEq/L.HCO3=16mEq/L
Creatinine- 8 mg
Glucose 92 mg
pH-7.28
PCO2: 30mm Hg
What is this Acid Base Disorder? How to evaluate and Manage this patient?
Answer on the last page
---
WELCOME NEW MEMBERS AND FELLOWS (SINCE JUNE 2017)
New Fellows
Fellowship is an honor achieved by those recognized by their peers for personal integrity, superior competence in internal medicine, professional accomplishment, and demonstrated scholarship.
The Chapter recognizes and congratulates the following physicians who were elected to Fellowship in the College in the past 6 months:
Syed Sibte Akbar Abidi, MBBS, FACP
Vishal Kumar Gupta, MD, FACP
Thomas Koshy, MD, FACP
Sanjay Dash, MD, FACP
Ambarish Bhattacharyya, MBBS, MD, FACP
Mohammed Afsal, MD, FACP
Jugal Kishore Kar, MD, FACP
Minal Vohra, MBBS, FACP
Sanjay Tandon, MD, FACP
Lt. Col.Ashutosh Ojha, MD, FACP
Sreepada Venkata Ramanamurty, MD, FACP
Dheeraj Kapoor, MD, FACP
Anil Kumar Virmani, MD, FACP
S.S. Agarwal, MD, FACP
D.P. Singh, MD, FACP
Vijay Negalur, MD, FACP
Benny Negalur, MD, FACP
K. K. Aggarwal, MD, FACP
Vitull Gupta, MD, FACP
Robin Maskey, MD, FACP
New Members
We are proud to welcome the following members who have joined the Chapter during the past 6 months:
Sameer Gupta, MBBS
Sudha Teresa, MD
Vidya Jagadeesan, MBBS
Aviral Roy, MD
Vadivelan Mehalingam, MD
Inder Pal Singh Sr., MD
Mansi Nigam, MBBS
Aruna Somasila, MBBS
Karthik Kalianasundaram, MBBS
Ranjan Singh
Shankha S. Sen, MBBS
Raghuram Pusukuru, MBBS MD
Brijendra Srivastava, MBBS
R. S. Mishra, MBBS
Raman Sharma, MD
Laxmi Kant Goyal, MD
Mohan Lal Pursnani, MD
Kallol Bhattacharjee, MD
Sonia Lal-Gupta, MD
Asit Khanna, MBBS
Princi Jain, MD
Mohamed Jisheer, MBBS
Shine Hameed, MBBS
Meenakshi Jain, MBBS
Srikant Kumar Dhar, MBBS
Divendu Bhusham, MBBS
Ashok Kumar Shukla, MBBS
Rajiv Dang, MBBS
Utpal Bhaumik, MBBS
Darsan Ramachandran, MBBS
Sandeep Rai, MD
Dhiman Sen, MBBS
Susheel Kumar, MBBS
Divya Saxena, MBBS MD
Rahul Singh
Pattabhiramarao Nadimpalli, MD
Madan Lal Kaushik, MD
Mansoor Vallil, MD
Minal Shastri, MD
Jaya Pathak, MD
Shashi Panicker
Aman Gupta
Manoj Naik, MD
Arabindo Ghosh, MBBS
Sorabh Datta, MBBS
Smitha Bhat, MBBS
Deepak Pande, MD
Arun Nair, MBBS MD
Harris Poolakundan, MD
Anish Kar
Anany Gupta, MBBS
Dilip Ravi Kumar, MD
Birakta Debbarma, MD
Sanshriti Chauhan, MBBS
Raveendran Somanathapanicker, MD
Ramakrishnam Naidu Adapa, MD
Ranganathan Lakshmi Narasimhan, MD
Lalithaa Thirunavukarasu Murugan
Student Members
We are proud to announce that 123 medical students have taken ACP Student Membership in the last 6 months.
ACP helps medical students stay updated with the latest in Internal Medicine and provides a variety of valuable educational and clinical resources, including:
Annals of Internal Medicine – Included with ACP membership, your free online subscription provides you with original research reviews, clinical guidelines, commentaries, and essays related to the practice of internal medicine.
ACP Journal Wise – This free member service helps you keep current with the most important medical literature from over 120 journals. Simply select your areas of focus, and we'll deliver a customized list of relevant journal articles to your mobile phone or PC.
Free attendance at scientific meetings – As a Medical Student Member, you can attend the College's annual Internal Medicine meeting, as well as local chapter meetings, for free or for a deeply discounted rate.
---
ECG Quiz Answer
Diagnosis: – WPW Syndrome (By Milstein et.al,, Aruda's Algorithm and Noriko Taguchi algorithm et al) EP Mapping –>Right Posteroseptal Pathway. RFA is also done.
Case Study
1. Calculate H+ ion concentration/pH
2. Check correct pH Henderson Equation=24×30/14=51.4. So for H+ concentration of 51.4, pH is 7-28.So reported pH is right.
3. What is the primary Acid Base Disorder? Both pH& HCO3 are below normal. So the primary Acid-Base Disorder is Metabolic Acidosis
4. Arrive at Anion Gap Na–Cl +HCO3 138–(102+16)=20.Sothis high AG Metabolic Acidosis
5. Calculate Secondary response-Compensation i.e. Hyperventilation–pCO2 is to be < 40mmHg (normal). Patient's pCO2 is 30. Now calculate expected compensation
pCO2=HCO3×1.5+8 + or – 2
=14×1.5 + 8 + or – 2= 29
#So if patient has apt Academic compensation for 51.4 H+, then patient' s anticipated pCO2 is in between 27–31 mmHg. Patient's lab report is 30, so compensation is apt.
Thus the Acid Base Imbalance is a simple Metabolic Acidosis with anticipated compensation. Treatment is to treat underlying cause, Renal Failure. Symptomatic relief by Dialysis which improves Plasma HCO3 and pH of blood.