You are here
ACP International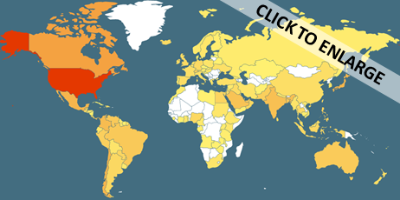 ACP has international chapters in Bangladesh, Brazil, Canada, Caribbean, Central America, Chile, Japan, India, Mexico, Saudi Arabia, Southeast Asia, Colombia, and Venezuela and our diverse international membership extends across the globe.
As a member of the International Society of Internal Medicine, ACP cooperates with other organizations and internal medicine societies worldwide on a variety of programs.
Internal Medicine Meeting 2019
April 11-13, 2019 Philadelphia, PA
Experience Philadelphia, Pennsylvania, and join your colleagues for the best in Internal Medicine.
Registration is now open for Internal Medicine Meeting 2019. More information can be found on our dedicated Internal Medicine Meeting website.
ACP Patient Education Materials Available to Ship Worldwide
ACP is happy to announce that international shipping of ACP patient education materials is now available! Our high quality patient education materials, including our Patient FACTS series, educational DVDs, and self-management guides can be sent to you worldwide. Many of these resources are available in Spanish translation and are free of charge. Popular topics include: diabetes, weight loss, cardiovascular disease, and many more!
If you live outside the US and would like to order ACP patient education resources, please complete the form and a member of our staff will get back to you shortly with a cost for shipping. For further information, please contact +1-215-351-2600.