You are here
Interoperability and Information Blocking Regulations
Interoperability and Information Blocking Regulations
Resources regarding the ONC and CMS final regulations aimed at improving interoperability and patient access to electronic health information.
The 21st Century Cures Act required ONC to develop regulations to improve interoperability and patient access to electronic health information and deter information blocking. ONC and CMS published final regulations that outline a number of requirements for physicians, health IT vendors, health information exchanges, and payers regarding enhancing electronic health information exchange and patient access to their data, including the use of modern health IT standards, standards-based APIs, and guidance regarding information blocking practices. The resources below provide additional information to help members comply with the new Information Blocking compliance requirements that go into effect April 5, 2021.
Health Information Sharing: New Rules to Live By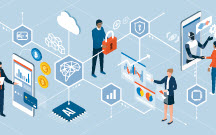 This free ACP Practice Advisor® module includes resources that can help clinicians and staff understand what they need to do to comply, including checklists, sample policies, patient communication, and background information to help understand the requirements.
Things to Know about Information Blocking
Overview of the regulation, key dates, what is expected of physicians, and additional resources.
FAQ: To Block or Not Block (Info Blocking Exceptions)
Describes the various exceptions to claim and document if deciding not to share information.
FAQ: EHR and Health IT System Updates
Describes EHR functionality needed and highlights questions to ask your vendor.
FAQ: Patient Access
Describes how to address questions and concerns around patients' increased access to health information.
Information Blocking Key Terms and Acronyms
Key terms, definitions, and acronyms associated with the regulations.
For more information, please consult the following resources below: