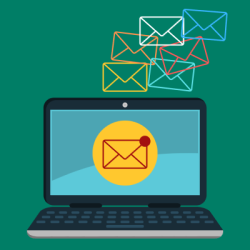 As a chief resident, you have many nonclinical duties in addition to your clinical ones. On the surface it may not seem like a lot, but it can get quickly overwhelming if you're not organized. Consider these tips and tricks from a recent chief resident and an associate program director to stay on top of your administrative duties.
Jump to section:
Calendar Management
Link your work calendar to your cell phone and leave your notifications in the 'on' position to ensure you arrive on time to any meetings.
It may be helpful to combine your personal and work calendars (also linked to your cell phone) to ensure a good work–life balance.
E-mail Inbox Management
Link your work e-mail to your cell phone, but turn off your e-mail notifications to help with work–life balance.
Timeliness in response to e-mails:

In general, you should respond to any e-mail within 1 to 2 business days during the normal work week.
If you are planning to be out of the office or not checking your e-mails during that time, create an automated reply message to notify e-mail senders that they should not expect a response until your return.

Create a file folder system with folders and subfolders to organize all of your e-mails.
Some e-mail platforms have flagging systems that enable you to flag higher-priority e-mails.
If you are unable to respond to a question, you can forward or cc the e-mail to others who may be able to assist with a response.
Meeting Organization
Prepare in advance for meetings so that they run efficiently.

If you are the meeting organizer, it is best practice to send an agenda and a reminder e-mail before the meeting so attendees know what to expect.
Using a notebook or an electronic document, you should keep your own notes during meetings so you can easily refer to them afterward.
After a meeting, it is best practice to share any to-do's, action items, or meeting minutes with the attendees.
Electronic Health Record (EHR) Inbox Management
Check your EHR inbox daily when you are on clinical service.
When you are not on clinical service, you should check your EHR inbox at least once a week to ensure you are co-signing–attesting any documentation and addressing any patient requests, staff messages, and/or lab results.

You can set a weekly reminder to help you keep up with this task.
Most EHR systems allow you to set notifications, reminding you of specific dates and times.

Prioritize prescription requests, messages, and lab results.

You can mark certain unaddressed items as 'unread' as reminders to yourself.

We recommend downloading the EHR app to your cell phone so that you're alerted with important notifications (that is, staff messages, critical results) even when you are not working on a clinical service that day.
Addressing To-Do's, Action Items, and General Reminders
Keep one to-do list. Prioritize your list based on priority, time sensitivity, and tasks that may be more time consuming.

Block out time on your calendar for tasks that take more time to complete.

Keep reminders or to-do's by cc-ing or bcc-ing yourself on e-mails.
Use the e-mail Send Later option to send reminders to yourself or send e-mails at specific times in the future.

Outlook, Gmail, and other e-mail platforms have this functionality.
William C. Lippert, MD, MPH, FACP
Assistant Professor of Internal Medicine, Wake Forest University School of Medicine
Associate Program Director, Internal Medicine Residency
Department of Internal Medicine / Section on Hospital Medicine, Atrium Health Wake Forest Baptist
Christina M. Rinaldi, DO
Assistant Professor of Internal Medicine, Wake Forest University School of Medicine
Department of Internal Medicine / Section on General Internal Medicine, Atrium Health Wake Forest Baptist