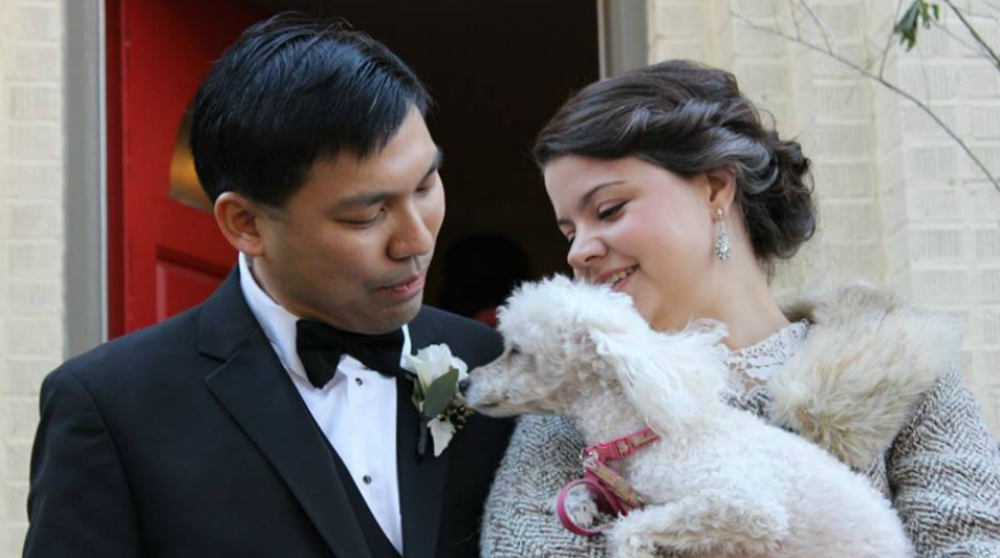 Dr. Wilson Lam on his wedding day with his wife, Claire, and poodle, Madeline.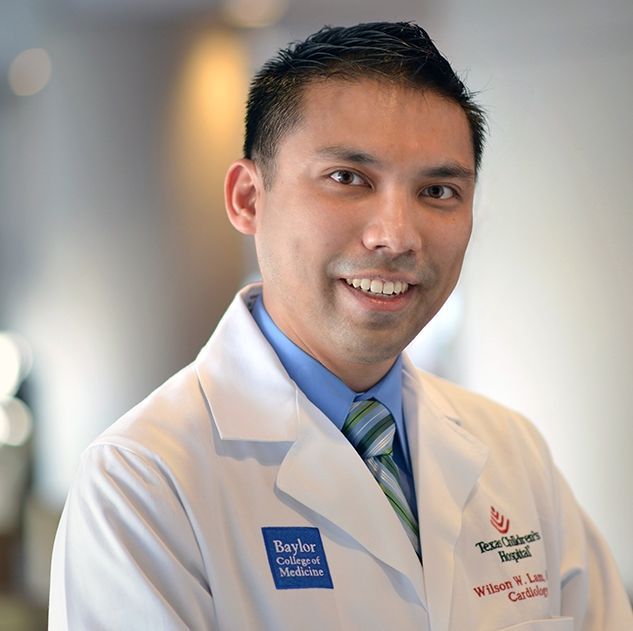 Dr. Wilson Lam, MD, FACP
— CURRENT OCCUPATION —
Texas Children's Hospital/Texas Adult Congenital Heart Center Combined Adult-Pediatric Cardiology/Clinical Cardiac Electrophysiology Assistant Professor, Departments of Internal Medicine and Pediatrics Associate Program Director, Internal Medicine Residency Program Baylor College of Medicine
— RESIDENCY —
Baylor College of Medicine Affiliated Hospitals, Houston, TX
— FELLOWSHIP —
Baylor College of Medicine/Texas Heart Institute/Texas Children's Hospital, Houston, TX
— MEDICAL SCHOOL —
Baylor College Of Medicine
September 2017 marks the 50th anniversary of the creation of the combined internal medicine and pediatrics discipline, or Med-Peds as it is commonly referred to. Med-Peds physicians are uniquely trained in internal medicine and pediatrics in order to care for patients spanning the spectrum from birth to death.
Dr. Wilson Lam's expertise in Adult-Pediatric Cardiology and Clinical Cardiac Electrophysiology made him a worthy choice for ACP to spotlight in honor of Med-Peds' 50th anniversary.
Working at a county hospital as a resident, Dr. Wilson Lam was "immersed in a service that had a lot of end-stage cancer patients." For two months, he moved from bed to bed counseling families, walking them through their diagnosis and initiating discussions about palliative care.
When asked to identify a point of challenge and growth during his career as an internist, Lam hesitated to cite a single case as ultimately being the most rewarding. Instead, he marked that two month span of his life as a resident at a county hospital.
He had to come to terms with "humanity that's done at the bedside" as an internist. That "two month experience, back to back, where I was having the exact same conversation from bed to bed, that was an area of growth," Lam explained. "It was a challenge to see people at the end of life and coming to grasp with their mortality. Trying to find out if patients were estranged from their families, how much they wanted to get them involved."
"That," according to Lam, "was probably the most growth I felt."
It was a challenge to see people at the end of life and coming to grasp with their mortality...
"A lot of times in my career," he explained, "we have a congenital heart disease patient with whom we don't really have any existing options available for treatment. I tap back into that challenging time and find that area of growth to counsel patients accordingly. That, to me, is probably the most telling aspect. Compared to a challenging case where you sweat it out, you wear lead for a long day—these are both different types of struggles, and there is a sort of reward for both."
Fifteen years after that two month span in a ward treating end-stage cancer patients, Wilson Lam, MD, FACP, leans on what he learned. He has since put a lot of consideration into that palliative approach. He asked, rhetorically, "What are our goals with therapy? Where should we target when we have little else to offer from a medication or therapeutic perspective?" He still tries to answer those questions today.
Native Houstonian, born and raised
Born in Houston, Texas, Wilson Wei-Sen Lam grew up in a suburb on the southwest side called Missouri City. His parents still live there, and his brother works and lives and Dallas. In his words, they're a "very Texas-based group."
Dr. Lam's main appointment is pediatric cardiology, but his primary service is treating patients with adult congenital heart disease. He is a practicing electrophysiologist, working in a type of cardiology that diagnoses and treats heart rhythm disorders.
Lam said that almost all of the patients he sees are in the Med-Peds subspecialty. "However," he explained, "subspecialists have a calling to preventative care as well. There is no more captive audience than a patient with their first encounter. The first visit with me has to include a transition discussion about lifelong care which includes heart healthy preventive tips such as weight control, dental checks, and annual flu vaccination."
Lam joined the faculty at the Baylor College of Medicine in 2014 as an Assistant Professor in Pediatrics and Internal Medicine in both Cardiology and Pediatric Cardiology. He also serves as an Associate Program Director of the Internal Medicine Residency.
Lam received his undergraduate education at Rice University in Houston, home of the Owls, where he earned a Bachelor of Arts in Biochemistry, Chemistry and Biology. He achieved his Doctorate of Medicine at the Baylor College of Medicine in Houston.
I think the detective work... was really the draw that pulled me into internal medicine.
"I've stayed at the Baylor College of Medicine since 1999," Lam explained, "doing my internal medicine and pediatrics residency." In 2007, Lam did his chief residency for Internal Medicine at Ben Taub General Hospital and St. Luke's Episcopal Hospital.
"Following in the footsteps of one of my cardiology mentors, Dr. Wayne Franklin," Lam explained, "I did a combined adult and pediatric cardiology fellowship for five years ending in 2013, and I said, 'What's one more year?!,' wrapping it up with a year of adult clinical cardiac electrophysiology in 2014."
In 2014, Lam joined the Baylor College of Medicine as a faculty member and continues that charge.
Playing detective in Internal Medicine
Both of Lam's parents are physicians, one in emergency medicine and the other in family practice. "Early on," he said, "I got to see a little bit of what it took to be a physician."
Lam went to Rice pursuing a major in chemistry and biochemistry, but he found as he worked in later laboratories that "the loss of the human touch" was not something he wanted.
Lam wanted to help people, to be involved in education and medical training, and that would later spring into medical education. "Being involved in teaching future generations and applying our science to a dedicated goal, to an improved outcome," he insisted, "was something I wanted to see."
Lam decided "that medicine, rather than a Ph. D. in one of the basic sciences, was something that I would prefer."
How did that push Lam towards becoming an internist? "Internal medicine was the first core rotation I did as a medical student," he said. "It was fascinating. I think the detective work of going through a differential diagnosis to solve a puzzle to think, 'Why is this disease process happening? How can we improve it? How can we manage it? How can we get a better result and quality of life for the patient?' I think that was really the draw that pulled me into internal medicine."
A year after his rotation in internal medicine, Lam did his pediatrics rotation. That's where the notion of preventative care grabbed him, and he pursued a combined internal medicine-pediatrics outpatient elective. Lam explained that he "got to work with Med-Ped faculty who were collaborating with folks on both sides. With cardiologists who were involved with adult congenital heart disease, which is definitely one of my passions, and I think that was really sowing the seeds towards my future career. I was very interested in their outcomes research and seeing this budding population having a good future and thinking to myself, 'wow, we don't really know where all of this goes, these new innovations, new surgeries, new technologies, all leading to a better quality of life and a prolonged life, but we still have a lot of the pathophysiology that's still happening from heart failure and arrhythmia.'"
"You can't have this without the comradery"
During his time as a resident, Lam went to an ACP chapter meeting and met someone who would eventually become another of his mentors; Dr. Ed Lynch, the Texas chapter governor. Dr. Lynch encouraged students and residents to participate and get involved with ACP even more.
ACP Master Dr. Steven Greenberg brought a group of Baylor School of Medicine students including Lam to the Internal Medicine Meeting in 2003 in San Diego, California. Lam said that it was fascinating to "sit through the conferences, to learn in such a large environment."
"I thought that this was probably the coolest way that somebody could keep up with the data, could learn the medical literature, could network with friends and, really, enjoy an educational experience."
Lam has always found that people want to work and learn with their friends. "They want to be around like-minded people who enjoy the stuff that they do, while learning different things and sharing knowledge. I think that that comradery—you can't have this without the comradery."
ACP's educational offerings, according to Lam, are "incredible." Later in his residency, he participated in the annual Doctor's Dilemma competition. "After I graduated, we started sending our team to the state competition as well. That was probably the second reintroduction for me to ACP during my residency career, when I really didn't have the time for the national attendance and meetings."
ACP was the central piece that encouraged us to do something that was fun, entertaining and educational.
Even without time to attend meetings on any sort of level, Lam explained that he and his fellow residents "started to learn through Doctor's Dilemma and doing some of the MKSAP questions. We'd meet up in the evenings, and, all of a sudden, our team was having a lot of success at the local, state and even the national contests that we would attend."
Lam was quick to assert that, even though they haven't won a national contest yet, his team's eyes are on the prize.
As it relates to ACP, Lam explains that serving as a coach, using MKSAP, working and learning as a group were all crucial to his success and continued education. "I started attending the national conferences essentially every year since about 2012 or so, and that's when I really became a lot more inundated with ACP and what it offers."
Lam said that he "could see that the residents were scoring better on their in-service exams, they were building friendships that would last a lifetime and were all keeping up with the published literature, the medical knowledge as well as reading up on the newer studies that were coming out in [Annals of Internal Medicine]. We could keep fresh with the information that was out there."
"ACP was the central piece that encouraged us to do something that was fun, entertaining and educational."
Tapping back into ACP for help
Dr. Lam's been able to get involved in ACP in more ways since his time as a resident, too.
Lam's Med-Peds Program Director encouraged him to apply to become a Fellow of ACP. Lam says that he's "learning about new things that ACP has; whether it's applications of research, how Annals of Internal Medicine is constructed and how to help support the local chapters with things that have worked in other institutions."
"I'm really excited to be tapping into the mothership, if you would, for the supplies, lectures and ways to get people plugged back in to ACP. There are so many residents that come around asking about how to get started on a research project, where to find some of these resources and maybe where to send their work, and so much of it is about getting funneled back into these main, internal medicine confluences."
For Lam and his peers, "ACP winds up being this center that we gravitate to. It has all of these options."
Lam still sees some of his junior residency friends. He recently married, and his family takes part in game nights with his old friends. Lam offered that when not at work, he enjoys easy company, his poodle and her recently adopted sister-pup, following the Houston Astros and Rice Owls baseball, and going to sporting events.
Dr. Wilson Lam also loves karaoke. It's more than his guilty pleasure; it's his "guilty passion."
Back to the September 2017 issue of ACP IMpact
More My Kind of Medicine Profiles