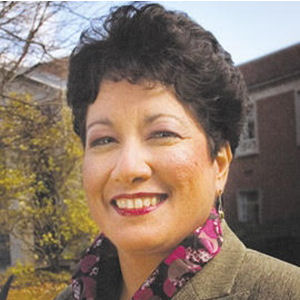 Ana Núñez, MD, FACP
— OCCUPATION —
Professor of General Internal Medicine and Vice Dean for Diversity, Equity and Inclusion at the University of Minnesota

— MEDICAL SCHOOL —
Hahnemann University (now Drexel University College of Medicine), Philadelphia, PA

— RESIDENCY —
Hahnemann University (now Drexel University College of Medicine), Philadelphia, PA

Enjoy the new question and answer format of I.M. Internal Medicine interviews.
What is your current position?
Inaugural Vice Dean of Diversity, Equity & Inclusion.
Where did you attend medical school and postgrad training?
Hahnemann University (now Drexel University College of Medicine)—medical school, internal medicine residency, invited Chief Resident. I also did postgraduate training in Michigan State for a medical education fellowship; AAMC/Commonwealth for a health services research fellowship; and the U.S. Department of Health and Human Services Secretary's Health Policy fellowship and the Executive Leadership in Academic Medicine (ELAM) fellowship.
Why did you choose to become a physician?
I excelled in the sciences and had a lifelong interest in people. I found medicine the most fascinating of all subjects and the most impactful. I was interested in how understanding science could be used to help people (and later populations) seeking health.
What field of internal medicine did you select and why?
General internal medicine. I gravitated toward a comprehensive approach, as it seemed that all things were interconnected and I wanted to aid in all aspects of my patients' challenges regarding health.
Please describe a typical day in your practice.
I had a small patient panel (them, their adult children, faculty, and staff) who I followed in the outpatient setting. Upon moving to the dean's office, I volunteered to supervise residents and students in the student-run homeless shelters. I engage in medical student, resident, and faculty educational interventions and community-based and educational research. Currently, in my new administrative role, I focus on collaborating toward organizational change to enhance diversity, equity, and inclusion of all academic medicine stakeholders.
What are some of your special interests professionally?
Health equity (I am editor in chief of the journal Health Equity, published by Mary Ann Liebert); women's health; sex and gender medicine; gender and sexual minorities; community participatory research; and medical education, primary care, and advocacy.
What are your interests and hobbies outside of medicine?
I love to travel, be in nature, and be lost in a pleasure book. I enjoy jewelry making, including metalwork, and I dabble at playing the piano.
What advice would you like to share with medical students, or what do you wish someone would have told you while you were in medical school?
Especially now, medical school can be an isolating process. You can feel like you are "the only one" going through whatever you are going through. In truth, lots of folks may be feeling the same way. So, I recommend when you feel like withdrawing from people, encourage yourself to do the opposite—to reach out. You may find likeminded others and get a new perspective that really helps you stay the course.
Which talent would you most like to have?
A good sense of direction—I compensate with my GPS and my talented spouse. I am often misplaced but never lost.
What do you consider your greatest achievement?
Helping others help themselves overcome barriers and access to medical training and then seeing their successes. It is incredibly fulfilling. Being able to be a great "talent scout" of those early in training and providing them support and opportunities mean I'm making a difference in the future.
What is your most treasured possession?
Since COVID, my piano and my iPad (with leisure books). Treasured beings include my amazing spouse and my pets.
What is your motto?
"Logic doesn't live here" (which makes me feel better when I'm frustrated) and "be like a duck and let it go off your back"—for non-nature people, ducks have nice oil so they don't drown when it rains. Letting things slide off and not taking them personally can be helpful.
Back to the October 2020 issue of ACP IMpact
More I.M. Internal Medicine Profiles