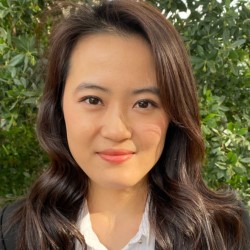 Linh Taylor
ACP Council of Student Members

— MEDICAL SCHOOL —
Oregon Health and Science University School of Medicine

— GRADUATING CLASS —
2023

Sacrifice is a word physicians are all too familiar with: from decades of training, intensive work hours, and education loans to being pushed physically, mentally, and emotionally. Yet, there is another sacrifice seldom mentioned: children.
For those who came into medicine without a partner or children, only 2% will be able to achieve such a dream before completing medical school (1), a minuscule portion among the 85% of female physicians who desire to have children (2, 3). When asked, 61% of a selected group of female residents cited their career as an influence on the decision to delay childbearing (4). This decision can leave some physicians involuntarily childless, sacrificing their prime reproductive years for medical education and postgraduate training instead.
For those who take the leap and have children during medical training, the added stress of child care, particularly during the COVID-19 pandemic, can feel like a systems failure. Child care stress has been described across different subgroups of health care workers and was associated with anxiety, depression, burnout, and intent to reduce hours or leave jobs altogether (5).
I am a fourth-year medical student raising a small child. Among the many challenges that come with it, balancing learning with child care is one of the most difficult puzzles to solve. In the early days of the COVID-19 pandemic, it meant relying exclusively on family to take care of my kid while I was in the bedroom completing coursework online. As the pandemic rolled into year two, preschool and day care centers faced extreme staffing challenges (6), meaning my child could be (and has been) the child who got sent home that day due to staff call-out. In these stressful times, I am fortunate to have a spouse and a family support system to help take care of my child while I am putting in the hours and can't step up. But I know I am not the norm.
ACP has been a strong supporter in addressing the barriers faced by women in medicine and a leader in nurturing physician well-being and professional fulfillment. To impact gender equity in medicine, ACP encourages you to advocate: speak truth, sometimes gently, sometimes firmly, sometimes loudly (7). With that courage, today, I am writing the truth: having children in training isn't easy; child care stress is burdensome, now more than ever. But if it is your dream, don't give up: pursue it fearlessly. For if women are going to have the cultural and infrastructural support to confidently have children without delaying our careers, that change won't come unless it is boldly advocated for by you and me: student doctors—the future of medicine.
Thank you to the following people for their assistance with this article:
Amanda Collar
MD-PhD Candidate at the University of New Mexico School of Medicine
ACP Council of Student Members
Graduation Class: 2024
R. Logan Jones, MD
Assistant Professor, Oregon Health and Science University
Tammy Lin, MD, MPH, FACP
Voluntary Assistant Clinical Professor, Department of Medicine
University of California, San Diego, Health Sciences
ACP California Southern III Governor
References
1. Cusimano MC, Baxter NN, Sutradhar R, et al. Delay of pregnancy among physicians vs nonphysicians. JAMA Intern Med. 2021;181:905-12. [PMID: 33938909] doi:10.1001/jamainternmed.2021.1635
2. Diamond P. The private lives of women doctors. Medica. 1984;2:40-5.
3. Stentz NC, Griffith KA, Perkins E, et al. Fertility and childbearing among American female physicians. J Womens Health (Larchmt). 2016;25:1059-65. [PMID: 27347614] doi:10.1089/jwh.2015.5638
4. Stack SW, Jagsi R, Biermann JS, et al. Childbearing decisions in residency: a multicenter survey of female residents. Acad Med. 2020;95:1550-7. [PMID: 32568852] doi:10.1097/ACM.0000000000003549
5. Harry EM, Carlasare LE, Sinsky CA, et al. Childcare stress, burnout, and intent to reduce hours or leave the job during the COVID-19 pandemic among US health care workers. JAMA Netw Open. 2022;5:e2221776. [PMID: 35849398] doi:10.1001/jamanetworkopen.2022.21776
6. Cain Miller C. 'Can't Compete': Why Hiring for Child Care Is a Huge Struggle. The New York Times. 2021. Accessed at www.nytimes.com/2021/09/21/upshot/child-care.html on 2 October 2022.
7. American College of Physicians. Top 10 Things You Can Do To Impact Gender Equity in Medicine. Accessed at www.acponline.org/advocacy/where-we-stand/women-in-medicine/top-10-things-you-can-do-to-impact-gender-equity-in-medicine on 2 October 2022.
Back to the November 2022 issue of ACP IMpact