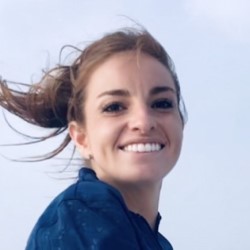 Allison Kathleen Collier, DO
— OCCUPATION —
Internal Medicine Resident PGY-3

— MEDICAL SCHOOL —
West Virginia School of Osteopathic Medicine, Lewisburg, West Virginia

— RESIDENCY —
Mercy Health-St. Rita's Medical Center, Lima, Ohio

What is your current position?
I am a third-year internal medicine resident.
Where did you attend medical school and post grad training?
I attended medical school at West Virginia School of Osteopathic Medicine in Lewisburg, West Virginia and am currently finishing my internal medicine residency at St. Rita's Medical Center in Lima, Ohio.
Why did you choose to become a physician?
I like the study of medicine, and love having the ability to save a human life.
What field of internal medicine did you select and why?
I chose to become a general internal medicine outpatient physician and hospitalist. I feel I have the largest impact when dealing directly with patients and their families.
Please describe a typical day in your practice.
As a hospitalist, my day starts very early: I start to review charts at about 5:00 a.m., talking with night nurses before their shift is over and setting eyes on all my patients by 8:00 a.m. My patient rounds are complete by Noon, giving me time to review, teach, and discuss patients with the first- and second-year residents. From Noon to 1:00 p.m., I have internal medicine didactics. From 1:00 to 3:00, I see new inpatient consults, review the labs and imaging I've ordered on my patients, and further determine whether each patient is still on the appropriate course of treatment. From 3:00 to 4:00, I review all patients with first- and second-year residents and make sure that all patients are stable and that nursing has no further questions. Between 4:00 and 6:00, I go see patients again and answer any of their questions or address their concerns. From 6:00 to 7:00, I give sign-outs to the night team. Then, I head home and typically study or read new journal articles for 1 to 2 hours nightly.
What are some of your special interests professionally?
My special interests include educating others (including other providers) about the importance of opioid use disorder as well as appropriate management, both inpatient and outpatient. Other interests include traumatic brain injury quality improvement to ensure that all patients are receiving standard care.
What are your interests and hobbies outside of medicine?
Outside of medicine, I enjoy motorcycles, fishing the Great Lakes, spending time with my family, and shopping.
What advice would you like to share with medical students or what do you wish someone would have told you while you were in medical school?
Focus on learning as much as possible, especially in anatomy lab, because you will not get that opportunity again. Also, not always getting the highest grade is okay as long as you are optimizing your opportunity to learn.
If you could change one thing about yourself, what would it be?
I would not change anything. Everyone has strengths and weaknesses. When you overcome a weakness, it becomes your greatest strength.
What do you consider your greatest achievement?
Managing a 21-year-old man in acute hypoxic respiratory failure and being able to see him walk out of the hospital on room air 5 days later.
What is your most treasured possession?
A small wooden cross that is pinned to the inside of my white coat. This cross was made for me by a patient when I was a third-year medical student. I wear it every day.
What is your motto(s)?
Treat every patient as if they were your mom, dad, or brother (if I had a sister, I would say sister too). That way, at the end of the day, I know I have given that patient the absolute best care possible.
Back to the November 2022 issue of ACP IMpact
More I.M. Internal Medicine Profiles