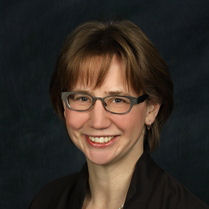 Valerie J. Lang, MD, FACP
— OCCUPATION —
Associate Professor of Medicine, University of Rochester Medical Center, Rochester, NY

— MEDICAL SCHOOL —
SUNY Health Science Center College of Medicine, Syracuse, NY

— RESIDENCY —
University of Rochester Medical Center, Rochester, NY

Reprinted from July 2014
"Organic compounds-i.e., matter in its various forms containing carbon atoms-form the basis of all earthly life." -Wikipedia
It's not every day you hear someone express a passion for organic chemistry, but it's not surprising when such sentiment is expressed by an internist. "I guess we're kind of a nerdy group," laughs Dr. Valerie Lang, who admits she loved studying organic chemistry in college.
Internists, with their passion (some might say "obsession") for science, might well be considered the nerds of medicine; except that, unlike the socially-inept stereotype, internists possess exceptional social skills. As highly-trained, skilled specialists who study complex illness, they are equally adept at building relationships with their patients, establishing a rapport with students, and working collaboratively with other specialists. A more fitting description might be that internists are the great communicators and collaborators of medicine.
Dr. Lang, who laughs easily, likes to ask questions, and is comfortable talking to strangers, is an example of a great communicator and collaborator. She's also a busy hospitalist and medical educator who is an Associate Professor of Medicine at the University of Rochester Medical Center and Director of the Inpatient Internal Medicine Clerkship program at the University of Rochester School of Medicine & Dentistry.
Dr. Lang prefers teaching at the bedside of patients rather than inside a classroom, and believes the inpatient setting offers students a unique opportunity to learn clinical care, communication skills and teamwork. "Hospital patients are sicker," says Dr. Lang, "so the problems students see are more complex." "Also," she explains, "the inpatient setting has lots of moving parts and hospitalists are responsible for coordinating all of the care offered by various team members, from social workers to surgeons."
From stalls to halls
Growing up in the Finger Lakes region of New York state, Dr. Lang enjoyed an "earthly life," including outdoor activities like horseback riding, swimming and boating on Honeoye Lake in the summer and ice skating in the winter. But the best part of her childhood, she says, were the years she spent working on a horse farm.
I found I loved medicine... the approach was holistic, not narrow, and the people in the field were brilliant, managing lots of details and looking at the big picture.
"I loved riding," says Dr. Lang, "so I worked on the horse farm in exchange for riding lessons." As a high school senior bound for college, she had her sights set on becoming an equine veterinarian, but changed her mind after spending that year as an exchange student in Denmark. "One of my host families gave me an opportunity to follow an equine veterinarian, and I guess I became disillusioned," says Dr. Lang, "I discovered that owners did not care about the animals the way I did. For them, it was an industry."
While majoring in biology at Allegheny College in Meadville, PA, but uncertain what direction it would lead, Dr. Lang had the good fortune to meet several pre-med students. It was their influence and path to medicine that helped her discover her own.
After graduating magna cum laude from Allegheny, Dr. Lang earned her medical degree from SUNY Health Science Center College of Medicine in Syracuse, New York. She enjoyed her rotations, particularly surgery, and considered specializing in thoracic surgery until her rotation in internal medicine changed her mind. "I found I loved medicine," says Dr. Lang, "the approach was holistic, not narrow, and the people in the field were brilliant, managing lots of details and looking at the big picture."
The power of words and weeds
During her residency at the University of Rochester Medical Center in Rochester, New York, Dr. Lang met fellow resident and future husband, Dr. Alexander Solky, who is now an oncologist at Interlakes Oncology and Hematology in Rochester. She recalls watching her husband pull up a chair to sit and talk with a patient receiving chemotherapy and says his ability to care about his patients and ease their anxiety has always been a source of inspiration for her.
Another source of inspiration for Dr. Lang has been her mother, a single mom who raised three children and went back to college in her 40's to get a master's degree in education. Dr. Lang shares her mother's passion for education and can-do spirit, and is currently earning a master's degree in Health Professions Education from the University of Illinois at Chicago.
I get a kick out of seeing students who might be struggling with something and then the light bulb goes on—that makes me walk on air.
"I learned early on that I had a passion for teaching," says Dr. Lang, "but when I was asked to take over as Clerkship Director for 3rd year medical students, I wanted more of a foundation in designing educational programs and doing research."
Wearing multiple hats-physician, teacher, editor-Dr. Lang describes her career in internal medicine as diverse and rewarding. "Clinically speaking, I see how care helps sick patients get better, and on the teaching side," she says, "I get a kick out of seeing students who might be struggling with something and then the light bulb goes on—that makes me walk on air."
In a two-physician marriage, where both partners are caring for very sick people, there needs to be an emotional release valve. For Dr. Lang and her husband, it's spending time outdoors, traveling when they can, and enjoying their son who loves riding his bike, digging in the dirt, and telling jokes. Dr. Lang, who loves to garden, shares her son's enthusiasm for getting her hands dirty. "Gardening is a great antidote to the harder parts of the clinical work I do," she says, "It's gratifying to deadhead plants and pull weeds, to take the bad parts and just get rid of them."
Great collaborators
Dr. Lang's involvement with CDIM and Med U gave her an opportunity to work on a project with ACP, when AAIM, the umbrella organization for CDIM, decided to make High Value Care a priority. Working closely with seven of her CDIM colleagues and ACP's Daisy Smith, MD, and Phil Masters, MD, Dr. Lang helped create an interactive, online HVC curriculum for medical students. "Daisy and Phil are such good collaborators," says Dr. Lang, "and the synergy between the three groups is so impressive. I don't think we would have produced educational materials this good without such collaboration."
Dr. Lang is proud to be an ACP Fellow. "Having a home for internists is important," she says. "ACP sets a high standard for providing services to a huge group of physicians, their educational programs are top notch, and they are leaders in High Value Care."
For students who are considering a career in medicine Dr. Lang offers valuable advice, "It's important to understand that medicine is a service profession and will create some inconvenience in your life, but it also comes with the reward of helping others. As physicians, we are very fortunate. People entrust us with the most confidential information and allow us to lay hands on them. It's a huge responsibility."
Reflecting on her advice, "I believe I made the right choice," says Dr. Lang "I'm glad I didn't become a vet." Copy that, Dr. Lang. The internal medicine community, the students you teach, and the patients you serve, would all agree.
Back to the November 2018 issue of ACP IMpact
More My Kind of Medicine Profiles