| | |
| --- | --- |
| | In honor of ACP's Centennial, My Kind of Medicine: IM Family is a new series of physician profiles featuring multi-generational internists. The stories will appear in several issues throughout 2015 to showcase how a tradition of caring and a passion for internal medicine are passed from one generation to the next. |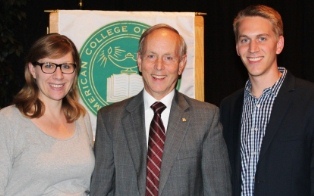 ACP Master: Warren C. Lovinger, MD, MACP
Current Occupation: Internist, Nevada Internal Medicine, Nevada, MO
Residency: Barnes Hospital, University of Washington, St. Louis, MO
Medical School: Johns Hopkins University, School of Medicine, Baltimore, MD
---
ACP Member: Sarah Lovinger Florio, MD
Current Occupation: General Internist, St. Luke's Medical Group, Lee Summit, MO
Residency: University of South Carolina, Greenville, SC
Medical School: University of Missouri, Columbia, MO
---
ACP Medical Student Member: Daniel W. Lovinger
Current Occupation: Fourth-year medical student, University of Missouri-Columbia, Columbia, MO
Medical School: University of Missouri-Columbia, Columbia, MO
---
Dr. Warren Lovinger
From a young age, Warren Lovinger, MD, MACP was used to being surrounded by adults. His father was the president of Central Missouri State University, and Dr. Lovinger grew up in the president's house in the middle of an "enriched academic environment." Growing up he thought that he would enter academia to teach. However, while playing football in high school, Dr. Lovinger suffered an injury that caused his left arm to be paralyzed for nine months. He had an interest in science and communications during high school, but Dr. Lovinger's injury was the first time that he was exposed to the medical community and that's when his interest in medicine was sparked.
He began to see medicine as a combination of people and communications skills, and science and intuitive thinking. After completing medical school at the Johns Hopkins School of Medicine in 1977, Dr. Lovinger completed an internal medicine residency at Barnes Hospital at Washington University in St. Louis. Dr. Lovinger applied to the Missouri State Medical Association, and heard back from 55 places. He and his then soon-to-be wife, now wife, Marilyn identified 11 communities they wanted to visit. They developed a rating system that included criteria such as quality of the medical community, schools, churches, community services, and general quality of life. Their goal was to move where they could stay for the rest of their lives. In the end, they decided on Nevada, MO, pronounced with a long "A." Nevada is in the western part of Missouri, south of Kansas City and north of Joplin, and has a population of about 10,000. Dr. Lovinger and his wife lived in the same house in Nevada for 27 years, while they were raising their four children. They recently built a bigger home, which they share with their Labrador retriever, Sammy. In the lower level of their new home are four suites, one for each of their children, so that they have no excuse not to come visit with the grandchildren.
After moving to Nevada, Dr. Lovinger joined an existing primary care practice where he worked for two and a half years. He says that he learned a lot of practical skills during that time, since he went into private practice after having worked in academic settings. After those two and a half years, Dr. Lovinger opened his own private practice, where he has practiced for the past 33 years. "I haven't regretted it for a minute. This is a fantastic community in which to live, raise and family, and practice medicine," he says.
He describes his practice as a "classic diversified general internal medicine practice." Dr. Lovinger is in the office four and a half days each week. He works with his wife Marilyn, who is the office manager, and a registered nurse Verna Jaross. In addition to his private practice, Dr. Lovinger took care of patients at Nevada Regional Medical Center for 35 years. In late 2014, Nevada Regional Medical Center created a hospitalist program. Now, every morning Dr. Lovinger makes a point to visit his patients who are still in the hospital, so that he keeps direct communication with them. While at Nevada Regional Medical Center, he reads EKGs, Holter monitors, echocardiograms, and does stress tests for the hospital. Dr. Lovinger is also the medical consultant at Heartland Hospital, a child and adolescent psychiatric hospital in Nevada, and the lead physician at Cottey College, a junior college in Nevada. He also has a large nursing home practice, which he says is fairly common for physicians in rural communities. On the first day of each month, Dr. Lovinger visits the nursing home, where he has an average of 60 patients. He gets a lot of calls in this role. "You have to be a little bit dependable in that realm," Dr. Lovinger says, having never missed a monthly visit in 36 years.
A self-proclaimed "people person," Dr. Lovinger says that he enjoys getting to know his patients while talking about everything from literature to farming. He and his staff consider their patients as friends, and look forward to seeing them each day at the office.
Not only is Dr. Lovinger very involved in medicine in his community of Nevada, he also is involved with organized medicine, such as ACP. During the 2011 Internal Medicine meeting in San Diego, CA, Dr. Lovinger became an ACP Master (MACP). Only about 15 living physicians in Missouri are Masters of the College, and Dr. Lovinger feels honored to be a part of the select group since he is a non-academic physician in a rural community. Dr. Lovinger served as a transitional governor of the Missouri chapter during the ACP-American Society of Internal Medicine (ASIM) merger from 1998-2000. He encourages physicians, including his children, to be involved with organized medicine because it helps create intellectual and personal connections within the medical community, and promote the medical profession. From 2017-2018, he will serve as the president of the Missouri State Medical Association.
Dr. Lovinger also believes in community involvement and served on the Nevada School Board for 18 years, was on the board of the chamber of commerce, was president of the Nevada Rotary Club, and is an elder of the First Presbyterian Church of Nevada. He was the cofounder of the Nevada YMCA. In 1987, he was named Citizen of the Year for Nevada, MO.
He has passed on his passion for medicine and serving his patients to his children. Dr. Lovinger urges medical students to have a long term plan that addresses important issues such as preferred field of medicine, preferred practice format, and desired lifestyle. Dr. Lovinger has experienced what today's medical students face since three of his children have pursued the medical profession, and reminds medical students to have a long-range plan in mind by performing well but also understanding what is going on in the medical industry.
Dr. Sarah Lovinger Florio
Sarah Lovinger Florio, MD is the first-born child of Dr. Warren Lovinger and his wife Marilyn. In first grade, she wrote a book about her dad being a doctor and said that she wanted to become a doctor like him. Dr. Florio does not remember ever considering any other career path. She says that her father was a role model for her when she was a child, and is still a role model for her today because he loves what he does. "When you have a positive role model, it influences your decisions," Dr. Florio says.
Growing up in Nevada, MO, Dr. Florio remembers her father receiving calls to address issues related to his job as a physician in a small town, and she found it interesting to see her dad's role in the community. Her interest in science was present from a young age when she found her passion for participating in science fairs in middle school, where she embarked on a two-year project about the effects of antioxidants on planaria regeneration, which went on to the regional science fair. Now when her patients ask about different antioxidants, Dr. Florio often refers to the science fairs that she participated in as a child when explaining things in an understandable way.
While in medical school at the University of Missouri School of Medicine in Columbia, MO, Dr. Florio knew that she would go into internal medicine or family medicine, and that she would work in a primary care setting. She had an interest in obstetrics and family medicine, but in the end she chose internal medicine because she knew the specialty would afford her a lot of career options.
Today, she is a general internist at St. Luke's Medical Group in Lee Summit, MO. Dr. Florio enjoys interacting with her patients and getting to be a part of her patient's personal lives and families. Most of the patients she sees have chronic medical conditions like diabetes, hypertension and hyperthyroidism, and because she is familiar working with a variety of conditions, she does not have to refer everything to subspecialists. Dr. Florio makes it a priority to spend three to five minutes at the beginning of each visit talking with her patients about their lives. "I get to spend time getting to know them, and I love it. They're my friends and I care about them," she says.
In addition to the four days each week that she works at the primary care practice, Dr. Florio works some hours in the emergency room, and in nursing homes and hospital settings, and is the hospice medical director. "It's exceptionally rewarding," she says. Dr. Florio cautions medical students to not make a decision about what specialty or work environment they will pursue based on how much money they will earn in the future, and to choose the specialty based on passion. She also encourages medical students to consider primary care internal medicine, and to keep in mind the extra things that they may want to do in life such as having a family.
Dr. Florio's ACP membership is valuable to her work because it has allowed her to develop relationships with physicians outside of her geographic location and specialty, adding that there is a great mix of young and old physicians to learn from. The College also helps Dr. Florio set goals for herself as a physician, and allows her to take advantage of the educational resources that ACP offers to its members.
Understanding her patients' lives in more depth than their medical conditions is one of the reasons that Dr. Florio says she is a good internist, but she says that, like all doctors, she faces challenges. Maintaining a work-life balance is one of her biggest challenges as a physician. She makes eating dinner with her husband Andrew, a Presbyterian minister, and their 2-year-old son, A.J. a priority. "There is so much to do in medicine that you could literally work for 24 hours per day because there is such a need," she says.
Dan Lovinger
Dan Lovinger, the youngest child of Dr. Warren Lovinger and his wife Marilyn, and brother of Dr. Sarah Lovinger Florio, is a fourth-year medical student at the University of Missouri-Columbia School of Medicine. As an integrated resident , he will be starting his internal medicine residency at the University of Missouri after he graduates in May 2016. Integrated residents spend two-four months of their M-4 year with the Department of Internal Medicine and Department of Child Health acting as an extern. An extern is a medical student who acts as an intern accepting all the duties of an intern.
Like his sister, Dan remembers always wanting to become a doctor. He doesn't remember considering any other career because he grew up in a family of doctors and his father loved his job so much. When Dan graduated from high school, his first grade teacher presented him with a framed picture that he drew in first grade. The picture said "when I grow up I'm going to be a doctor like my dad."
Even though he knew that he wanted to be a doctor, Dan entered medical school with an open mind. As he worked his way through the various clerkships, Dan found that he really connected with the internal medicine faculty at the University of Missouri-Columbia and liked the way that the internal medicine doctors practiced medicine, cared for patients, and treated students and fellow staff. Dan plans to keep his options open as he enters residency, but says that he will likely go into private practice internal medicine.
As a child, he saw the time commitment that his father made to the medical profession, especially as a doctor in a small town. Dan says that he observed his father's dedication to medicine as he took calls from patients day and night, and went into the office early and left late. "The doctors who choose that path are happy to do it, but it's not always an easy lifestyle," Dan says.
Dan grew up with his three older siblings in Nevada, MO, and was a three-sport athlete, participating in football, basketball and track during his high school years. He is an Eagle Scout, and enjoys outdoor activities including farming and fishing. He says that his family made an effort to travel around the U.S. as a family, and by the time he graduated from high school he had been to all 50 states.
As a fourth-year medical student, Dan works with physicians at the University of Missouri, sees patients and is learning how to make a diagnosis and how to treat all different illnesses. Each year his responsibility increases, and next year as an intern he will have even more responsibility. His schedule changes each month as he does a different clerkship. "I'm in learning mode," he says.
He advises fellow medical students to read a lot and work hard, but to never lose sight of what their goal is, which is to become a physician who provides great patient-centered care. He says that he is always reminding himself of the end goal because early in medical school sometimes students are so focused on studying and test scores that they forget their end goal. Organized medicine through membership of ACP is something that Dan relies on to connect with physicians and mentors from around the country, and as a way to meet doctors who already practice in the specialty and environment that he hopes to be in one day.
Forming relationships with patients is by far my favorite part," Dan says. He calls himself a "people person," and says that a good doctor is someone who works with patients to develop a relationship and build trust so the patients will open up and work with physicians. "I always want to work with patients, and not against them," he says.
He says that the time commitment is likely to be his biggest challenge as a physician, in addition to keeping up with all of the paperwork and charting that is part of the profession.
Dan was just married on October 24 to his fiancée, Mariette, a speech pathologist at a local school. They have a chocolate Labrador puppy named Scout. In his free time, he enjoys helping his cousin on his cattle farm, traveling, sports, and completing home improvement projects at his condo in Columbia, MO.
Back to November 2015 Issue of IMpact