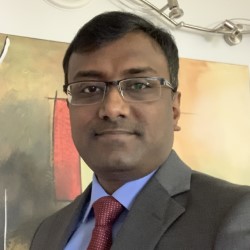 Bright Thilagar, MD, MMM, FACP, SFHM
— OCCUPATION —
Assistant Professor, Mayo Clinic Alix School of Medicine; Senior Associate Consultant, Mayo Clinic

— MEDICAL SCHOOL —
Tamil Nadu Dr. M.G.R. Medical University in South India

— INTERNAL MEDICINE RESIDENCY —
University of Buffalo, Buffalo, NY

— MASTER'S DEGREE IN MEDICAL MANAGEMENT —
Carnegie Mellon University, Pittsburgh, PA

What is your current position?
I am an Assistant Professor at the Mayo Clinic Alix School of Medicine and Senior Associate Consultant at the Mayo Clinic.
Where did you attend medical school and post grad training?
I completed medical school at Dr. MGR Medical University in South India. I did my residency at the University at Buffalo. Later, I completed my master's degree in medical management from Carnegie Mellon University. I also did a certificate course in physician leadership from the American College of Physicians. Together, these gave me a strong idea of the inner workings of health systems and quality improvement.
Why did you choose to become a physician?
My decision to choose a career path in medicine was based on the need for medical care that I saw around me growing up. Health care is a service that is like no other and the immense satisfaction you gain through healing another human being is matched by no other career. Additionally, you get to make major breakthroughs in research and have the opportunity to impart your knowledge and experience to learners at various stages and see them grow.
What field of internal medicine did you select and why?
I have worn many hats throughout my career. Today I practice in general internal medicine. This gives me exposure to a wide variety of pathology in both outpatient and inpatient environments. I also get to train the next generation of internal medicine physicians, collaborate with various subspecialities, be involved in cutting edge research, and bring that research to my patients.
Please describe a typical day in your practice.
Each day is unlike the other. In a typical day in our consultative medicine practice, we get to see some of the most difficult cases. These patients either have medically complex care questions or have unexplained symptoms that are yet to be diagnosed. This involves innovative approaches to care coordination where patients get several tests and consults in a few short days, helping us make diagnoses and treatment plans rapidly. This model of care is unique and present in only certain institutions, and I am glad to be part of this team here at Mayo Clinic. In the hospital, I teach at the bedside with residents doing various activities that enhance care such as POCUS.
What are some of your special interests professionally?
Some of our research work is in the use of genomic and proteomic data in preventive care and disease diagnostics. For many years we have relied on a set series of lab tests such as the complete blood count and metabolic profiles to determine the health of patients. We have yet to unravel the interplay between genomic and proteomic data in preventive care. This field is nascent, and we are also trying to ensure that these tools are used in an equitable manner and are available to all members of the community.
What are your interests and hobbies outside of medicine?
I really like to travel and explore new places. Apart from that, I am a space Sci-Fi fan and have watched everything from Battlestar Galactica to The Mandalorian. I also follow several YouTube tech reviewers to keep up with technology changes.
What advice would you like to share with medical students or what do you wish someone would have told you while you were in medical school?
Let your passion guide you in your career path. You don't have to choose the most competitive residency or fellowship. Success will follow your hard work no matter what you do.
If you could change one thing about yourself, what would it be?
Procrastination. I tend to put things away for later. In medicine, you need to act now and act fast. This is especially true in publishing research. If you have something new, publish it now. Someone will surely beat you to it if you delay.
Who is your hero of fiction?
As a Sci-Fi fan, I am most drawn to the fictional character Captain Picard (played by Sir Patrick Stewart) in the series, Star Trek: The Next Generation. There is a lot to learn in skills you need in medicine (like being calm and thinking clearly in a stressful situation and not being overcome by emotion).
What is your motto?
Advocate for those who cannot advocate for themselves.
Back to the March 2023 issue of ACP IMpact
More I.M. Internal Medicine Profiles