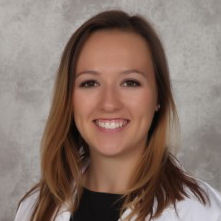 Taylor Harp
Member, ACP Council of Student Members

— MEDICAL SCHOOL —
Rocky Vista University College of Osteopathic Medicine

— GRADUATING CLASS —
2022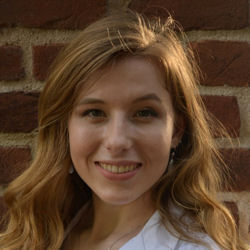 Ashley Fellers
Member, ACP Council of Student Members

— MEDICAL SCHOOL —
University of South Carolina School of Medicine

— GRADUATING CLASS —
2023

Medical students are known to be high-achieving individuals. However, Sam Grewe has been reaching a different type of height outside the classroom. Sam has competed in the high jump all over the world and earned multiple world titles along the way. This summer, the University of Michigan medical student won his first gold medal at the Paralympics in Tokyo, Japan.
In a recent interview with the University of Michigan's Michigan Health Lab, Sam spoke about his journey to becoming a Paralympic athlete and medical student. When asked what advice he has for his medical student peers, he stated, "I think it's important to never let a bad day stop you from pursuing your dreams. Whether it's one bad day, or in my case a diagnosis, or a bad exam, there's always an opportunity to learn and grow."
For Sam, going into medicine isn't just about caring for his patients—it's about advocating for them, as well. In his interview with the University of Michigan's Michigan Health Lab, he stated, "I know how underrepresented people with disabilities are, and I know—firsthand—that having a disability is not a death sentence. There are so many opportunities out there, but sometimes those opportunities aren't displayed as openly as they should be. I want to help change that."
Sam currently advocates for people with disabilities through many projects, including one that is designed to integrate a comprehensive adaptive sports curriculum into physical education classes around the state of Michigan. Next, he plans to author a resolution with the ACP Council of Student Members. The Council of Student Members encourages any interested medical students to get involved in advocacy! For more information about the resolutions process within the ACP, visit the Electronic Resolutions System (ERS) or feel free to contact your representative on the Council of Student Members.
When asked about any advice he may have for his medical student peers as far as treating people with disabilities, Sam said, "I think it is extremely important to be an advocate for them. Patients with disabilities often don't have a voice in many areas of their life and come to the doctor to seek advocacy and to know that they have somebody on their side. There is nothing more disheartening as an individual with his disability than having a doctor that doesn't believe you or who doubts your experiences. Perhaps most importantly, it's critical that you never reduce your patient's identity down to their diagnosis. Maintain a holistic approach and understand that they are a person, not a diagnosis. As far as resources go, my first piece of advice would just be to know of opportunities in the area for individuals with disabilities that they may not know about. This could include things like adaptive sports clinics, grant opportunities, or any other number of resources."
Being a medical student and a Paralympian is no small feat. We applaud Sam for taking his experiences and paying it forward to help his future patients. Sam demonstrates the differences that a physician, or a future physician, can make by serving as an advocate both inside and outside the hospital.
Reference
Sawani J. First-year medical student wins gold at Paralympics. Michigan Health Lab. 9 September 2021. Accessed at https://labblog.uofmhealth.org/med-u/first-year-medical-student-wins-gold-at-paralympics on 8 November 2021.
Back to the December 2021 issue of ACP IMpact