ACP member since 1972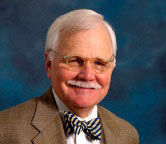 The Chapter Centennial Legacy Award celebrates ACP's centennial by recognizing one influential chapter member who served the chapter and made a significant impact on the chapter's viability. The award winner should exemplify ACP's core values, including leadership, excellence, respect, compassion, professionalism, and responsibility.
Charles S. Bryan, MD, MACP, FRCP served as an infectious disease specialist, the chair of the Infectious Disease Department as well as the chair of the Department of Medicine at the University of South Carolina. As a leader in modern infection control and hospital epidemiology, he authored a landmark article on the overprescribing of antibiotics.
Dr. Bryan was elected to Mastership (MACP) in 2003. He was awarded the Lifetime Achievement Award from the American Osler Society, and the Order of the Palmetto Award in 2013. The University of South Carolina department of medicine created the Charles S. Bryan Scholar Award to recognize an outstanding internal medicine resident each year.