ACP member since 1979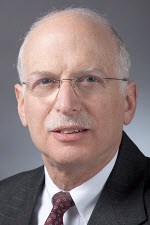 The Chapter Centennial Legacy Award celebrates ACP's centennial by recognizing one influential chapter member who served the chapter and made a significant impact on the chapter's viability. The award winner should exemplify ACP's core values, including leadership, excellence, respect, compassion, professionalism, and responsibility.
Charles Cutler, MD, MACP, has served ACP in various positions for 30 years. He has served ACP most recently as the 2013-2014 Chair of the Board of Regents. Dr. Cutler previously served ACP as Regent, Chair of the Board of Governors, Governor, Governor-elect, and also as a Council member. Dr. Cutler has helped advance the College and Pennsylvania chapter activities. He encouraged chapter members to participate in the Pennsylvania chapter's Health and Public Policy Committee, in local residency programs, and among future leaders of the chapter. Dr. Cutler became a Master (MACP) of the College in 2014.