ACP member since 1959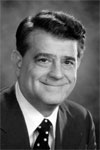 The Chapter Centennial Legacy Award celebrates ACP's centennial by recognizing one influential chapter member who served the chapter and made a significant impact on the chapter's viability. The award winner should exemplify ACP's core values, including leadership, excellence, respect, compassion, professionalism, and responsibility.
Frank Incaprera, MD, MACP has devoted his professional life to his patients and his colleagues. He served as Governor of the Louisiana Chapter from 1995-1999. In 2002, Dr. Incaprera was awarded Mastership (MACP) of the College, and has mentored other governors over the last 20 years. He received the Evergreen Award from the Louisiana Chapter for initiating the Laureate Emeritus Dinner, which provides ongoing fellowship opportunities for Laureates at the Annual Chapter Scientific Meeting. The Medical Center of Louisiana Foundation presented Dr. Incaprera with the Spirit of Charity Award, which recognized his support of the Charity Hospital of New Orleans and the Louisiana State University Medical School. Dr. Incaprera is a member of Alpha Omega Alpha medical honor society, and was an active member of the American Society of Internal Medicine, while serving as Medical Director of the Internal Medicine Group.