The DEI Shift
From the HIV epidemic to the rise of multi-drug resistant TB and the opioid crisis, those caring for people experiencing houselessness and housing insecurity saw the rise of each of these epidemics in their patient populations long before the rest of us. The devastating impact of the COVID-19 pandemic was particularly harsh for those in shelters or unhoused. Some say that caring for those experiencing houselessness reveals the fractures in our healthcare system earlier and more clearly than healthcare in other settings.
Join The DEI Shift for the second of 2 episodes with 2 experts, Dr. James O'Connell, MD, MACP (Boston Healthcare for the Homeless) and Rachel Solotaroff, MD, FACP (Central City Concern- Portland, Oregon) on caring for this population. In our discussion of the obstacles faced by these patients and the opportunities to learn from them, Drs. O'Connell and Solotaroff describe the root causes of houselessness, the best terms to use when addressing people experiencing houselessness, and some of the challenges in delivering healthcare to these patients.
First, listen to the podcast. After listening, ACP members can take the CME/MOC quiz for free.
Up to 0.5 AMA PRA Category 1 Credits ™ and MOC Points
Expires March 22, 2026 active
Podcasts and Audio Content
The DEI Shift's mission is to create a podcast series on diversity, equity, and inclusion (D.E.I.) in medicine that sparks discussion and provides practice-changing data and stories for a physician, student, allied health professional, and health care leader audience. Listeners will be able to gain useful information to improve their practices and environments, to gain empathy, cultural competency, and humility, and to learn more about emerging D.E.I. concepts. The DEI Shift will discuss issues related to gender, race, sexuality, religion, ability, socioeconomics, and so much more.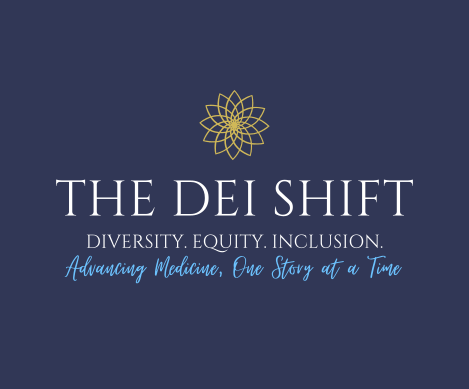 Guests: James O'Connell MD MACP, Rachael Solotaroff MD, FACP
Co-Hosts: Dr. Marianne Parshley, Dr. Elisa Choi
Editor/Assistant Producer: Clara Baek
Failure to eliminate homelessness can be
attributed to a profound failure of imagination
— The International Street Medicine Institute
Learning Objectives:
Identify challenges and lessons for both clinical teams and people experiencing homelessness in providing and accessing healthcare.
Describe different models of housing support and healthcare delivery for which clinicians can advocate in order to support those experiencing and emerging out of houselessness, and to ultimately reach the goal of ending houselessness.
Discuss some of the challenges facing houseless individuals who are seriously ill and/or at end-of-life, and facing those who are providing their end-of-life healthcare.
[0:00-1:11] Welcome and Introduction
Introduction of co-hosts, guests Dr. Jim O'Connell and Dr. Rachael Solotaroff, and topics
[1:11-10:26] Providing Care in the Houseless Community and Action Steps
Dr. Jim O'Connell

Large urban cities have high prevalence of houselessness
Dr. O'Connell shares an anecdote of the vice chair of his board, who had lived on the street for years, had difficulty adjusting to being in housing
Individuals who were previously houseless need continuing and additional support after being housed, including access to health care

Dr. Rachael Solotaroff

Her mentors were both her patients and her colleagues at Central City Concern, who taught and guided her how to communicate and connect with her houseless patients
The COVID-19 pandemic exacerbated disparities for the houseless community, especially the effects of closing communal spaces, such as the Living Room in Portland, Oregon
Supporting the workforce who provides these services to the houseless community is essential
[10:26-15:13] Discussing the best model for improving access to care
Dr. Rachael Solotaroff

Dr. Solotaroff recommends co-creating models for improving access to care of the houseless population, founded on lived experiences
Each individual in the houseless community can have different and various needs, with different levels of focus on obtaining housing or healthcare
Broader, larger programs and services that can provide culturally-competent aid of specific groups within the larger community are very important
[15:13-21:15] Improving Solutions for Housing Disparities
Dr. Jim O'Connell

Improving homelessness requires a collaborative, city-wide solution between different schools, public health commissions, and governmental agencies
Larger-scale programs are needed to able to provide aid to larger segments of the houseless population
Dr. O'Connell describes the success of the well-developed shelter system in Boston that gives night-time shelter to 94% of houseless adults in the city, versus how the greater majority houseless population in Los Angeles are on the street
Based on mortality studies, the risk of dying on the streets in Boston is 3x greater than the risk of those in shelter.
He highlights the difficulties of the shelter system during the COVID-19 pandemic, particularly with enforcing isolation
[21:15-28:45] Top Advocacy Issues
Dr. Jim O'Connell

Dr. O'Connell describes the different types of advocacy based on each state's laws and regulations, particularly in the different homeless healthcare programs that reflect the needs of that specific healthcare environment
Research in houselessness can veer the focus from advocacy, and the importance of using research as a powerful call for action from policy makers
Research by a Harvard group had previously been released stating that many children from families that were previously houseless needed immediate psychiatric care following the traumas of their experiences. This research has been described as victim blaming, and resulted in this group being prohibited from performing research for 5 years.

Dr. Rachael Solotaroff

Dr. Solotaroff emphasizes keeping the "big picture" goal of ending houselessness to improve advocacy for structural issues, including affordable housing, meaningful wage employment, and criminal justice reform
It is essential to improve investment and compensation for the workforce serving for the houseless community, particularly in large expensive urban centers
Review policy changes in their entirety, including how the policies were passed and how to ensure that the measures are being implemented
[28:45-33:53] Palliative and End of Life Care for Houseless Patients
Dr. Jim O'Connell

Frequent premature deaths occur in the houseless community due to uncontrolled comorbidities
Providing consistent end-of-life care to this houseless community, particularly those who want to be surrounded by their family and friends during this time period, is difficult

Dr. Rachael Solotaroff

Dr. Solotaroff's colleague, who had end-stage COPD, chose not to live in his assigned facility, and rather sleep in the park across the road from his wife's housing in order to not be separated from her during the end of his life.
All members of the community, particularly houseless community, should be able to have dignity at all stages of life
She describes the Summit Team at Central City Concern, an ambulatory intensive care unit model that that relieves the burden of navigating healthcare systems by providing home visits
The Summit Team has transformed into a population-specific palliative care team that demonstrates how designing systems and programs that meet the unique needs of a specific community can reduce the disparities between groups
[33:53-16:07] Closing
[36:07-37:19] Outro
Organizations:
City Resources:
Boston
Portland
Seattle:
Downtown Emergency Services Center : Services and resources for those in downtown Seattle living with houselessness and housing insecurity https://www.desc.org/
Los Angeles:
San Diego:
San Francisco:
Credits:
Guests: James O'Connell, MD, MACP (Boston Healthcare for the Homeless) and Rachael Solotaroff, MD, FACP (Central City Concern PDX)
Co-Hosts: Marianne Parshley, MD, FACP and Dr. Elisa Choi MD, FACP
Executive Producer: Dr. Tammy Lin
Co-Executive Producers: Dr. Pooja Jaeel, Dr. Tiffany Leung
Senior Producers: Dr. Maggie Kozman, Dr. DJ Gaines
Editor/Assistant Producer: Clara Baek
Production Assistants: Nilgoun Farhadi, Leyna Nguyen
Website/Art Design: Ann Truong
Music: Chris Dingman
Disclaimer:
The DEI Shift podcast and its guests provide general information and entertainment, but not medical advice. Before making any changes to your medical treatment or execution of your treatment plan, please consult with your doctor or personal medical team. Reference to any specific product or entity does not constitute an endorsement or recommendation by The DEI Shift. The views expressed by guests are their own, and their appearance on the podcast does not imply an endorsement of them or any entity they represent. Views and opinions expressed by The DEI Shift team are those of each individual, and do not necessarily reflect the views or opinions of The DEI Shift team and its guests, employers, sponsors, or organizations we are affiliated with.
Season 4 of The DEI Shift podcast is proudly sponsored by the American College of Physicians Southern California Region III Chapter.
​The DEI Shift theme music is by Chris Dingman. Learn more at www.chrisdingman.com.
Contact us: thedeishift@gmail.com, @thedeishift, thedeishift.com
Contributors
Tammy Lin, MD, MPH, FACP – Executive Producer
Pooja Jaeel, MD, ACP Member - Co-Executive Producer
Maggie Kozman, MD, ACP Member – Senior Producer
James O'Connell, MD, MPH, MACP - Guest
Rachel Solotaroff, MD, ACP Member – Guest
Marianne Parshley, MD, FACP – Co-host
Elisa Choi, MD, FACP – Co-host
Leyna Nguyen - Production Assistant
Nilgoun Farhadi – Production Assistant
Clara Baek – Editor/ Production Assistant
Reviewers
Tiffany Leung, MD, MPH, FACP, FAMIA, FEFIM
Dirk Gaines, MD, ACP Member
None of the contributors or reviewers for this educational activity have relevant financial relationship(s) to disclose with ineligible companies whose primary business is producing, marketing, selling, re-selling, or distributing healthcare products used by or on patients. All financial relationships have been mitigated.
Release Date: March 22, 2023
Expiration Date: March 22, 2026
CME Credit
This activity has been planned and implemented in accordance with the accreditation requirements and policies of the Accreditation Council for Continuing Medical Education (ACCME) through the joint providership of the American College of Physicians and the DEI Shift. The American College of Physicians is accredited by the ACCME to provide continuing medical education for physicians.
The American College of Physicians designates each enduring material (podcast) for 0.5 AMA PRA Category 1 Credit™. Physicians should claim only the credit commensurate with the extent of their participation in the activity.
ABIM Maintenance of Certification (MOC) Points
Successful completion of this CME activity, which includes participation in the evaluation component, enables the participant to earn up to .5 medical knowledge MOC Point in the American Board of Internal Medicine's (ABIM) Maintenance of Certification (MOC) program. Participants will earn MOC points equivalent to the amount of CME credits claimed for the activity. It is the CME activity provider's responsibility to submit participant completion information to ACCME for the purpose of granting ABIM MOC credit.
How to Claim CME Credit and MOC Points
After listening to the podcast, complete a brief multiple-choice question quiz. To claim CME credit and MOC points you must achieve a minimum passing score of 66%. You may take the quiz multiple times to achieve a passing score.