The DEI Shift
Join The DEI Shift team for Part 2 of their discussion on Climate Change, Climate Justice and Healthcare: A Beginner's Primer!
Climate change is shifting how we live across the globe, impacting some communities far more than others, and forcing us to continue working to mitigate the damage and adapt to a new and changing environment. Nowhere is this need more important than in healthcare. Listen in on the rest of the conversation with Dr. Robert McLean (rheumatologist, advocate for climate justice, former ACP President) and Dr. Erika Moseson (pulmonary and critical care physician, founder of Air Health Our Health) about the impact of climate on health and the ways we can work toward climate justice.
First, listen to the podcast. After listening, ACP members can take the CME/MOC quiz for free.
Up to 0.5 AMA PRA Category 1 Credits ™ and MOC Points
Expires September 21, 2026 active
Podcasts and Audio Content
The DEI Shift's mission is to create a podcast series on diversity, equity, and inclusion (D.E.I.) in medicine that sparks discussion and provides practice-changing data and stories for a physician, student, allied health professional, and health care leader audience. Listeners will be able to gain useful information to improve their practices and environments, to gain empathy, cultural competency, and humility, and to learn more about emerging D.E.I. concepts. The DEI Shift will discuss issues related to gender, race, sexuality, religion, ability, socioeconomics, and so much more.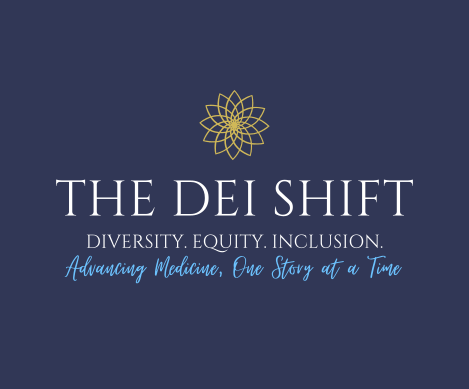 Guests: Dr. Robert McLean, Dr. Erika Moseson
Co-Hosts: Dr. Marianne Parshley, Dr. Elisa Choi
Editor/Assistant Producer: Joanna Jain, Sanika Walimbe
Production Assistants: Leyna Nguyen, Dr. Erynn Beeson
Clean Air Saves Lives
Don't light things on fire and breathe them in.
…this means tobacco, diesel, wildfires and more…
— Erika Moseson, MD
"We in health and medicine have an obligation to act, and to start treating climate change as the public health crisis that it is. We have a duty to advocate for health and equity to be at the center of climate change planning and policy."
-Victor Dzau, MD (2021 Annual President's Address to the NAM Membership)
Learning Objectives:
Explore the intersection between health, healthcare disparities, and climate change.
Describe the breadth of the impact of climate change on historically marginalized and disinvested communities and individuals.
Understand the various strategies to respond to climate change being adopted at the community level, frontline, and systems level in two different areas in the United States.
Explore advocacy around slowing, mitigating effects of, and planning/adapting to climate change and climate change emergencies.
[0:00] Intro
Co-hosts Dr. Marianne Parshley and Dr. Elisa Choi welcome guest experts Dr. Robert McLean and Dr. Erika Moseson back from Part I from the Climate and Health episode.
Climate change is changing how we live across the globe and impacting some communities far more than others.
This episode continues the discussion related to climate justice, heat exposure, and the impact of emissions on our lungs.
[2:03] Health Impacts Attributed to Changing Climate
Dr. Moseson shares that the hazard ratios for death for fibrotic interstitial lung disease are highest from particulate matter exposure and discusses a groundbreaking paper published in JAMA (Alexeeff, 2023). When particulate matter (PM) is elevated, it is like we are all smokers. Dr. Moseson describes the effect and risks of elevated PM on the cardiovascular, pulmonary, and neurological systems.
Dr. Moseson discusses the health toll of climate change on displaced people around the world ("international climate refugees") and within our own communities ("internal climate refugees"). Reasons include destructive events related to weather (e.g., wildfires) and also the destabilization of communities due to agricultural changes (e.g., famine).
Dr. McLean and Dr. Parshley discuss the effect of climate change on mental health and those who have social determinants of health challenges. The level of public awareness, anxiety, and concern have grown dramatically in the last few years.
[7:33] Evidence-Based Data for Changing Climate Conditions
Dr. Choi inquires about evidence-based alerts and projections on health and Dr. Moseson emphasizes the important role that physicians can play in translating and communicating "science" at a level that patients and others can understand. This can be done independent of politics during routine conversations about managing chronic conditions or integrating climate as part of regular anticipatory guidance discussions. Resources such as the air quality index at AirNow.gov can be introduced.
Dr. McLean and Dr. Moseson discuss the role of evidence-based data related to advocacy, submitting testimony, and policy-making. Many different stakeholders provide information to the Environmental Protection Agency (EPA) before a ruling, so physician voices are powerful, especially in advocating for a more health protective standard. Raising the awareness that patients may remain particularly vulnerable at certain health protective standards is important for policy-makers and legislators to know.
[15:27] Strategies to Adapt to Climate Change and Climate-Related Events
Dr. McLean discusses the importance of preparedness, mitigation, and adaptation. With adaptation, there is a need for systematic level change and how business is done within healthcare systems and the healthcare industry. This will require investment.
Dr. Moseson discusses preparing for resiliency and adaptation on the local level and the importance of ensuring that those most affected are not burdened by the costs of doing so. Dr. Moseson describes how she would counsel individuals who must face a wildfire or "dirty air" and the plans they can enact if and when those events or emergencies occur so they have access to better air quality, clean water, and affordable energy sources. At the community level, plans for shelters and housing after events is important as is the perspective that these events will continue to happen and they are not "one-off" events.
[18:30] How to Help the Environment
Dr. Parshley asks about long term solutions or options about how to adapt and prepare for coming changes, such as changing the urban tree cover to reduce pollen counts, work which take many years. And she asks about adapting the boundaries and composition of larger forests near where people live and are at risk from wildfires.
Dr. Moseson discusses the evolution of human understanding about the role of fire in forest health. In the recent past, fire suppression has been the most commonly used method to control forest and wildfires. She then reflects on traditional Native American forestry practices which included controlled burns which contrast with recent forestry practices. Using this background and understanding, Dr. Moseson advocates letting scientific evidence lead: "It's all hands on deck and we need to reach out to all the communities we can."
Dr. McLean uses wind power as an example and adds thoughts on the impact of how we choose to mitigate and adapt to climate change. He urges thinking broadly enough to recognize that each option will have its own impact and agrees with Dr. Moseson advocating for an evidenced based approach and letting science lead.
[21:02] How to Adapt to Climate Change in an Equitable Way
Dr. Choi asks Drs. McLean and Moseson to address the question of equity and inclusion in envisioning and enacting strategies around responding to climate change and our health.
Dr. McLean highlighted the advocacy needed from healthcare organizations. He references discussions and work happening at the AMA in the last couple of years on both equity, inclusion and justice as well as around climate and health. There has been progress. He urges us to continue this work through our health profession societies, in order to have an important voice in the legislative and regulatory arenas.
Dr. Moseson discusses the importance of including all communities at the table and of not leaving anyone out. She uses the example of work in Multnomah County, Oregon on air quality. County workers went first to the people renting, then to the landlords, and discovered much in common between the groups. The group was able to consider creative solutions such as identifying specific areas where county support would have the most impact, areas like helping renters to get HEPA filters or helping with energy costs. She underscored that the decisions which are made around a table with everyone represented are better solutions, thus worth the time and effort to do the work together.
[25:19] Advocacy for Adapting to and Mitigating Climate Change
Dr. Parshley asks the guests to share a few things that individual clinicians can advocate for, either at the local, state, or federal level for adapting, mitigating, and hopefully slowing climate change.
Dr. Moseson shares that one of the most cost-effective methods is transitioning to a fully electrified transportation sector as well as human powered forms of transportation. She states that these types of decisions are made locally and physicians can be powerful advocates for communities when connecting infrastructure concerns with the effect on patients, especially for historically redlined and excluded communities who disproportionately bear the burden of the ill health effects of the transportation sector.
Dr. McLean emphasizes the importance of local advocacy and also paying attention to what is happening at the state legislative level in terms of bills around climate and connecting those issues to how they affect our patients as trusted health professionals.
Dr. McLean also discusses the importance of leaders in large health systems to advocate for systematic changes related to waste and recycling. At the patient level, it is important to make patients aware of these issues so that they can better plan and manage their own care and to introduce them to resources.
[29:07] Closing
Dr. Parshley and Dr. Choi conclude this episode and encourage The DEI Shift listeners to continue this conversation online through Twitter and Instagram by sharing stories, questions, advocacy challenges, and specific barriers to continue making a difference together on behalf of our patients and communities!
[29:44] Outro
Resources from Dr. Moseson:
Resources from Dr. McLean:
Other Selected References
Credits:
Guests: Dr. Robert McLean, Dr. Erika Moseson
Co-hosts/Producers: Dr. Marianne Parshley, Dr. Elisa Choi
Executive Producer: Dr. Tammy Lin
Co-Executive Producers: Dr. Pooja Jaeel, Dr. Maggie Kozman
Senior Producer: Dr. DJ Gaines
Editor/Assistant Producer: Joanna Jain, Sanika Walimbe
Production Assistants: Leyna Nguyen, Dr. Erynn Beeson
Website/Art Design: Ann Truong
Music: Chris Dingman
Disclaimer: The DEI Shift podcast and its guests provide general information and entertainment, but not medical advice. Before making any changes to your medical treatment or execution of your treatment plan, please consult with your doctor or personal medical team. Reference to any specific product or entity does not constitute an endorsement or recommendation by The DEI Shift. The views expressed by guests are their own, and their appearance on the podcast does not imply an endorsement of them or any entity they represent. Views and opinions expressed by The DEI Shift team are those of each individual, and do not necessarily reflect the views or opinions of The DEI Shift team and its guests, employers, sponsors, or organizations we are affiliated with.
Season 5 of The DEI Shift podcast is proudly sponsored by the American College of Physicians Southern California Region III Chapter.
The DEI Shift theme music is by Chris Dingman. Learn more at www.chrisdingman.com.
Contact us: thedeishift@gmail.com, Instagram or Twitter @thedeishift, thedeishift.com
Contributors
Pooja Jaeel, MD, ACP Member - Staff
Maggie Kozman, MD, ACP Member - Staff
Dirk Gaines, MD, ACP Member - Staff
Robert McLean, MD, MACP, FRCP - Faculty/ Speaker
Erika Moseson, MD - Faculty/ Speaker
Marianne Parshley, MD, FACP - Moderator
Elisa Choi, MD, FACP - Moderator
Leyna Nguyen - Staff
Erynn Beeson, MD - Staff
Joanna Jain - Staff
Sanika Walimba - Staff
Reviewers
Tiffany Leung, MD, MPH, FACP, FAMIA, FEFIM
Independent Contractor: PlushCare, Inc
Tammy Lin, MD, MPH, FACP
Stock: Abbott Labs; AbbVie, Inc.; Cybele Microbiome
None of the contributors or reviewers for this educational activity have relevant financial relationship(s) to disclose with ineligible companies whose primary business is producing, marketing, selling, re-selling, or distributing healthcare products used by or on patients. All financial relationships have been mitigated.
Release Date: September 22, 2023
Expiration Date: September 21, 2026
CME Credit
This activity has been planned and implemented in accordance with the accreditation requirements and policies of the Accreditation Council for Continuing Medical Education (ACCME) through the joint providership of the American College of Physicians and the DEI Shift. The American College of Physicians is accredited by the ACCME to provide continuing medical education for physicians.
The American College of Physicians designates each enduring material (podcast) for 0.5 AMA PRA Category 1 Credit™. Physicians should claim only the credit commensurate with the extent of their participation in the activity.
ABIM Maintenance of Certification (MOC) Points
Successful completion of this CME activity, which includes participation in the evaluation component, enables the participant to earn up to .5 medical knowledge MOC Point in the American Board of Internal Medicine's (ABIM) Maintenance of Certification (MOC) program. Participants will earn MOC points equivalent to the amount of CME credits claimed for the activity. It is the CME activity provider's responsibility to submit participant completion information to ACCME for the purpose of granting ABIM MOC credit.
How to Claim CME Credit and MOC Points
After listening to the podcast, complete a brief multiple-choice question quiz. To claim CME credit and MOC points you must achieve a minimum passing score of 66%. You may take the quiz multiple times to achieve a passing score.