You are here
Annals of Internal Medicine Institutional Subscriptions
The most recent (2016) Impact Factor for Annals of Internal Medicine is 17.202—the highest of any specialty journal in the Clarivate Analytics' General and Internal Medicine category.
Readers rely on Annals of Internal Medicine for leading-edge clinical research, systematic reviews, ground-breaking studies, newsworthy articles, and much more.
Fast Facts
Publisher: American College of Physicians
Editor: Christine Laine, MD, MPH, FACP
Established: 1927
2016 Impact Factor: 17.202
Frequency: Weekly online, and twice monthly in print
ISSN: 0003-4819
E-ISSN: 1539-3704
Institutional brochure
Request a Free Trial
Bring Annals of Internal Medicine to your institution today with a free trial!
Request a Quote
Contact us today for a customized Annals of Internal Medicine site license quote.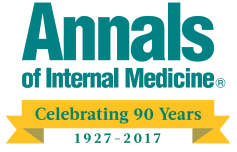 Annals of Internal Medicine Celebrates 90 Years
View an interactive timeline that explores Annals' history through a series of images and milestones. Introduction by Editor-in-Chief Dr. Christine Laine, MD, MPH. View Timeline
Core Benefits
Ground-breaking research published online every week
Flexible access and authentication options (IP, Athens, and Shibboleth)
Perpetual access for paid-for-years
COUNTER–compliant usage statistics
Fully searchable, full-text online access to every issue published since 1993.
Mobile and remote access.
Online only supplements, Annals Graphic Medicine, and Annals for Hospitalists
Annals On Being a Doctor Series and Story Slam with essays, poems, and video that illuminate the art and science of medicine.
Annals Beyond the Guidelines, a multimedia series based on Beth Israel Deaconess Medical Center Grand Rounds
We regularly update the Annals Institutional Site License content. Please take a minute to answer a brief question. Your feedback will help us provide information that is most relevant to you and your colleagues.
For questions about a specific manuscript, please email the journal.
---
Promotional Tools
To announce a new subscription or renewal of Annals of Internal Medicine to your users, you can use the following:
If you need any other materials, or would like permission to use the Annals of Internal Medicine logo, please contact sitelicense@acponline.org.