---
---

Col Angelique N. Collamer, MC, USAF, FACP, ACP Governor
---
From The Governor
Wow, what a wonderful tri-service meeting we had in San Antonio! It was great to see so many familiar faces and many new ones as well. We hosted over 400 participants from 3 service branches, 4 countries, 13 residencies and 15 medical schools. 146 posters were presented virtually in our "go green" poster initiative and our service project for the San Antonio Food Bank raised $3670! The only regret from our meeting was that it went by so quickly! I am grateful for our dedicated planning committee members who gave up their valuable time over the past year to make this meeting a success. Congratulations to all who participated, presented, and received well-deserved awards. We are already looking forward to our next meeting in 2023 and taking volunteers and nominations for next year's planning committee—we need you!
If the annual meeting inspired you to become more involved in our chapter, you may want to consider joining one of committees. We have openings in Credentials/Membership, Chapter Nominations (Awards), Finance, the Medical Student Council, Early Career Physicians, Residency/Fellow Members, Women in Medicine, and DEI. Additionally, I would like to train a second Wellness Champion through National ACP—a great way to get involved! We are also looking to welcome an IT champion (yes, you can run our Twitter account!). Have something else in mind? Do not hesitate to reach out and let me know how our ACP chapter can best support you!
We continue to collectively face many challenges as individuals, as physicians and as a society. Despite all, our group has supported each other and remained steadfast in the mission to deliver quality and safe healthcare, no matter what the circumstance or environment. Now stationed overseas, I am ever more impressed with and grateful for all of you. It is a privilege to serve! I look forward to hearing from you and Aim High!
Sincerely,
Angie
---
Highlights from the 2022 Tri-Service Annual Meeting
It was great to see everyone at our September Tri-Service Meeting in San Antonio, the first Tri-Service meeting in-person meeting since 2012! We had over 400 attendees at the packed meeting. If you were there, don't forget to claim your CME and MOC points. Just click the "claim CME and MOC button". We really appreciate your feedback and read each post-meeting survey, so please help us make next year's conference even better!
Awards
Below are only some of the outstanding accomplishments of our members who were recognized at the meeting.
Col (ret) Gregory P. Melcher, FACP, received our chapter's Laureate award in recognition of his years of service to the Air Force Medical Service and to our chapter. The Laureate Award is designed to honor those Fellows and Masters of the College who have demonstrated, by their example and conduct, an abiding commitment to excellence in medical care, education, and research, and service to their community, their chapter, and the ACP.
Dr. Melcher is a past President, Society of Air Force Physicians (AF-ACP). He is the 1992 AF ACP Chapter Awardee of the Archie B. Hoffman Award for Academic achievement. He served as Chair of the Infectious Diseases department at Wilford Hall Medical Center, Chair of Medicine and Chief of the Medical Staff at David Grant USAF Medical Center and Consultant to the USAF Surgeon General for infectious diseases. His many honors include Gold-Headed Cane Award, Outstanding Resident teacher award, Most Valuable intern award and Outstanding Teaching Faculty Award at UCSF in 2018. His current affiliation with UCSF is Clinical Professor of Medicine, serving in Covid-19 care at the Zuckerberg SF General Hospital and Trauma Center.
Congratulations to Dr. Melcher!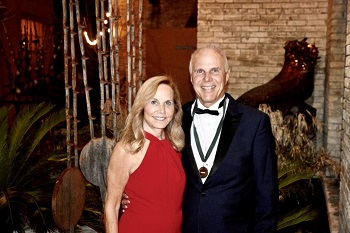 Dr. Gregory and Kelly Melcher at the Awards Dinner
This year's Major General Archie Hoffman Award for excellence in academic medicine was awarded in a tied race to both Maj John Hunninghake, MD from SAUSHEC and Maj Jonathan Pollock, MD from Keesler Medical Center. John has worked in COVID-19 care throughout the pandemic and is currently deployed with a Critical Care Air Transport Team. Jonathan has worked to deliver a quality academic curriculum throughout the pandemic resulting in the development of a cased-based curriculum being permanently implemented at his residency training program. Congratulations to both!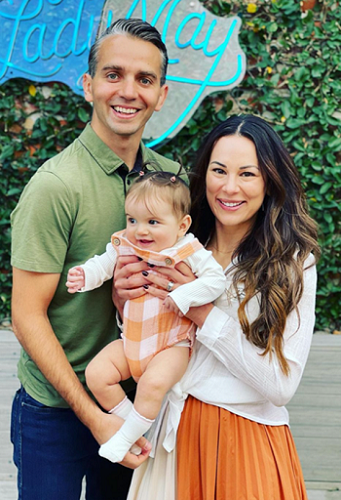 Dr. Pollock and Family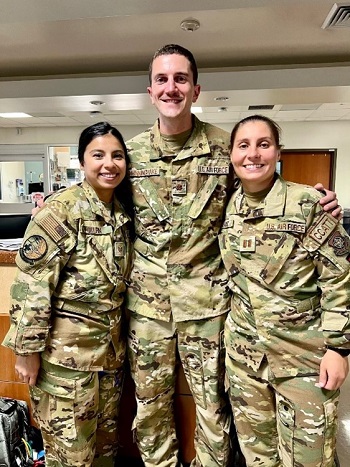 Dr. Hunninghake and his deployed team
The Lieutenant General (Dr.) Monte Miller Award recognizing an early career physician for contributions to the Air Force Medical Service in clinical investigation was given to Lt Col Dana Blyth from Walter Reed Military Medical Center. Her recent published works include research on the yellow fever vaccination and a study on sparking interest in Infectious Disease in Internal Medicine residents. Despite her many investigative achievements, Dana stated that her biggest success is seeing the success of the trainees she previously mentored through research now be successful in their own efforts!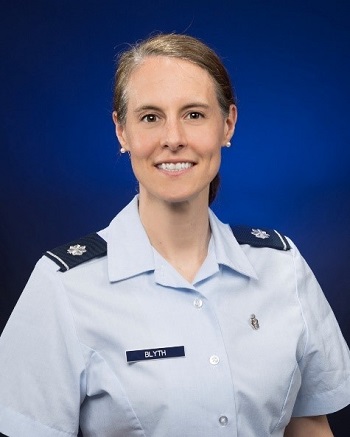 Lt Col Dana Blyth
The Dr. George Crawford Distinguished Medical Educator Award given to Maj Bradley Beeler, Hematology and Oncology Fellowship Program Director from SAUSHEC. Dr. Beeler reports that being a Program Director has always been his dream job and he enjoys everyday teaching students and residents!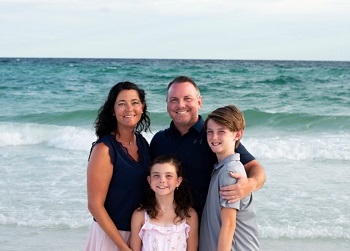 Dr. Beeler and Family
The first inaugural Col Rechell G. Rodriguez Award for Mentorship of Women in Medicine was presented to Col Heather Yun, MD of SAUSHEC. Col Yun received several nominations describing her career as one which has been hallmarked by her longitudinal contributions not only to the individual mentorship, but also to the sponsorship and professional development, of military women.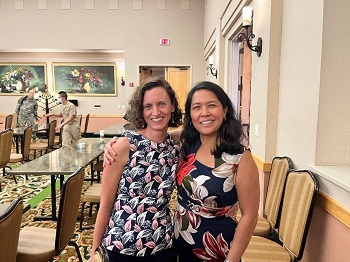 Col Heather Yun with Col Rechell Rodriguez following awards presentation.
Of the many fantastic plenary sessions at the meeting, two exceptional plenary speakers were recognized by our chapter. This year the Philip G. Kiel award, presented to a senior active duty or recently retired physician to commemorate that individual's leadership in a particular field, was awarded to COL (ret) Sterling G. West, MD, MACP, USA for his lecture Rheumatology Pearls for the Primary Care Internist. The Malcolm C. Grow Memorial Lecture award is presented annually to an eminent civilian consultant chosen by the Chapter. This year we were pleased to award Richele L. Corrado, DO, FACP the award in honor of her lecture Obesity: Significant Impacts on Medical Readiness and a Pathway for Improvement.
The winner of the Arthur Grollman Award, awarded to the outstanding resident research podium presentation, was Capt Matthew Soderstrom for his podium presentation "Occult Immunodeficiency in Patients with Asplenia and Overwhelming Post-Splenectomy Infection in a Regional Health Center Registry."
Congratulations all, well deserved!
The Tri-Service Meeting hosted a variety of resident, fellow, and ECP competitions and presentations. The winners of our Air Force resident events are recognized below:
Resident Clinical Vignette Podium: Capt Bunnarack Kuch, WPAFB – Suspected B. pseudomallei Infection Amidst a Multistate Outbreak of Melioidosis
Resident Quality Improvement Podium: Capt Nicholas Eisenberg, WPAFB - Resident Satisfaction with Individualized Learning
Resident High Value Care Podium: Capt Jessica Demes, SAUSHEC - Improving Inpatient End of Life Care: A Palliative Approach
Resident Clinical Research Podium: Capt Matthew Soderstrom, SAUSHEC - Occult Immunodeficiency in Patients with Asplenia and Overwhelming Post-Splenectomy Infection in a Regional Health Center Registry
Impressive work and what a way to highlight our military training programs!
Doctor's Dilemma 2022
The motivated AF team from Keesler Medical Center won our Air Force residency Doctor's Dilemma competition in an exciting match! We look forward to great things at National ACP!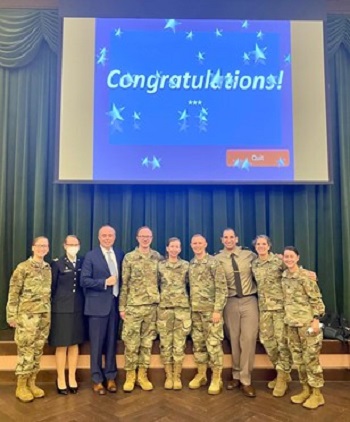 The Keesler AF Doctor's Dilemma Team (center)
---
Our Newest Masters of the ACP!
It is an honor to be recognized for Mastership in the ACP (MACP), a distinction that recognized an individual's lifetime work and achievements. Congratulations to our newest Masters, Dr. James M. Quinn, FACP, FAAAAI, FACAAI and Dr. Matthew Carroll, MD, FACP, FACR. Congratulations to both, we are proud of your many accomplishments!
Our chapter is full of talented individuals and as your Governor I will do my best to recognize as many of you as possible. Please contact me with your ideas and nominations for the distinctions of Master of the ACP and for Laurette awards for our chapter.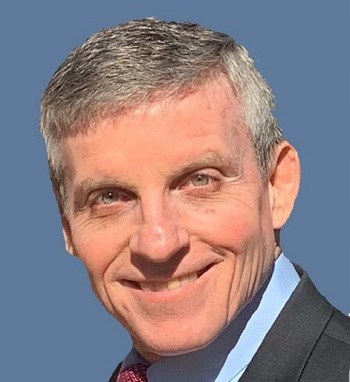 Dr. James Quinn
Dr. Matthew Carroll
---
Society of Air Force Physicians Reunion
The Wright-Patterson Internal Medicine group spanning years from 1978 to 1990 had its 40th reunion this month in Branson, MO. There were 31 physicians and spouses in attendance. It was a wonderful event and a great tribute to our parent organization, the Society of Air Force Physicians.
If you are hosting a SAFP or ACP reunion or get together, please send photos so we can all stay connected. Remember, the number required for a reunion is only 2!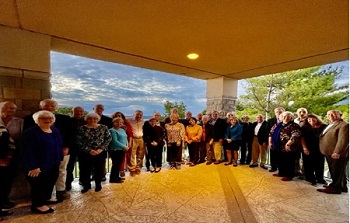 The Wright-Patterson Internal Medicine Team 1978-1990 Reunion. Can you spot any of your friends or mentors?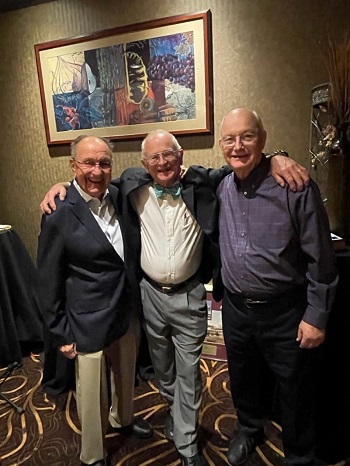 Wright-Patterson Internal Medicine Department Chairs 1978-1990; John Triebwasser, George Meyer, Stephen McDonald
---
2022 Ohio / Air Force Scientific Meeting
Columbus, Ohio Convention Center
October 20-21, 2022
The Annual Scientific Meeting will be held October 20th and 21st at the Greater Columbus Convention Center in downtown Columbus. As always, we have two days jam-packed with excellent educational opportunities.
Thursday will have several plenary sessions and breakout sessions along with our Resident Drs. Dilemma Competition, Ultrasound sessions, and Student Poster Session. We will conclude with our popular Awards Reception where we celebrate this year's winners as well as those from 2020 and 2021 who were not able to receive their awards in person. It is always a fun evening.
Friday resumes with more great sessions as well as our Resident Poster competition.
Hotel Information
We have a block of rooms reserved at the Hampton Inn and Suites for Wednesday, October 19th and Thursday, October 20th. Rates are $179 single/$189 double. You can book your hotel stay here. Other nearby hotels are the Hilton or the Hyatt. Both are connected to the Convention Center.
---
Member Spotlight
I'm looking to highlight more of our accomplished members in all stages of their careers, so if you would like to see your mentor, student, trainee, colleague, or even you featured, please let me know!
---
Interested in Fellowship (FACP®)?
Please check out the ACP webpage for more information about fellowship. Fellowship in the College is an honor. Being an FACP® is a distinction earned from colleagues who recognize your accomplishments and achievements over and above the practice of medicine. The most important considerations for ACP Fellowship are excellence and contributions made to both medicine and to the broader community in which the internist lives and practices.
The basic requirements to apply for fellowship are board certification, licensure, clinical practice for 3 years out of residency, and being a dues paying member for the previous 3 years. In addition, additional requirements include other professional activities – teaching, community service, leadership, scholarship, etc. Please contact me if you have any questions about how to achieve fellowship after reviewing the link above.
---
2022 Chapter Excellence Awards
Each year every ACP Chapter is evaluated for their activities and how they support their members. Chapters can be awarded a Bronze, Silver, or Gold Excellence Award based on their ongoing activities and new initiatives. Our chapter again earned the Silver Excellence Award. Only 14 chapters received the Silver Award. Criteria include such activities as undertaking efforts to increase visibility of the ACP, holding competitions for members, providing chapter financial reports to members, having Medical Student and Resident/Fellow members on the Governor's Advisory council, retaining members, giving awards to chapter members. I would like to extend a special thanks to those chapter members who assisted us in all these endeavors!
---
ACP National Councils Seeking New Members for 2023-24 Cycle
The Council of Early Career Physicians (CECP), the Council of Resident/Fellow Members (CRFM), and the Council of Student Members (CSM) are currently seeking candidates to fill vacant seats for 2023-24. Nominations are due by November 1, 2022 and details for submitting are included in the links below.
The councils are responsible for responding to requests for review of programs, products and services; advising the College regarding ways to increase the value of ACP membership among their constituency group; and strengthening activities and relationships at the ACP chapter and local levels.
For more information on eligibility and nomination material requirements, please see the CECP Call for Nominations, the CRFM Call for Nominations, and the CSM Call for Nominations.
---
New Chapter Members
Let's extend a warm welcome our newest members:
Our New Masters of the ACP:
Dr. Matthew Carroll
Dr. James Quinn
Our Newest Members:
| | | |
| --- | --- | --- |
| William Bennet V. | James Bobco Jr. | Chris Casaccio |
| Callie Cheatham | Sarah Davis | Francis Essien |
| David Fulbrook | Tee Jeter | Noah Jo |
| Mike Kim | Rachel Knox | Christian Lamb |
| John Levasseur | Joseph Marcus | Nicholas Niazi |
| Kevin O'Gorman | Danny Pizzino | Danielle Presley |
| Rafael Sancillo | Daniel Slack | Randy Tingle |
| Samuel Weiss | Joe Yuhas | |
Our newest Resident/Fellow Members:
| | | | |
| --- | --- | --- | --- |
| Christopher Anderson | John Arthur | Yasir Ayubi | Mark Brown |
| Robert Buntyn | Adelaide Calhoun | Allison Campoverde | Trevor Colwell |
| Rachel Cox | Elena Crouch | Erin Currey | Albert Dizon |
| Joseph Duren | Mackenzie Eickhoff | Bryan Harper | Pamela Cueva |
| Monika Kc | Emanuel Keiler | Sion Kim | Victoria Koehler |
| Nicole Lopez | Maria Makatoff | Emma Marshall | Justin Martin |
| Taylor Martin | Jonathan Martinez | Joseph McNeal | Makelle Owns |
| Ji Min Park | William Parkinson | Anita Pechenenko | Kyle Quist |
| Luke Rines | Artem Tkachenko | Lijah Gardner | John Waldron |
| Dylan Walker | Jeffrey Walker | Tyler Wilson | |
Our newest Medical Student Members:
| | | |
| --- | --- | --- |
| Joy Abraham | Tosin Ajiboye | Alex Belongy |
| Benjamin Brooke | Mason Calico | Nicholas Coyne |
| Lakin Dammer | Elisabeth Day | Conner Dearden |
| Jeffrey Dunn | Ashley Gall | Jacob Hess |
| Matthew Hyer | Jenna Keremes | Tara Kobayashi |
| Santiago Lopez | Catherine Malone | Jacob Mansfield |
| Baxter Murray | Aaron Rapo | Victoria Sefcsik |
| Spencer Stanford | Kayman Strickland-Beach | Tranghai Tranghai |
| Emma Weiland | Erika Wicher | Claire Wright |
Our Newest Affiliate Member:
Michelle Bos
---
Mark Your Calendar!
20-21 October 2022 – Ohio/Air Force Annual Meeting, Columbus, OH, https://www.acponline.org/node/386394
27-29 April 2023 – ACP Internal Medicine Meeting, San Diego, CA, https://annualmeeting.acponline.org