---
---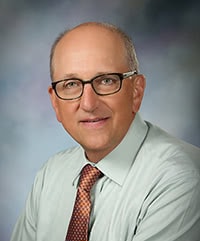 Steven J. Gerstner, MD, FACP, ACP Governor
---
Meet the Montana Chapter's New Governor, Steve Gerstner, MD, FACP
I am a Wyoming native growing up on a small ranch in the rural Ten Sleep area. My wife and I will have been married 37 years this July and have a son, Colin who is an attorney in Billings and a daughter Elizabeth who is a hospitalist PA at Billings Clinic. They both are married and Colin and his wife have four children. My wife Doris is very involved in volunteer work, is a treasurer for two churches, and looks after grandkids when needed. How awesome to have all our kids and grandkids close to us! I enjoy fly-fishing, am building a second drift boat, and of course hanging out with family.
I obtained my BS degree at the University of Wyoming, attended medical school at UCLA, and completed my residency at the University of Washington in 1989. I have been a general internist at Billings Clinic ever since and have (rapidly!) become an old guy in our department. I have been involved in teaching WWAMI 3rd clerk clerks from the beginning and have coordinated or co-coordinated the Billings rotation ever since Ron Smith, who started the clerkship in Billings, retired in 2002. I have served on the WWAMI Admissions Committee for the past six years, completing my term as the chair this January.
In 2013 Billings Clinic launched our internal medicine residency with our first group and I have served as an associate program director from the beginning. I spend approximately half my time precepting in both the outpatient and inpatient settings and it has been exciting to see how our program has developed. We now have 24 categorical residents plus 4 residents doing preliminary years as interns before going on to their specialty residencies and will be expanding further with our new class starting this July. Our mission is to supply internists for the region and as of this fall will have graduates within Lewistown, Sheridan Wyoming, and six with us at Billings Clinic. Between residents, WWAMI students, and fantastic colleagues I am completely immersed in a learning environment and in addition to my own practice truly have the best job ever!
I am now embarking on a new challenge as your governor, especially in trying to fill Pam Hiebert's shoes. I have seen at the Board of Governors meetings just how active she has been on our behalf and how respected she is.
I am very proud to be a member of our Montana ACP chapter and to be a colleague of all of you!
Steve Gerstner MD FACP
---
A Sincere Thank You to Pam Hiebert, MD, FACP
An outstanding leader of the Montana ACP Chapter!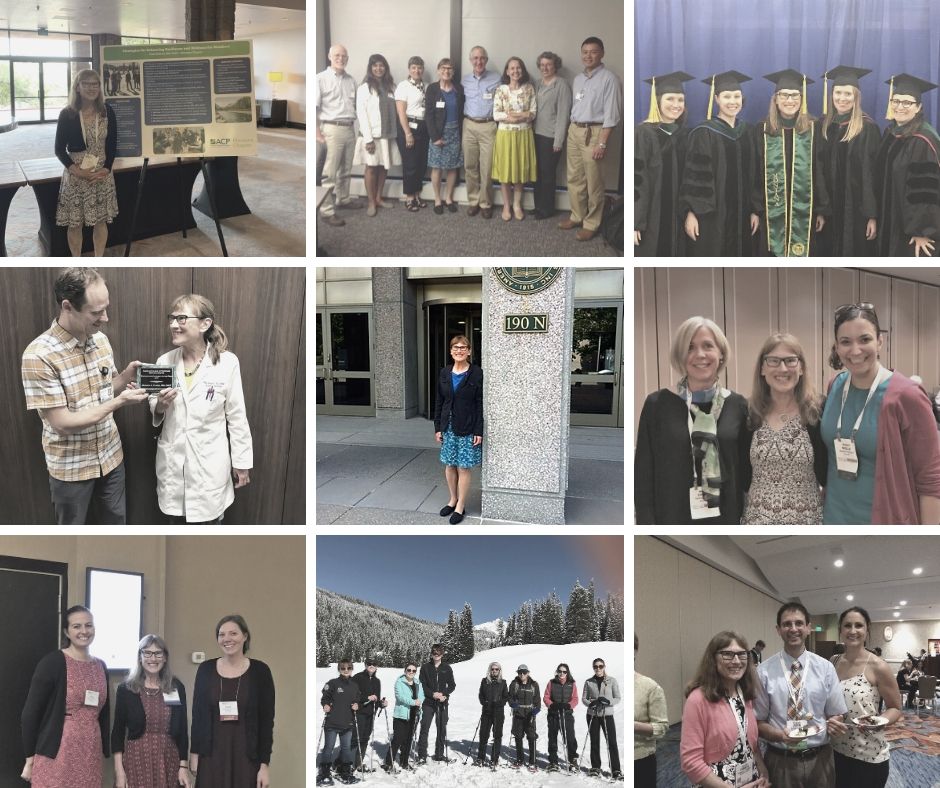 During Dr. Hiebert's term as the Governor of the Montana Chapter, the chapter's overall membership grew 18%! The chapter was the recipient of the Chapter Excellence Award every year of her Governorship, including the Gold Level in 2019, resulting in the chapter receiving $5000.00. The chapter received the 2019 John Tooker Evergreen Award for the program, "Medical Student Outreach Programs", organizing Speed Dating for Internists, Osler Club, and Women in Medicine events. Dr. Hiebert was instrumental in the planning of several chapter meetings, in addition to giving presentations and leading snowshoeing hikes during the Big Sky meetings. At the national level, Pam was a member of the Medical Insurance Committee and the Chapters Subcommittee.
Hopefully, you will continue to share your enthusiasm and expertise and we thank you for your commitment to the Montana Chapter.
---
Save the Date – 2020 Montana Chapter Scientific Meeting
Highlights include:
Updates in cardiology, acute stroke management, diabetes
Concussion diagnosis and treatment
First-line antidepressants
Edible Insects
Story Slam
More information and registration available soon!
---
Call for Chapter Award Nominations

Do you have a mentor, colleague, or peer deserving recognition?
The Montana Chapter Awards Committee would appreciate your assistance in recognizing our chapter members that have made outstanding contributions in the practice of medicine, teaching, research, public service, leadership, and medical volunteerism.
The recipients will be honored during the Montana Chapter Scientific Meeting, which will be held on September 10-12, 2020, in Bozeman.
Please review the following list of chapter awards and submit your nomination to Carrie at creisig33@gmail.com
Laureate Award, Humanitarian of the Year, Woman Physician of the Year, Teacher of the Year, Distinguished Teacher/Mentor Award, Lifetime Achievement Award, Resident Recognition Award for Leadership, Chapter Advocacy Award, Volunteerism Award and Distinguished Internist of the Year.
---
Congratulations to the Montana Chapter's New Fellows
Steffan J May, MD, FACP, Bozeman
Elaine S Samuel, MD, FACP, Helena
---
Welcome New Members
Taylor Beaver, Medical Student, Bozeman
Ethan Bent, Medical Student, Belgrade
Parker B Blekkenk, Medical Student, Bozeman
Brenna Cockburn, Medical Student, Bozeman
Laura Gilligan, Medical Student, Bozeman
Courtney Honken, Medical Student, Bozeman
Blake Jordan, Medical Student, Billings
Kyler Kingston, Medical Student, Butte
Haley N Love, Medical Student, Livingston
Berilonson Stephen Osiro, MD, Great Falls
Mackenzie A Redmond, Medical Student, Belgrade
Haley Shepard, Medical Student, Bozeman
Joseph M Werner, Medical Student, Billings
Holly Winn, Medical Student, Missoula
---
Montana Chapter Financial Report
As of January 2020, the financial statements for the Montana Chapter show an income of $33,925.50, expenses of $20,344.09, with a net income of $13,581.41
A detailed statement is available by contacting the Montana Chapter treasurer, Brad Bergman, MD FACP or Carrie Reisig.
---
United Way
Please consider donating to a United Way in your community to help those impacted by COVID-19.
Greater Gallatin United Way/Bozeman - https://www.greatergallatinunitedway.org/
Northwest Montana United Way/Kalispell - https://www.unitedway.org/local/united-states/montana/northwest-montana-united-way,
United Way of Beaverhead County/Dillon – https://www.unitedway.org/local/united-states/montana/united-way-of-beaverhead-county
United Way of Butte and Anaconda /Butte - https://www.unitedway.org/local/united-states/montana/united-way-of-butte-and-anaconda
United Way of Cascade County/Great Falls - https://www.uwccmt.org/
United Way of Hill County/Havre - https://www.unitedway.org/local/united-states/montana/united-way-of-hill-county
United Way of Missoula County/Missoula - https://www.missoulaunitedway.org/
United Way of Yellowstone County/Billings - https://www.unitedwayyellowstone.org/COVID19
United Way of Lewis & Clark Area/Helena - https://unitedwaylca.org/covid19relief/
---
Enroll in the Advocates for Internal Medicine Network (AIMn)

AIM Join more than 15,000 colleagues in the AIMn program in advocating for the interests of internal medicine in Washington, D.C. By joining, you will receive legislative updates on key policy issues and engage in outreach to your federal lawmakers. If you are already an AIMn member, you do not need to register again. Sign up here
Please let us know if you have special ties, connections, or relationships with elected officials in congress, email Carrie Reisig at creisig33@gmail.com.
---
Spring 2020 Resolutions
After careful consideration, it was decided to postpone the discussion of the spring resolutions that were initially proposed for debate at the Spring 2020 BOG Meeting until the fall meeting.
---
COVID-19 Pandemic
ACP is committed to supporting you and the internal medicine community during these challenging times by developing and frequently updating practical tools and information, and vigorously advocating to address the needs of ACP members and their patients during the COVID-19 pandemic.
Check ACP's COVID-19 Resource Hub for tools and updated information
Visit the chapter website to view a core set of COVID-19 Pandemic Slides
mtchapter.acponline.org
---
MMA Report
Provided by Elaine Samuel, MD, FACP, the Montana Chapter representative on the MMA Board of Trustees
The MMA Board of Trustees Meeting held March 14th was conducted via Zoom due to COVID-19 precautions.
Highlights of the meeting:
Presentation of the Big Sky Care Connect
This health information exchange will roll out over the next 30 days and will be "no cost through October 2021." The initial funding was through via CMS to the state intending to lower readmissions and improve care coordination. Participating in the project were the MMA, BCBS, Medicaid, Medicare, VA, HIS, and Healthcare systems throughout MT. The MMA has worked on coordinating and setting up the Big Sky Care Connect project. Hopefully, this will get rid of faxes, lower expenses, avoid duplicate testing, and decrease consultations. There will be options for direct messaging, alerts, and messaging. This is all compliant with the CMS rules for notifications. The onboarding team can be contacted Jean Branscum <jean@mmaoffice.org
Discussion about opioid prescribing and 7-day limit
Dream Team-pharmacist involvement 7-day limited prescribing
Presentations from the gubernatorial candidates
One hour question and answer sessions from each candidate
MMA website has generous information and references that are up to date for Covid-19
---
ACP Leadership Programs Available in Hospital Medicine or Primary Care
In partnership with the American Association for Physician Leadership, the ACP Leadership Academy offers a flexible, 18-month-long Certificate in Physician Leadership program with tracks in Hospital Medicine and Primary Care.
The program includes a combination of formal training through 46.5 hours of online coursework, online group discussions facilitated by leaders in internal medicine, and a capstone project that demonstrates successful mastery of leadership concepts.
Participants may apply online by June 1, 2020, to enroll in the cohorts that begin work in July 2020. We encourage you to promote this program to your chapter members.
This program offers exclusive training by leadership experts and important career-building skills. Also, ACP provides participants with access to many professional development and membership engagement opportunities.
If you have any questions, please contact us at lead@acponline.org
Please visit the Montana Chapter's social media pages; Facebook, Instagram, Twitter