Governor
Ky B. Stoltzfus, MD, FACP
Dr. Stoltzfus serves as the official representative of the College for the Kansas Chapter, providing a link between members at the local level and leadership at the national level. To learn more about Dr. Stoltzfus, read his bio.
Welcome Letter | Past Governors| Governor-elect
---
Awards
Scott A. Smiley, MD, FACP receives 2022 Chapter Laureate Award
During the October 2022 Chapter Meeting, the Kansas Chapter presented the Chapter Laureate Award to Dr. Scott Smiley. The Laureate Award honors and recognizes achievement of excellence in internal medicine in the State of Kansas. Categories of Laureate-level accomplishment include scholarship and contributions to the medical literature, excellence as a teacher, significant innovations in or contributions to health care services, and advancement of the goals of the American College of Physicians and of other medical societies and organizations.
Kansas Chapter receives 2022 Chapter Excellence Silver Award
We are pleased to announce that our chapter is in receipt of the Silver Level of the 2021 Chapter Excellence Award! Only 14 chapters received the Silver Award. The award recognizes chapters that achieve excellence in chapter management. In order to achieve the Chapter Excellence Award, chapters must meet twenty-one Bronze criteria and fifteen Silver criteria. Thank you to those chapter members who assisted us in all of these endeavors! For their hard work and dedication, we received this award.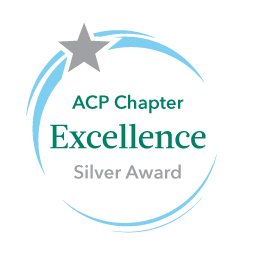 Congratulations to the 2022 Chapter Awardees
Scott A. Smiley, MD, FACP, Chapter Laureate Award
Megan A. Dingwall, MD, FACP, Early Career Physician of the Year
Jennifer A. Jackson, MD, FACP, Internist of the Year
Sabina Safder, MD, FACP, Hospitalist of the Year
Craig A. Concannon, MD, FACP, Volunteerism Award
Abebe M. Abebe, MD, FACP Delp Teacher of the Year
Award Archives
Chapter Awardees | Kansas Chapter College Awards
---