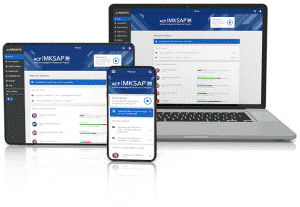 For over 50 years, the Medical Knowledge Self-Assessment Program (MKSAP) has been the most trusted resource in self-assessment and continuous learning for internal medicine physicians and residents. The tradition continues with MKSAP 19.
MKSAP 19 is available in several flexible formats, allowing you to choose the format that best fits your lifestyle. Each format includes 12 syllabus sections and up to 3,000 associated deep-learning questions.
To learn about the features in MKSAP 19, please visit our website mksap19.acponline.org.
MKSAP 19 Q & A
A 29-year-old woman is evaluated for a 2-week history of left-sided back pain. The pain begins in the lumbar spine and radiates through the left buttock and hip into the thigh. The pain is sharp and shooting. She is 19 weeks pregnant with her first child. The pregnancy is uncomplicated. Her only medication is a prenatal vitamin.
On physical examination, she walks with a limp favoring the left leg. Hip range of motion is normal. There is no pain with hip flexion, abduction, or external rotation. There is left-sided hip and leg pain with straight leg raise of both the left and right legs. There is no pain with flexion or extension of the lumbar spine.
Which of the following is the most likely diagnosis?
A: Osteoarthritis of the hip
B: Radiculopathy of the sciatic nerve
C: Round ligament pain
D: Sacroiliitis
Back to the September 2023 issue of ACP Global