You are here
MACRA and the Quality Payment Program
MACRA and the Quality Payment Program
Medicare's Quality Payment Program (QPP)
What's New
CMS announced adjustments to several models for the 2019 and 2020 performance years given the COVID-19 Public Health Emergency. For more information, access this CMS fact sheet.
For the 2020 performance year, CMS announced broad MIPS extreme and uncontrollable circumstances exceptions due to challenges presented by the COVID-19 Public Health Emergency. For more information, visit the CMS QPP exceptions webpage or download the CMS fact sheet.
ACP asked and CMS responded! Due to the COVID-19 public health emergency, CMS is providing broad relief from MIPS penalties for the 2020 performance year. CMS has extended the 2020 MIPS performance data deadline for eligible clinicians, groups, and virtual groups that have been affected by extreme and uncontrollable circumstances until December 31, 2020. They can submit an application for re-weighting any or all MIPS performance categories completely. MIPS eligible clinicians that are identified as affected by the extreme and uncontrollable policy will have all four MIPS performance categories re-weighted to 0% of their final scores unless they submit data for two or more performance categories. For more details, see this fact sheet.
Important points to highlight include:
Clinicians and groups must submit a hardship exception application by Dec. 31, 2020.
Applications must provide justification of how the practice has been significantly impacted by the COVID-19 PHE.
You may request re-weighting for some or all of the MIPS performance categories.
For more information, go to the CMS website.
---
MIPS
Merit-Based Incentive Payment System
Under the Merit-Based Incentive Payment System (MIPS), eligible clinicians continue to be paid on a fee-for-service basis and report cost and quality data. Following each performance year, clinicians are evaluated on their performance relative to other clinicians in the country and receive a positive, neutral, or negative payment adjustment to their Medicare Part B payments in a future payment year. Learn more
APMs
Alternative Payment Models
Alternatively, clinicians can choose to participate in one or more of the available Alternative Payment Model (APMs). APMs vary in design, but all aim to restructure payments in a way that financially incentivize low-cost, high-value care. In addition to any model-specific payments they receive, clinicians who significantly participate in models that meet certain requirements for advanced technology, quality, and financial risk capabilities are excluded from participating in MIPS and can earn a 5% Medicare bonus. Learn more
---
Other Value-Based Payment Reform Efforts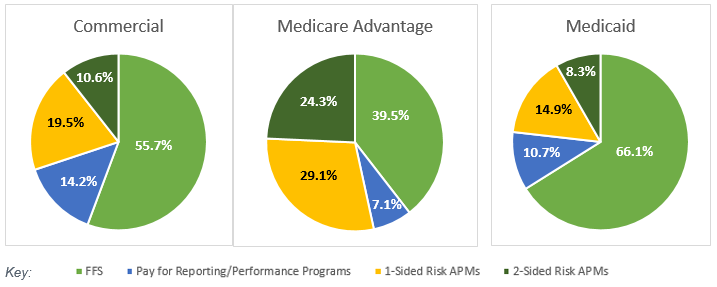 Medicaid, Medicare Advantage, and private payers have increasingly been developing their own quality performance programs and APMs. To the right is the breakdown of value-based payments for commercial, Medicaid Advantage, and Medicaid payers, based on 2019 data.
Source: Health Care Payment Learning & Action Network
---
Advocacy Efforts from ACP
Learn about ACP's latest advocacy efforts to reform and improve the Quality Payment Program. Learn more
---
Have more questions?
Email reg-affairs@acponline.org
Visit the official QPP website
Join ACP's MACRA Member Forum