You are here
MACRA and the Quality Payment Program
MACRA and the Quality Payment Program
Medicare's Quality Payment Program (QPP)
What's New
COVID-19 Flexibilities In response to ACP advocacy, CMS extended the MIPS extreme and uncontrollable circumstances exception due to COVID-19 through 2021. Applications for the 2021 performance year are due December 31, 2021. Find more information here. CMS separately announced flexibilities for several APMs due to COVID-19. For more information, access this CMS fact sheet.
Final 2022 Medicare Physician Fee Schedule/QPP Final Rule CMS finalized the rule on Nov. 2, 2021. Read ACP's detailed analysis of the final rule.
---
MIPS
Merit-Based Incentive Payment System
Under the Merit-Based Incentive Payment System (MIPS), eligible clinicians continue to be paid on a fee-for-service basis and report cost and quality data. Following each performance year, clinicians are evaluated on their performance relative to other clinicians in the country and receive a positive, neutral, or negative payment adjustment to their Medicare Part B payments in a future payment year. Learn more
APMs
Alternative Payment Models
Alternatively, clinicians can choose to participate in one or more of the available Alternative Payment Model (APMs). APMs vary in design, but all aim to restructure payments in a way that financially incentivize low-cost, high-value care. In addition to any model-specific payments they receive, clinicians who significantly participate in models that meet certain requirements for advanced technology, quality, and financial risk capabilities are excluded from participating in MIPS and can earn a 5% Medicare bonus. Learn more
---
Other Value-Based Payment Reform Efforts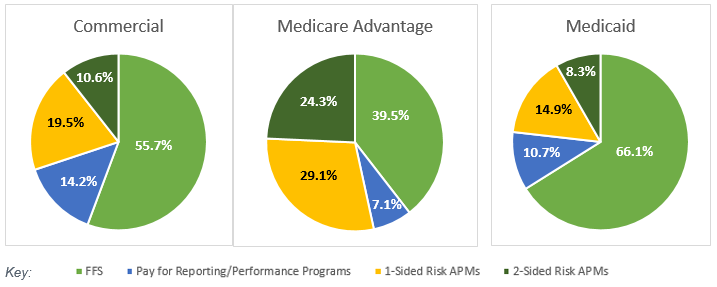 Medicaid, Medicare Advantage, and private payers have increasingly been developing their own quality performance programs and APMs. To the right is the breakdown of value-based payments for commercial, Medicaid Advantage, and Medicaid payers, based on 2019 data.
Source: Health Care Payment Learning & Action Network
---
Advocacy Efforts from ACP
Learn about ACP's latest advocacy efforts to reform and improve the Quality Payment Program. Learn more
---
Have more questions?
Email reg-affairs@acponline.org
Visit the official QPP website
Join ACP's MACRA Member Forum