Medicare's Quality Payment Program (QPP)
What's New
In response to the COVID-19 pandemic and the ACP's advocacy, CMS extended the MIPS extreme and uncontrollable circumstances exception through 2022. Applications for the 2022 performance year are due December 31, 2022. Find more information here. Read more about the QPP COVID-19 response here.
In a white paper released in October 2021, the CMS Innovation Center (CMMI) detailed its new strategic vision of transformation of the US health care system by establishing equitable outcomes through high quality, affordable, person-centered care, which closely aligns with the policies of ACP. ACP expressed support for CMMI's goals in a statement on the white paper. Learn more here.
CMS published the 2023 Medicare Physician Fee Schedule/QPP Proposed Rule on July 7, 2022. Read ACP's detailed summary (ACP Member login required) and comments of the proposed rule.
---
MIPS
Merit-Based Incentive Payment System
The Merit-Based Incentive Payment System (MIPS) adjusts payments based on a clinician's performance across 4 categories: Quality (30%), Promoting Interoperability (25%), Improvement Activities (15%), and Cost (30%). Learn more
APMs
Alternative Payment Models
APMs structure payment to incentivize quality and value. Clinicians who participate in certain "Advanced APMs" that satisfy advanced risk, quality, and technology requirements may be excluded from MIPS and eligible for a 5% Medicare bonus. Learn more
---
Other Value-Based Payment Reform Efforts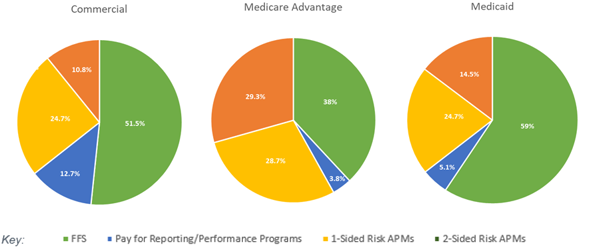 Medicaid, Medicare Advantage, and private payers have increasingly been developing their own quality performance programs and APMs. To the right is the breakdown of value-based payments for commercial, Medicaid Advantage, and Medicaid payers, based on 2021 data.
Source: Health Care Payment Learning & Action Network
---
ACP Advocacy
Read how ACP advocated on behalf of clinicians and influenced the MACRA Rules:
Learn about ACP's latest advocacy efforts to reform and improve the Quality Payment Program. Learn more
---
For more information or questions or concerns regarding specific QPP/MACRA-related issues, email policy-regs@acponline.org. We also encourage you to discuss QPP/MACRA with your colleagues in the Member Forum on MACRA.
Sign up for alerts to keep you on top of upcoming deadlines and details related to regulatory, payment, and delivery system requirements. To sign up for these alerts, text ACPtimeline (no space) to (202) 952-0651 from your mobile phone.