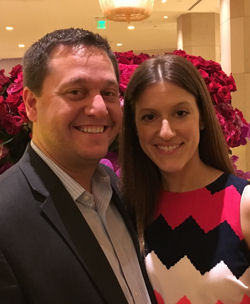 Name:
Lawrence Phillips, MD, FACC, FACP, FASNC
Current Occupation:
Medical Director, Outpatient Cardiology Practices, NYU Langone Medical Center / Director of Nuclear Cardiology, NYU / Associate Program Director, Training Program in Cardiovascular Diseases, NYU School of Medicine
Fellowship & Residency:
North Shore University Hospital
Medical School:
Jefferson Medical College
---
Growing up as the "typical middle child," family life has always been important to Lawrence Phillips, MD, FACC, FACP, FASNC. Now, as a medical director and clinician educator at NYU Langone Medical Center, he's eager to embrace internal medicine as the biggest family he's ever had.
"How it impacts their lives":
Dr. Phillips spent his childhood in Long Island, New York watching basketball, playing tennis and hanging out with his two brothers. He had his first encounters with medicine when he became excited by the idea of patient care from observing his father's work.
"My dad is a psychologist, and his area of expertise is helping people cope with illness. I grew up hearing about different medical conditions and learning how people could have successful lives despite a chronic illness, and that really made me think that it was what I wanted to do with my life," he said.
By the time he was eight years old, the holistic aspects of patient care had inspired his decision to become a doctor, and the same principles that drew him to the field as a boy still inform his approach to health care today.
"It impacted the way I looked at my relationship with my future patients—I really value the longitudinal relationship as well as the ability to get to know people, not just when they have a medical condition, but also how it impacts their lives."
As he progressed in his education, Dr. Phillips concluded that internal medicine offered the greatest opportunities to develop extensive knowledge while directly influencing his patients' lives. He eventually decided to specialize in cardiology after experiencing the wide range of patient care scenarios that the specialty offered.
"For cardiology, a lot of it had to do with that intersection of acute medical problems and long-term relationships. I could see one patient for a routine follow up and risk modification, and the next patient could be somebody who was having an acute myocardial infarction—there wasn't a way to know ahead of time what the next patient would bring. What really excites me about cardiology is that fact that every patient is different, and every interaction is different."
When he was a resident, Dr. Phillips' program director, Dr. JoAnne Gottridge, and chairman of medicine, Dr. Stephan Kamholz, were both active, involved members of ACP. Wanting to follow the approach that his mentors used towards medicine, he looked into the organization and decided to become a member.
"ACP is full of giants in the field, and as we look at ways that we want to practice medicine, ACP gives the gold standard. That's one reason why I think it's so important to be a member," he said.
"The other part of it is that medicine is a family, and that the ACP for internal medicine and all our subspecialties is that family. I think that you get much more than just a certificate that says you're a member, but rather, you get to be part of this team that's really revolutionizing the way that medicine is practiced."
"A unique thought process":
In addition to Dr. Phillips' clinical work, he serves as the Medical Director of the Outpatient Cardiology Practices at NYU Langone Medical Center with a team of 35 cardiologists who see patients in an outpatient setting.
"What I've worked on with them is to make sure that the patient experience is our primary goal in each part of it, so bringing the patient into the discussion. Because we have so many cardiologists, it allows us to work to focus on best practices, and to make sure that if an approach is successful for one of our cardiologists, that the others get to know about it."
In 2010, Dr. Phillips took over as the Director of Nuclear Cardiology at NYU when a close mentor left for a different job.
"In that role, it's exciting because first, I'm able to look at a specific way to diagnose heart disease, but at NYU, what we've done is we've turned that into a process to help other nuclear cardiology labs and offices to really focus on the patient and to come up with the best diagnostic strategies to diagnose coronary artery disease. I've also been involved in that arena in research and involved in education of physicians, both from the medical student level to the resident, to the cardiology fellow, and then other nuclear cardiology labs around the country in diagnostic techniques using nuclear cardiology."
With all of the processes in place to share strategies and research with other labs and practices, it's apparent that medical education is a top priority for Dr. Phillips. For the past five years, he's been an associate program director for NYU School of Medicine's training program in cardiovascular diseases.
"Coming to an academic center like NYU, part of the expectation is to be involved in education and pass on any knowledge that I have while also helping people learn not only facts about medicine, but also learn a way to think, which I think is unique to medicine," he said.
"Medical decision making does not follow a straight line—learning where the curves occur in the process comes with experience, but it also comes with mentorship. I've been very lucky over my career to have several excellent mentors, and when I look back and I see the impact that they had on me, I just hope that I'm able to give back some of it to future physicians as I was given by my mentors."
Performing such a wide variety of tasks might be exhausting for some, but for Dr. Phillips, the task of navigating several roles on a daily basis is invigorating and rewarding.
"I get to work throughout the day with our cardiology fellows, and it really excites me to be able to see and watch as they develop from the first day of their training program to graduation and help mold them any way that I can with their future career plans. So with those three parts together, it becomes a really exciting job for me and keeps me excited coming to work on a daily basis."
"That passing forward approach":
When he's not working, Dr. Phillips makes it a priority to spend time with his extended family and his wife, Jennifer.
"I'm pretty much an open book—I think that the key to life for me is family. I spend a lot of time with my wife, my parents, my brothers, and both my and my wife's entire family. My wife and I are expecting our first child early next year and are very lucky to have six amazing nephews and one niece. I think we're very blessed in that area."
He and Jennifer also enjoy traveling across the world when they get the opportunity —Italy is a favorite destination, and one of his all time greatest was a trip to New Zealand and Australia. But as a native New Yorker practicing in Manhattan, the multitudes of people and cultures in the city means that Dr. Phillips doesn't need to travel far to have new experiences while doctoring.
"One of the unique aspects is that because there are so many people coming from different parts of the world to New York, you might actually see somebody who has a medical condition that you think of being only from a certain location of the world because they've traveled from that area. So rules about certain illness in one location don't apply when you're in New York because you can see anything."
Those kinds of experiences are crucial for medical students, he said, and the best way to get through medical training is to enjoy each phase rather than rushing to move onto the next stage.
"You have to enjoy and make the most of each level of your training, and each experience that you have—I think it's important to value the people that you go on the voyage with, so my closest friends are the people that I trained with at each level, in medical school all the way through fellowship. I think that medical school is a time when people forget about taking care of themselves, which is a big mistake—you have to make the most of your experiences, value the time with your family, and don't think that the time is going to come back later on, but rather enjoy each moment."
Now that enough time has passed in his career, Dr. Phillips considers the act of passing on knowledge to be just as important as routine clinical care.
"I've been an attending for eight years now, and I was in training for 7 years after medical school before that, so now I'm having the experience of seeing physicians that I taught early on complete their training and become leaders in the field," he said.
"It's a paying-it-forward approach."
Back to September 2016 Issue of IMpact