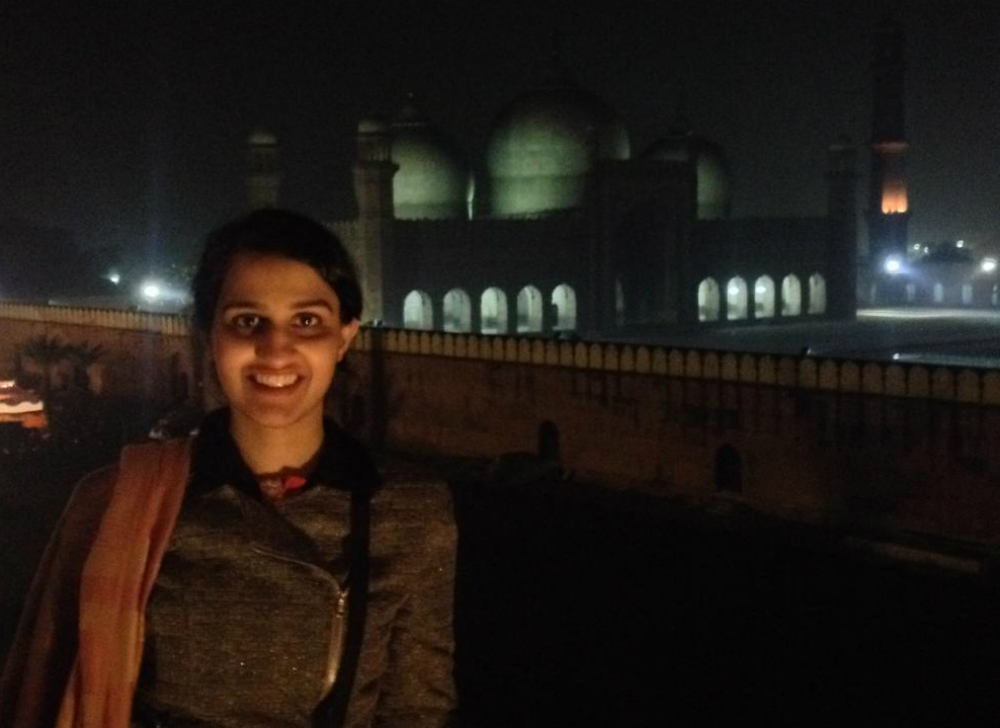 Fatima Syed in Lahore, Pakistan overlooking the Badshahi Mosque.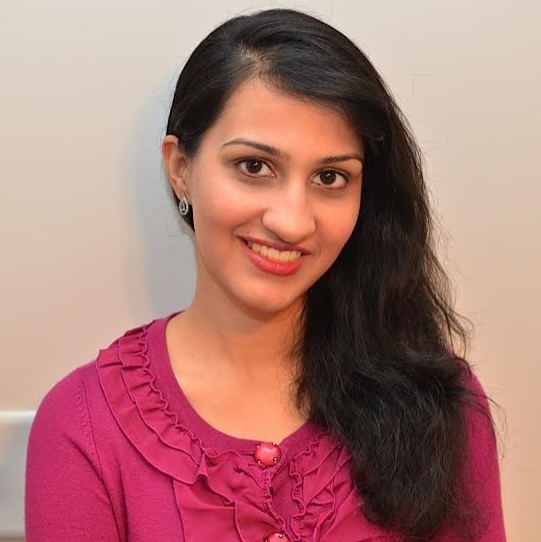 Dr. Fatima Syed, MD, MSc
— CURRENT OCCUPATION —
Fellow in Endocrinology at Thomas Jefferson University
— RESIDENCY —
Thomas Jefferson University, Philadelphia, PA
— FELLOWSHIP —
Thomas Jefferson University, Philadelphia, PA
— MEDICAL SCHOOL —
Virginia Commonwealth University School of Medicine
In April 2017, Dr. Fatima Syed worked with her mentor and attending, Dr. Monika Shirodkar, to start a diabetes-focused health clinic in South Philadelphia, serving an underserved population and experiencing first-hand the challenges many face when seeking medical care on a daily basis. The choices that led her down the path to helping others and sparked her interest in health care advocacy began in Syed's youth.
Dr. Syed was the first resident to graduate from the primary care track at Jefferson University. "As part of that track," she explained, "I worked at the Philadelphia City Health Center. You meet a lot of different people. You don't ask, but there are some people that may or may not be there under legal circumstances, there are people who were once gainfully employed but lost their health insurance and under tough circumstances. Or, you know, there are people who have health insurance but just really like the physicians they see at the city health center."
Your work is always meaningful as a physician, but there are just certain patient populations that need you.
Dr. Syed explained that at the City Health Center she also learned "to do a lot with a little in terms of [the] resources and medication at your disposal. It makes you a really good doctor, and you're dealing with patients who really need you." Syed explained that "your work is always meaningful as a physician, but there are just certain patient populations that need you. You know, there are not enough physicians there, and they need someone who's just going to understand."
Dr. Syed's experience at the Philadelphia City Health Center shaped how she views medicine. "Even though I'm doing a fellowship in endocrinology, I did a primary care track and I do think that health care is primary, first and foremost. Your relationship with your primary care doctor is really important. I can see myself, potentially, living in worlds where I'm an endocrinologist, a diabetologist—a diabetes expert—but also living in a world where I'm someone's main physician."
Growing up, Dr. Syed's father worked for the federal government. Her family, she explained, was fortunate enough to always have access to good health care thanks to her father's benefits. As Dr. Syed slowly learned that her level of access wasn't universal, she started to consider the people who are less fortunate.
That's part of why Dr. Syed started a diabetes-specific clinic in South Philadelphia; to serve a population that is not so fortunate.
According to Dr. Syed, a fair share of the patients referred to the diabetes clinic come from the Philadelphia City Health Center, which means that they may or may not have health insurance. She explained that much of the effort she's put into her career has been on working for this exact type of patient population. "I've really put a lot of energy and focus into the clinic, trying to figure out best practices related to diabetes and those patients. A lot of my clinical acumen has been in that, which I love. That's exactly what I want to be doing."
While it's too early to measure any quantitative outcomes, Dr. Syed is excited about the impact the clinic has already achieved in its infancy. "I'm seeing a lot of early success in terms of patients, their attitudes, handling their diagnosis, using insulin. I mean, diabetes is a tough diagnosis to have."
"Seeing the breakthroughs with patients—seeing them realize that this is conquerable. It's been huge."
Medicine with a social focus
Before starting medical school, Dr. Syed earned her master's degree in Comparative Social Policy from Oxford University. That degree, she explained, "completely changed how I viewed medicine." Her perspective changed from a focus on treating patients into one that sees "the big picture of how dealing with patients can inform creating a better system."
Thanks to ACP, Dr. Syed explained, she's been able to apply her master's degree toward shaping health care policy.
Dr. Syed first found a home in ACP after dealing with feeling isolated in med school. "It was a struggle throughout medical school," she said, "and even into the first year of residency, that feeling of being a little bit lonely. I felt like everyone was on their escalator—with clinical medicine, you kind of get this idea of, 'I want to be, maybe, a gastroenterologist,' and there are clear steps that you need to take to be on the path. That's a very traditional route in medicine."
"I thought I was very unusual," she said of her goal to work in health care advocacy, "especially when I was in med school. I wondered how I'd use the knowledge I have to form policy, and what does that mean? Was I just saying buzzwords?"
For Dr. Syed, her experience changed by "getting involved in ACP and the Council of Resident/Fellow Members. I'm now chair of that council, and it's made up of members just like me who want to not just be good clinical physicians, but also shape the system in which their patients utilize health care."
Getting involved with ACP demonstrated that "there are people just like me who have similar goals and similar visions. There are actually a lot of us. I found a community of people who have likeminded goals, and that's been huge."
If all I did was clinical medicine, I wouldn't be very happy...ACP has been the outlet for me to be both the doctor and the person I want to be.
"Our council, the council of resident and fellow members, brought up the gender pay gap resolution that was passed by the board of regents. Before I started, the council brought up LGBT patient rights and advocacy for LGBT patients. Our council brought up hate crimes as a public health issue. So, from a public health standpoint and a profession standpoint, we've been doing a lot. Obviously, ACP's done a ton of work to ensure that our patients are insured or remain insured. I've gone to Leadership Day, and I've tweeted, texted, called, emailed legislators."
Getting involved in advocacy is important to Dr. Syed. It's been the crux of her career from the very beginning, and ACP helps realize that. "If all I did was clinical medicine, I wouldn't be very happy," she said. "ACP has been the outlet for me to be both the doctor and the person I want to be."
From mock trials to medicine
Fatima Syed is the daughter of Pakistani immigrants. Her father came to the United States in 1970, and her mother followed nine years later when they got married. Dr. Syed was born in North Carolina, and her family moved to Virginia when she was one.
She moved through the Virginia public school system for most of her young education until her family took a brief interlude in Albany, New York, as her father's work moved them north.
In Albany, Dr. Syed became involved in mock trials. This was when Dr. Syed really started thinking about becoming a physician. "You'd have a case and put together a defense and prosecution for it," she said of the mock trial process. "I really loved that. It was like a sport—like a very nerdy sport. If you were to ask my parents, I think they would have thought I wanted to be a lawyer. I kind of knew that I wanted to be in public service, maybe government or something where I got to work with other people."
Dr. Syed also started volunteering at local hospitals in Albany, a charge she continued when she moved back to Virginia during her senior year of high school. "I enjoyed it," she said of her volunteer work, "and I think the thing I enjoyed the most was not necessarily the medical things, but the fact that I met new people. Every minute, I was meeting new people at very vulnerable times in their lives, and I think that meant a lot to me."
Dr. Syed went to Virginia Commonwealth University both for her undergraduate degree and medical school. She knew nothing was guaranteed in life, so she worked to make sure that she knew she wanted to be a physician. That led Dr. Syed to volunteer at a pediatrician's office, and, although she always knew she wanted to work in health care policy, that volunteer stint got her "more and more interested in the medical and clinical side of things."
Conquering self-doubt
As Dr. Syed transitioned to medical school, she experienced a wave of self-doubt that rolled into personal growth.
Early on, Dr. Syed "really doubted" her decision to study medicine. "In my first year of medical school," she explained, "we studied anatomy." The specific moment that she doubted her career choice came when she had to dissect her first body. "That was a person, now it's a dead body and it was my first patient." She found anatomy, especially at the beginning, "to be a little overwhelming," and it caused her to "doubt whether or not I even wanted to become a doctor. I really started to doubt my decisions at that point, and it came in my first semester of med school."
She stuck with it, overcoming those overwhelming moments. What helped her was a peer support group.
"We had this group called Project Heart," she explained. "You'd meet with your classmates and a group leader, and you'd talk about what you're going through. A lot of people were pumped to be in anatomy, but there were a couple people in my group who felt similarly to how I did. I didn't feel alone anymore, and when everything was said in done with anatomy, I realized that was my first patient. I really respected that they gave their body for me to learn. That was a really pivotal moment for me, overcoming self-doubt."
By the time Dr. Syed starting seeing patients in med school, she realized that, "yes, this is what I want to do. This makes sense." Those first two years of med school, she shared, can be tough. "You're stuck in the classroom." Working with and helping patients in her third year of med school was so rewarding that it pushed away Dr. Syed's self-doubt and allowed her to focus on becoming a doctor.
Married and living in Philadelphia, she and her husband recently bought a row home and spend their time working around the house, cooking, and relaxing. When possible, Dr. Syed loves to travel, including visits to her family in Virginia as well as around the world to places like Athens and Rome.
From her volunteer work in high school and college to her socially-focused master's degree from Oxford, her work at ACP and her time working with an underserved patient population in South Philadelphia, health care advocacy has held a strong focus in her career and has a strong advocate in Dr. Syed.
Back to the October 2017 issue of ACP IMpact
More My Kind of Medicine Profiles