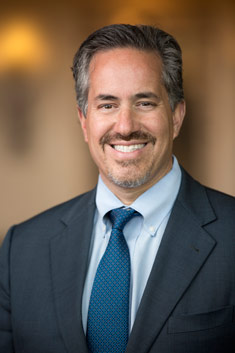 Name:
Ruben Mesa, MD
Current Occupation:
Professor of Medicine, Principal Investigator for myeloproliferative neoplasms research program, Arizona Mayo Clinic
Fellowship & Residency:
Mayo Graduate School of Medicine, Mayo Clinic College of Medicine
Medical School:
Mayo Medical School, Mayo Clinic College of Medicine
---
Ruben Mesa, MD, FACP, spends his free time training as an active triathlete and once competed in an Ironman triathlon as a fundraiser for his patients. As a hematologist at the Mayo Clinic in Scottsdale, Arizona, he brings the same passionate approach to internal medicine through his three-part work as a researcher, professor and patient caregiver.
"The important tapestry that is internal medicine":
Born in Chicago, Dr. Mesa grew up as the youngest of three siblings in a family that had immigrated to the United States from Cuba. His parents both worked in business, and although he was interested in science from a young age, he didn't decide to become a doctor until he was an undergraduate student at the University of Illinois at Urbana-Champaign.
"I'd had an interest in medicine as well as in engineering and had begun a career in nuclear engineering, but along the way got interested in radiobiology and medicine, and then that evolved into going on a path into medicine. I had taken a class in radiobiology as an elective, and I kind of opened my eyes to a different world scientifically than I had really been exposed to before—it ended up being a very good fit," Dr. Mesa said.
As he continued in his education, Dr. Mesa became drawn to patient care in addition to the research-based aspects of medicine.
"In medical school, I had a chance to learn more about oncology as a whole—I found that I really enjoyed the broader kind of complete medical management in more the 'hema' sort of space—so I went into internal medicine as a way to have a broad engagement with patients across all of their care needs, as well as a bridge to hematology and medical oncology."
He eventually found a home in internal medicine, becoming an ACP member in 1995 and a Fellow in 2005. According to Dr. Mesa, the internal medicine community is unique both in terms of its goals and in the fact that it's developed from a team-based approach.
"Although many of us might be specialized or sub-specialized, we're all members of the important tapestry that is internal medicine, trying to take care of the whole patient and their needs. Even as I'm involved in organizing a cancer center, I recognize that pretty much every discipline within internal medicine really plays a key role in terms of that cancer patient's journal—everyone really has a role to play. One of the things that I really always enjoyed about cancer care is that it's really internal medicine on steroids—there are a lot of very significant challenges to overcome, and that's always been one of the rewarding parts of it."
"The whole individual is the patient":
Like many clinician-educators, Dr. Mesa splits his time between research, administrative work and patient care, often switching roles several times throughout the same day. Administratively, he serves as both the deputy director of the Mayo Clinic Cancer Center at the National Cancer Center and oversees the cancer operations for the Mayo Clinic in Arizona, where he also chairs the division of hematology and medical oncology.
When he's not doing administrative work, he delivers patient care and conducts clinical trials on a highly specialized practice of patients with a type of chronic leukemia known as myeloproliferative neoplasms. Through his work as a researcher, Dr. Mesa has been able to develop FDA-approved drugs for this type of leukemia. In practice, however, he approaches drug-based treatments as just one of the many important aspects of patient-centered care.
"I'm heavily engaged in a range of different types of clinical trials for these patients, both drug-trials but also non-pharmacologic studies, including things such as yoga, mindfulness, and other nonpharmacological interventions," he said.
In Dr. Mesa's view, nonpharmacological therapies may offer additional ways for patients to manage conditions when used in conjunction with more traditional, pharmacological treatments.
"It certainly has become very clear to me that our pharmacologic therapies are crucial, they're important, but they do leave real opportunities for us to be able to help patients. I've had an interest in trying to do both—research in understanding the symptom burden and disease burden that patients face, as well as to try to find other ways in addition to pharmacologic interventions that can be beneficial, whether it be physical activity-like interventions, whether they be around stress or survivorship, nutrition, and so on."
Caring for the entire patient is at the center of an internist's work, and according to Dr. Mesa, increasing numbers of oncologists are realizing that treating cancer involves much more than simply eliminating malignant tumors.
"We are certainly much more aware of this than we've ever been in the past—that the whole individual is really the patient. I'd say in cancer in particular, things have grown from all those things which really focus exclusively on the malignancy, to realizing that clearly, the rest of the individual is incredibly important in that piece. Whether it be their other medical illnesses, their state of wellness, their educational deficits regarding their illness, distress, anxiety, financial toxicity—all of these are very relevant and important issues."
"Its own kind of interesting and unique challenge":
Cancer may have played a major role in shaping Dr. Mesa's professional career, but some of his most formative experiences have occurred as the result of personal experiences with the disease. Several of his family members have been diagnosed with cancer in his lifetime, and in 2006, his father passed away after battling lung cancer.
"I was already a board-certified hematologist and medical oncologist and it was—obviously a very difficult process, but it certainly gave me some important lessons as a cancer provider about what it's like to be on the other side. Seeing end of life care and what that experience is like, I really got a first taste of how that could be improved and certainly have been mindful of that as we have tried to develop and optimize our cancer services here at Mayo Clinic in Arizona," he said.
"My mother had breast cancer, although fortunately she did very well with her therapy and surgery and has now been in remission for several years, I lost a grandmother to a brain tumor…so again, like most folks, unfortunately it's one of those diseases where it connects us in a variety of ways, sadly."
Family life is important to Dr. Mesa, and when he's not practicing, he enjoys spending time with his wife, Chris, and their two kids, a 19-year old son also named Ruben who majors in business at Arizona State University, and a daughter, Katie, who is a high school senior. He also maintains an active lifestyle through travelling and participating in competitive sports around his home in Arizona.
"I've been an active triathlete – in particular in the past—I once did an iron-man triathlon as a fundraiser for patients. I've enjoyed that. I golf; I enjoy hiking here in Arizona and many of our beautiful trails, and certainly enjoy the opportunities of travel afforded to me by being involved in such a role," he said.
However, the activity that excites him the most is teaching. Although he doesn't teach as much as he used to, he's still involved in mentoring internal medicine residents and fellows in both inpatient and outpatient settings.
"I do a lot of mentoring of residents and fellows in the research process, so many of our efforts have involved either residents or fellows who are doing that for their research projects and help to guide and mentor them through that as best I can—it's something I enjoy greatly. I'm also involved with the American Society of Hematology, I run the clinical research training institute for fellows in terms of a clinical research process, and it's something I've been a faculty member on for several years," he said.
Ultimately, Dr. Mesa cites the wide range of experiences and personal connections that come with being a clinician-educator as the most fulfilling aspect of his work.
"I greatly enjoy really the interactions with patients, with residents, with fellows and colleagues…the human interaction which really is the most enjoyable, as well as having the opportunity to be involved with a range of activities. It helps keep you fresh, it helps give different perspectives, and helps make each day its own kind of interesting and unique challenge."
Back to October 2016 Issue of IMpact