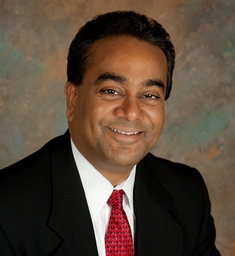 ACP Fellow: Kayur V. Patel, MD, MRO, FACP, FACPE, FACHE, FACEP
Current Occupation: Chairman, Access2MD; Chief Medical Officer, Wellness for Life Medical, LLC, Indianapolis, IN
Chief Residency: Providence Hospital, Southfield, MI
Residency: Providence Hospital, Southfield, MI
Medical School: M.S. Ramaiah Medical College, Banagalore, India
---
When Dr. Kayur Patel was in high school in Statesboro, GA, he knew that he was going to continue on to medical school after graduation. Dr. Patel believes that it takes a person with drive to pursue a profession in medicine. He credits parents and family with hugely influencing his life, adding that close family friends and physicians also motivated and pushed him in the direction of medicine. "They guided me in the right direction. Otherwise I wouldn't be here today," he says.
After high school, he earned his Bachelor of Medicine and Bachelor of Surgery degree from Bangalore University in Bangalore, India. Dr. Patel was drawn to attending medical school in India because it allowed him to have direct access to medical school, bypassing college and leaping from high school right into studying medicine. Born in India, Dr. Patel did not live there until he attended medical school in Bangalore. He says that studying in India gave him a better perspective of the Indian culture and his roots. Dr. Patel completed an internal medicine residency at Providence Hospital in Southfield, MI, where he was also named chief medical resident, and completed an emergency medicine residency at Wayne State University-Grace Hospital in Detroit, MI.
Throughout medical school, he didn't like surgery very much, however, he found internal medicine to be intellectually challenging, which drew him in. Dr. Patel found his passion for teaching medicine after his internal medicine residency when he taught courses to medical students at Stanley H. Kaplan, a tutoring service now known as Kaplan.
During his internal medicine residency, Dr. Patel decided to become an emergency room physician. He practiced emergency medicine for much of his career which he says opened his eyes to some of the issues primary care physicians face. That insight influenced how Dr. Patel now practices medicine as an internal medicine physician in a direct primary care setting.
Today, he is the chairman of Access2MD, the chief medical officer of Wellness for Life Medical, LLC, where he runs a group of direct primary care clinics. Wellness for Life Medical, LLC is hired by employers or companies to manage clinics for its employees and their dependents. In total, Dr. Patel oversees 30 clinics, all of which operate on a value-based system, not a volume-based system which is common in the U.S. The clinics do not accept commercial insurance plans, and are based on the value of care that the physicians and other medical professionals provide to patients rather than how many patients the medical professionals see each day. When a patient comes a clinic, they do not pay a co-pay, rather the employer who hired the direct primary care clinic pays the co-pays in this model. He says that compliance increases among patients when they do not pay a co-pay because their out-of-pocket costs are kept low.
The value-based system of the clinics allows physicians and other medical professionals to spend as much time with the patients as they feel is necessary to provide the best care. For example, in the clinic system, Dr. Patel says that no one will ask why he spent 45 minutes with a patient talking about their weight. He explains that if the conversations happen frequently, the patients will start to make changes. In the direct primary care model, if more positive changes are made among patients, the medical professionals end up making more money in the long-run, he explains. "It's not a production line. You have to spend quality time with the patient," he says.
Dr. Patel describes the style of medicine that he practices as reverting back to how medicine was practiced 50 years ago. The goal of the clinics is to engage providers and clinicians, and help them reset their expectations and how medicine is practiced. When a patient went to the doctor five decades ago, doctors did not tell patients to go across the street to the pharmacy to pick up a prescription. They just gave patients the prescription and told them how often to take it. "We're taking medicine back in time to the way it was," he says. "Physicians have to unlearn what we've learned, and reprogram ourselves in a value-based system, not a volume-based system." Physicians at the direct primary care clinics make house calls, take calls after hours, provide medications at the clinic free of charge, and feel like they are making a difference.
In 2013, he was presented with the Leadership Award from the Indiana Rural Health Association. The award is given to individuals who have made an outstanding difference in rural health. Dr. Patel has been an active member of the Indiana Rural Health Association since 2012, and in 2013 was elected as a member of the Board. The association aims to engage members, deliver useful and valuable education content, and impact state and federal policies.
Identifying the right physicians to practice at the clinics is one of the most challenging parts of the job, says Dr. Patel. Due to shifts in mindset and culture, it takes approximately 1.8 new physicians to fill the roles that one retiring physician previously held. Dr. Patel says that physicians from the millennial generation, as well as millennials in other industries, typically do not want to work as much as doctors who are retiring. New physicians are ambitious, dedicated and professional, but give equal importance to their passions and personal and family lives, he says. To identify new physicians for the clinics, Dr. Patel explains that the clinics offer Continuing Medical Education (CME) programs for current medical professionals who work at the clinics. These programs reinforce Wellness for Life Medical, LLC's commitment to keeping current clinicians updated on medical information. Current doctors at the clinics are encouraged to invite fellow medical professionals to the CME program courses. Dr. Patel believes that if the clinics do a great job with the CME courses, then the visiting medical professionals will realize that their mission is good. "Once they understand the concept, they don't go back," says Dr. Patel. Professionals who attend the clinic's CME courses sometimes see the concept of being able to spend a lot of time with patients as too good to be true. One of Dr. Patel's favorite parts of his job is setting standards and protocols and seeing them successfully implemented across the various clinic locations.
He believes that now is the best time to be in the field of medicine because it is a time for doctors to make changes and to see those changes being made and put in effect. He acknowledges that there are challenges in medicine such as the finances of healthcare and reimbursement issues.
As a Fellow of the College (FACP) since 2001, Dr. Patel encourages physicians to get involved with medical organizations because they help physicians understand what to expect in the future and allow members to engage in group activities, he says. Dr. Patel also says that ACP does a phenomenal job helping members understand where the healthcare industry is going, and teaching outside of classroom or day-to-day practice settings.
When Dr. Patel is not working, he enjoys teaching and working to grow the direct primary care model in other U.S. cities. His two sons, ages 20 and 18, are both enrolled in the Indiana University School of Medicine Rural Health Program. The eight-year program engages students beginning during their senior year of high school, and keeps them on track to earn both their bachelor's degree and medical degree. The goal of the program is for the students to practice medicine in a rural setting when they graduate. Dr. Patel has passed his passion for medicine onto his sons, and is doing his part, both professionally and personally, to ensure the future of medicine.
Back to October 2015 Issue of IMpact