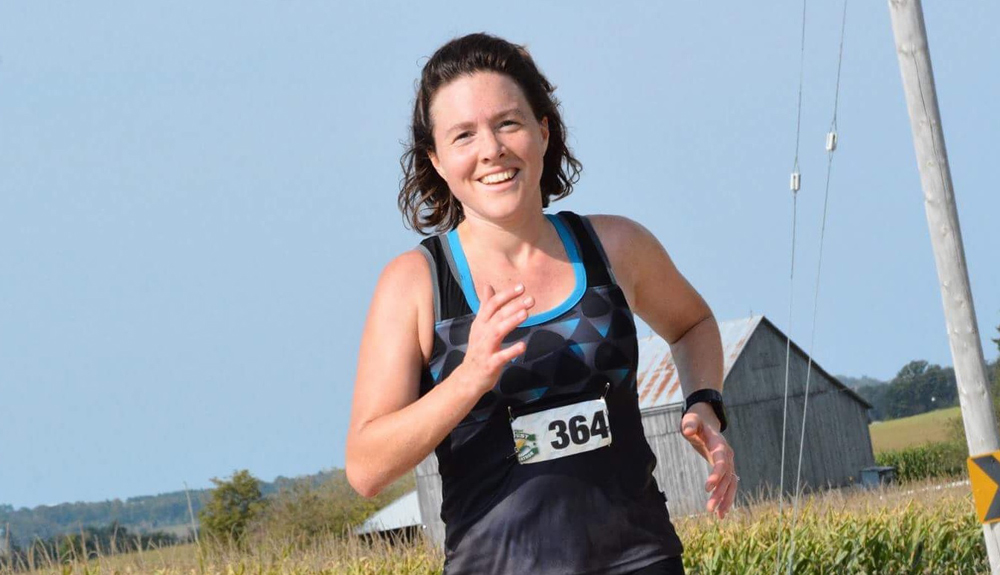 Photo from RunWaterloo, by Julie Schmidt.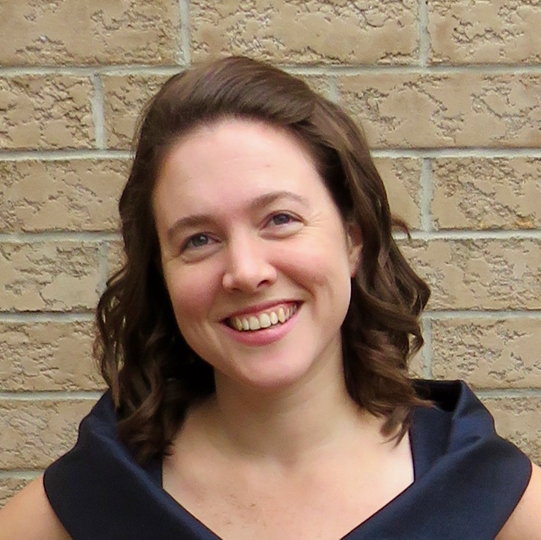 Dr. REBECCA KRUISSELBRINK
— CURRENT OCCUPATION —
Internal Medicine and Adult Critical Care Specialist, Director of the Clinical Teaching Unit, Regional Education Lead

— RESIDENCY —
McMaster University, Hamilton, Ontario

— FELLOWSHIP —
McMaster University, Hamilton, Ontario

— MEDICAL SCHOOL —
McMaster University, Hamilton, Ontario

Dr. Rebecca Kruisselbrink called a 150-acre farm in Tara, Ontario, home and personally identifies with the shortage of physicians that plagues rural regions. "I grew up on a farm in a village with one stop light, and the nearest center with a small hospital was a 20-minute drive."
She points towards her youth on a farm as part of the foundation that helps her educate students. "You realize that becoming an educator, becoming a voice that students will hear, allows you to favorably impact that rural physician shortage because you have that rural background." As Dr. Kruisselbrink continued her education, "it really did become about bolstering medical care outside of city centers like Hamilton, Toronto, New York City, and Boston."
Finding her specialty in medicine
It's a privilege in critical care to be able to take care of patients at their sickest...
For Dr. Kruisselbrink, the most compelling subspecialty of internal medicine is critical care.
Dr. Kruisselbrink wanted to work in critical care because she wanted to help patients across the full spectrum of medicine. "Critical care allows you to care for patients with any illness – and to care for them even when they become unstable. I feel as though being a critical care physician and being an internist go hand in hand. You can do one without the other, but for me, critical care as an extension of the internal medicine I like to practice allows you to see the sickest internal medicine patients and take care of them even if they require life support."
She found that "it's a privilege in critical care to be able to take care of patients at their sickest, to walk with family members through probably the darkest hours they will ever experience, and to develop, hone and use a skillset that can save lives."
When it comes to her medical students and which career paths they take in medicine, Dr. Kruisselbrink tells them that first they need to decide on a surgical versus non-surgical path. She has hosted "lunch and learns" with medical students, and uses her career path to help them identify their own. "What you spend all of your time learning about and what you spend all of your time doing is dramatically different. I knew I wasn't a surgeon from day one, and I was pretty sure I was an internist."
Ultimately, Dr. Kruisselbrink tells her students that she loves the complex medical problems presented with internal medicine. "I loved being able to sort through multiple issues that belonged to one patient. I loved the diagnostic dilemmas. You get a patient with a myriad of weird symptoms, and you can sort of piece together those symptoms, their history, their exam, their labs and come up with an answer. The puzzle solving piece of internal medicine is amazing."
Joining ACP from Canada and working with Health Volunteers Overseas
What led Rebecca Kruisselbrink to become a doctor started with a love of reading at eight years old. Specifically, she wanted "to be a doctor who went to Africa," and that pushed her to volunteer abroad.
Dr. Kruisselbrink set her sights on global medicine because of the books she read as a child. "My parents didn't have a TV in the house when I was growing up, so we read voraciously. I read a lot of autobiographies and historical fiction. I learned a lot about pioneers of medicine who went into third-world countries and did work there. I decided that's what I wanted to do."
What brought Dr. Kruisselbrink to ACP was her time as a resident in Canada and her international volunteer work with Health Volunteers Overseas (HVO).
Dr. Kruisselbrink was encouraged to join ACP as an internal medicine resident. "In Canada, we're encouraged to take advantage of ACP's conferences, resources, and the MKSAP series. A lot of times various teams of residents get together for the Doctor's Dilemma that happens at ACP's conferences as well. I got involved through my residency program."
As she began her work with HVO, it "became clear that every HVO board member is actually an ACP member. They always have their meetings at ACP's conferences, so now ACP is the one conference I attend every single year."
Making time for yourself as a busy internist
As an Internal Medicine and Adult Critical Care Specialist, Dr. Kruisselbrink works on "a busy in-patient service with between 20 and 28 patients that have a variety of medical problems, and all of them are relatively acute. Because it's a general medicine unit, it's not just one medical specialty that's affected; it has problems across the spectrum of internal medicine."
The busy nature of Dr. Kruisselbrink's work with in-patients "comes from the lack of complete predictability and the need to be able to switch gears quickly."
If what makes you 'you' is running, or working out, or knitting, or cooking, do it.
She will pivot between in-patient duties to her work in administration at McMaster University, a medical school. "It looks very glamorous to have titles and roles at a university, but what it actually means is that you spend a lot of time behind a computer. You become responsible for many things, and that takes time – and it is not necessarily the kind of work people anticipate when they think about someone who is involved in 'teaching.'"
Despite the demands of being a doctor and an educator, she always makes time for her love of running. She has a personal goal to run upwards of 3,000 kilometers (approximately 1,800 miles) each year.
Dr. Kruisselbrink places a priority on making time for running, and she feels that other physicians should do the same for their interests. "If what makes you 'you' is running, or working out, or knitting, or cooking, do it. At the end of the day, we all deal with death and dying and illness every day. I see it so much through critical care and internal medicine. It's important to make time for the people you treasure, and the activities you enjoy."
"No one ever on their deathbed says, 'I wish I had worked more, or I wish I had written one more exam, I wish I had done an extra fellowship.'"
"No, they say, 'I wish I spent more time with my family, I wish I had gone to see the Taj Mahal before I died, I wish I had run a marathon,' that's the kind of things people are wishing for. We take for granted our health, our youth, our strength, our ability to go without sleep. We take it all for granted until it goes away, and it all goes away eventually."
Back to the November 2017 issue of ACP IMpact
More My Kind of Medicine Profiles