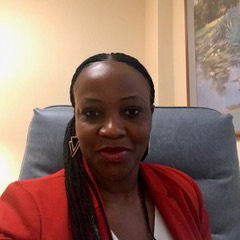 Nana Yaa A. Koram, MBChB, MPH
— OCCUPATION: —
Internal medicine hospitalist, Wooster Community Hospital, Wooster, OH

— MEDICAL SCHOOL —
University of Ghana Medical School, Ghana
Master of Public Health, Concentration in Health Policy—Harvard T.H. Chan School of Public Health, Boston, MA

— INTERNAL MEDICINE RESIDENCY —
St. Vincent Charity Medical Center in Cleveland, OH

What is your current position?
I am an Internal medicine hospitalist at Wooster Community Hospital in Wooster, OH.
Where did you attend medical school and postgrad training?
I attended medical school at the University of Ghana Medical School in Ghana and completed my master of public health with a concentration in health policy at the Harvard T.H. Chan School of Public Health, Boston, MA. I completed an internal medicine residency at St. Vincent Charity Medical Center in Cleveland, where I was honored to serve as Chief Resident.
Why did you choose to become a physician?
My intention was always to go to law school. However, like the oft-told tale, my mother was determined to have a physician in the family. I also realized I enjoyed working with people and helping them at their point of utmost need. I have enjoyed my time in medicine and look forward to many more years in this field.
What field of internal medicine did you select and why?
I enjoyed the acuity of inpatient medicine and the breadth of internal medicine. The tempo and pace of hospital medicine were therefore a natural fit for me.
Please describe a typical day in your practice.
I work a largely 7-on, 7-off schedule and work mainly day shifts. My day largely consists of inpatient care and coordinating care with specialists, case managers, and social workers. I also spend time meeting with families. In addition, I serve on several committees in my hospital, which gets me involved in important nonclinical activities that contribute to the effective functioning of the hospital.
What are some of your special interests professionally?
Some of my professional interests are the intersection of medicine and law (hey, I did want to be lawyer!); medical journalism; and mentoring, especially mentoring young female students.
What are your interests and hobbies outside of medicine?
My myriad interests outside medicine include an avid passion for reading. I am also very interested in politics and traveling. In addition, I love sports and can be found cheering on the underdog in any Grand Slam tennis final.
What advice would you like to share with medical students, or what do you wish someone would have told you while you were in medical school?
You are young only once. Medicine is a lifelong learning experience, but you will never again have that time to get to know your friends and colleagues like you would in those 4 years.
Which talent would you most like to have?
The talent I would most like to have is to be ambidextrous. I am not even sure if that is a talent, but I think my typical doctor's handwriting would have benefited from ambidexterity.
If you could change one thing about yourself, what would it be?
If I could change one thing about myself, it would be my tendency to overthink before doing anything. I would wish to be more like Nike and just do it!
Which historical figure do you most identify with?
The historical figure I most identify with is the famous queen of the Ashanti Kingdom of Ghana, Yaa Asantewaa. In the face of British incursion to capture the Golden Stool, which was believed to contain the very soul of the Ashanti Kingdom, Queen Yaa Asantewaa stood up when no men were willing to and boldly led her people to war. Even though they were defeated, her strength, fearlessness, and dignity in the face of adversity have always motivated me.
What is your motto?
My illustrious all-girls high school in Ghana, Wesley Girls High School, had a big influence on me and my life ethos. My motto is encapsulated in its motto, which is a line from the poem "Gareth and Lynette" by Alfred, Lord Tennyson. It reads, "Live pure, speak true, right wrong, follow the King."
Back to the March 2022 issue of ACP IMpact
More I.M. Internal Medicine Profiles