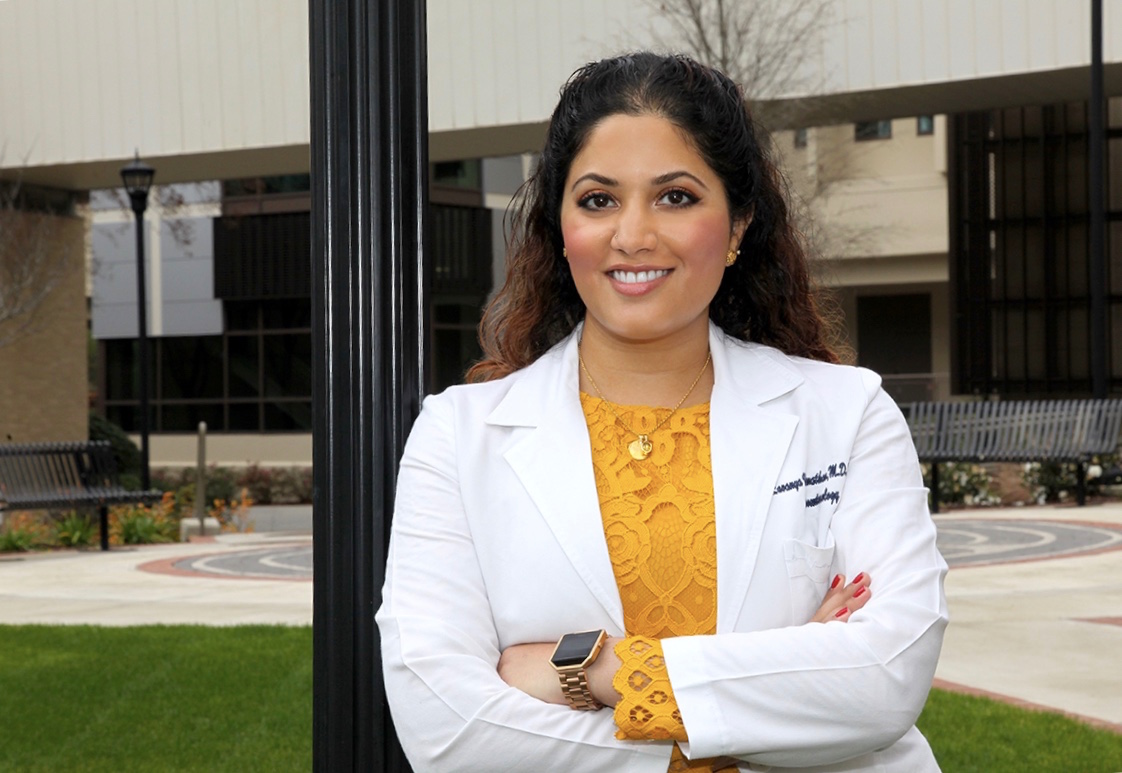 Lavanya Viswanathan, MD, MS, FACP
— CURRENT OCCUPATION —
Gastroenterology Fellow at Augusta University Medical Center, Augusta, GA

— MEDICAL SCHOOL —
Uniformed Services University of the Health Sciences, Bethesda, MD

— RESIDENCY —
San Antonio Military Medical Center, San Antonio, TX

— FELLOWSHIP —
Augusta University Medical Center

When Dr. Lavanya Viswanathan turned four, her parents bought her a Fischer-Price doctor's kit. She recalls "carrying it around the house, putting the fake stethoscope up to furniture and stuffed animals. I had no idea what I was doing, but that is what I thought being a doctor was. I thought I was doing what my dad was doing." Dr. Viswanathan's father is a gastroenterologist. "I watched my dad work incredibly hard for much of my formative years," Dr. Viswanathan remembers.
...it was the greatest feeling to see all of these people happy. If that's what being a doctor is about, I thought, that's what I want to do.
As a little girl with her Fischer-Price doctor's kit in hand, Dr. Viswanathan "would get all dressed up on Christmas and visit my dad's patients with him while he did his morning rounds. Some of these elderly patients were unfortunately left alone in the hospital without family support. Imagine being sick and alone on Christmas and here comes this kid with her doctor's kit. I would sit with the patients and give them cards, and it was so much fun."
Four-year-old Dr. Viswanathan "thought it was the greatest feeling to see all of these people happy. If that's what being a doctor is about, I thought, that's what I want to do."
Finding inspiration in the military
Dr. Viswanathan's life changed dramatically when she interviewed at the Uniformed Services University of the Health Sciences, "with the intent to train doctors who can practice medicine anywhere, their motto is 'Good Medicine in Bad Places.' This philosophy appealed to me during the interview, so I joined and was commissioned as an Air Force officer."
Her military service soon became one of the "most exciting and rewarding things that I've ever done." Dr. Viswanathan attended boot camp in Montgomery, Alabama, the month before starting medical school. She had doubts, "Getting yelled at by a drill sergeant, waking up at three in the morning and marching around; you think 'why am I doing this?'" She pushed through that doubt, and, by the end, thought that, "if I could do this, I could do anything." She ultimately found that "the more hardships you overcome, the more confidence you have in yourself," and she has applied that personal credo to everything she does.
...the more hardships you overcome, the more confidence you have in yourself.
Since joining the Air Force, Dr. Viswanathan has lived and practiced medicine throughout the world. She studied the military impact of traveler's diarrhea in Djibouti during her residency, and her research led to equipping troops with basic antibiotics and anti-diarrheals during the deployment setting to improve military readiness. She moved to South Korea soon after graduating from residency as the sole internist serving an entire Air Force base. "My hospital did not have any subspecialists, so I learned how to be a real internist, in the trenches."
She also became a fierce advocate for her patients. "I remember my first patient as an attending was a young enlisted patient with recently diagnosed Crohn's disease, who was inadequately treated. He thought this was just how it was going to be for the rest of his life and asked if I could help. I ran into many roadblocks initially and was told that our facility could not afford expensive injectable therapy. Instead, this patient would have to wait several months until he was medically retired from the Air Force and free to move back home. I found a way to procure shipments of otherwise unused, viable biologics from stateside hospitals to our pharmacy so that he could be treated promptly."
Dr. Viswanathan also helped organize a primary care medical conference amongst military providers in South Korea, where she lectured on liver disease for the internists. "No amount of training could have prepared me for that year, but I feel a sense of accomplishment knowing that I made a difference in such a short time." Dr. Viswanathan was rewarded for her hard work by being promoted to the rank of Major earlier than scheduled during her tour in South Korea.
Dr. Viswanathan's passion for primary care has persisted even in her fellowship training. She volunteers at a monthly primary care free clinic in Augusta, GA, that allows her to fall back on her internal medicine roots. "Though I am currently pursuing subspecialty training, I feel strongly that one cannot be a good specialist without being a good internist." Last year, ACP recognized her efforts and granted Dr. Viswanathan the "Outstanding Resident Volunteerism and Advocacy" award.
Finding herself as an internist through ACP
ACP has such a robust advocacy wing that covers everything from public policy development to patient educational tools. We have so many ways to advocate for our patients.
Before joining the military, Dr. Viswanathan grew up thinking she would be a pediatrician. After shadowing a pediatrician in medical school, however, she learned that "liking kids doesn't necessarily mean you have the fortitude for seeing sick kids on a daily basis." However, Dr. Viswanathan liked the primary care focus of pediatrics, and that is what nudged her towards internal medicine.
According to Dr. Viswanathan, "during this period of confusion, one of my good friends was on the Council of Student Members at ACP and encouraged me to join. I applied and got the position, and I really started to learn about internal medicine; I met some amazing mentors and ACP became my professional home."
Dr. Viswanathan credits so much of her professional development to ACP. "If I had just received internal medicine exposure from my clinical work, I don't think I would have really understood the full scope of internal medicine. So much of healthcare happens behind the scenes, before the doctor even sees her patient. ACP has such a robust advocacy wing that covers everything from public policy development to patient educational tools. We have so many ways to advocate for our patients."
Passing a critical resolution
When reflecting on her recent involvement with ACP, Dr. Viswanathan points to her time on the Council of Resident/Fellow Members. Under Dr. Viswanathan's tenure as Chair in 2016, the council worked to pass a resolution regarding the Gender Pay Gap in Medicine. "As a woman in both a male-dominated specialty (gastroenterology) and workforce (the military), I think this particular resolution brings up one of the most important issues facing medicine: the unspoken barriers women face in the field. It's started a healthy dialogue within the College and brought a certain amount of awareness to me as a young physician in terms of how I can help to level the playing field."
According to Dr. Viswanathan, physicians "are rightfully concerned with health disparities amongst our patients, but we haven't done a great job of looking at the disparities within our own profession. Many of the doubts I had starting out in my career were based on not physically seeing other people who looked like me in the positions I aspired to hold. But, I believe in women acting as mentors to other women, becoming leaders within academics and helping to change the landscape of what we currently know as an 'old boys' club.' I think this is something I will continue to be involved in throughout my career, and I am extremely thankful to ACP for giving me a platform to start this important dialogue."
Dr. Viswanathan currently serves on ACP's Health and Public Policy Committee. She believes that "public policy and advocacy work is extremely important. I have a responsibility to advocate on behalf of both my patients and my profession."
Dr. Viswanathan is an accomplished vocalist, a talent that was groomed by her mother. She also loves to travel and enjoys running.
Back to the March 2018 issue of ACP IMpact
More My Kind of Medicine Profiles