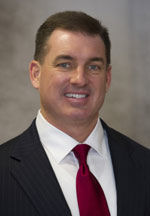 Name:
Anthony Matejicka, DO, MPH, FACP
Current Occupation:
Chief Medical Officer, Nyack Hospital, a member of the Montefiore Health System
Residency:
Lehigh Valley Hospital
Medical School:
Philadelphia College of Osteopathic Medicine
---
As a child, Dr. Anthony Matejicka spent a lot of time in the sick children's waiting room while receiving treatment for respiratory issues. Now, a physician himself, he serves as Chief Medical Officer at Nyack Hospital, a Member of the Montefiore Health System.
"It made me excited to get out of bed":
Dr. Matejicka grew up in Schnecksville, Pennsylvania, a small town located about 10 miles outside of Allentown. As a child, he was mostly interested in reading, science, and outdoor activities, and he was encouraged to be a doctor by his parents from a very early age.
"Ever since I was six years old, my mother, who was an elementary school secretary, and my father, who is still an active car salesman, always told me that my sister and I were going to be physicians. Anything we did was pointed towards medical school, so I really didn't know anything else. My parents didn't know much about this place called 'medical school,' but they knew that it produced doctors," Dr. Matejicka said.
He also became comfortable in the hospital environment while receiving regular treatments for childhood asthma and environmental allergies—physicians always seemed to help his breathing.
"I was at my pediatrician's office quite frequently—at least twice a week, usually more, so I really got to appreciate what the physicians did for me in their office. During those days, they didn't have the treatment modalities they now have—it was still where the sick kids went in the sick door, and the well kids went in the well door, and they had two separate offices that connected in the middle. Unfortunately, I was always in the sick office," he said.
After graduating high school, Dr. Matejicka studied biology and various sciences including botany, zoology, and advanced angiosperm taxonomy at Widener University, with a special emphasis on human anatomy and histopathology. Although he originally wanted to specialize in orthopedic surgery, while completing his residency as a third-year student at the Lehigh Valley Hospital, Dr. Matejicka was drawn to internal medicine through curiosity about the treatments he was not able to focus on as a surgeon.
"When I was taking care of the orthopedic patients, the surgeons always told me, 'Just look at the wound and leave the rest to the internists.' I was always intrigued with the plethora of disease processes left to these physicians, and I found I was spending a lot of time in the operating room and I really didn't want to be there—I wanted to get to know the patients and be able to treat their hypertension, diabetes and stroke symptoms. Eventually that led me to internal medicine, where you did not know when you came in in the morning whether you'd have an 18-year old healthy patient with a strep-throat, or if you'd have a 98 year old with multiple comorbidities. The diversity and complexity intrigued me and made me excited to get out of bed."
This desire to care for the entire patient holistically led Dr. Matejicka to become an internist, and he has now been a member of ACP for over 20 years.
"Having a philosophy that there is somatic dysfunction, and other ideologies to treat the whole body and whole person, was also very appealing to me. I think that the ACP has excellent journals, and being a member is one of the best ways to experience collegiality, as well as local access and national education for internists."
"I've worked very hard":
As medicine has become more patient-centered over the past 20 years, Dr. Matejicka's background in osteopathic medicine and public health has provided him with a unique approach to the modern healthcare system. While completing his internship at the Lehigh Valley Hospital, he was encouraged to study public health by a mentor with some prescient advice for his career.
"The CEO at Lehigh Valley Hospital, Dr. Elliot Sussman, told me in 1995 that 15 or 20 years from then, we would be focusing on population-based health and socio-economic determinants of health, and so he felt a Master's in Public Health (MPH) would be a more appropriate degree to be able to serve the population—even more so than an MBA. I was the first resident to have that MPH paid for by Lehigh Valley Hospital."
Now, he is able to incorporate all of these skills into his administrative role as the Chief Medical Officer at Nyack Hospital, a member of the Montefiore Health System.
"I'm involved in and responsible for all the clinical operations here at the hospital. In terms of the reporting structure, all of the clinical activities of the physicians, including all subspecialties, the medical staff office, pharmacy, hospital quality, infection control, our behavioral health unit, and case management, just to name a few—report to me. We have put a strategic plan in place in each of those areas, to be able to affect our populations," he said.
To help facilitate these changes to the healthcare system, Dr. Matejicka has worked to improve physician documentation for more than ten years.
"The transactional world in medicine escalated in 1983 with the change in the payment system to hospitals. In 2007, it changed again and affected the way physicians need to articulate the disease process they are trying to treat or prevent. It was merely just a coding change that was done—however, the key is that what the physician writes in the chart is actually the way the patient is risk-stratified in terms of severity of illness, and risk of mortality, and therefore is allocated an appropriate length to stay for care of the patient. I've worked very hard since 2006 to educate myself from both a coding aspect as well as a clinical aspect to look at the financial and quality implications based on physician documentation."
"Students should remain broadminded":
Dr. Matejicka has also held several positions as a teacher in Texas and Lehigh Valley. He believes that education is a way to stay invigorated in practice and to bring members of a hospital staff together.
"'Doctor' in Latin means 'to teach,' and so I really enjoy it—I appreciate spending time with other colleagues in all specialties, but also non-physicians, nurses, case-managers, anyone able to help focus on treating the patient as a whole person. We have third-year students here at Nyack Hospital, and now that I've been here for a year, I will be actively integrating myself into their education. "
Although he's held several teaching positions, Dr. Matejicka does not believe teaching is limited to the classroom environment.
"When I was in New Jersey at Barnabas Health, I had led several grand rounds to educate physicians, students and faculty members from other disciplines—everyone was always welcome at those grand rounds. I've also spoken nationally, including CME functions, to be able to help educate as many physicians and providers that I can, regarding the challenges in documentation and coding."
His best advice for medical students is to keep an open mind as they advance in their careers.
"For two reasons, I think medical students should remain broadminded, even if you are mentally committed to a specialty. One, the system in which you need to operate is constantly changing, and second, while in my own example, I originally wanted to be in orthopedics, but as you can see, I did not ultimately end up there. Keeping an open mind as you go through your training is extremely important, and it also will make you a better clinician by helping you to know more than just a siloed approach to a specialty."
By taking his own advice, he now enjoys the flexibility that his administrative role provides at Nyack Hospital. Once again, his mentor from Lehigh Valley provided insights that would change the course of his career.
"I think it's very important to understand that the segue from clinical medicine into administrative is very difficult. When I had second thoughts about making this transition, I was told by Dr. Sussman that I can either treat one patient at a time and have excellent outcomes and influence one patient in front of me, or in administration I could affect many patients, many employees and many physicians all at one time. What I really enjoy about my day is being able to have many touchpoints in all levels of the organization to effectively care for a patient when they choose our facilities and providers."
"How to help in various areas":
When he is not working, Dr. Matejicka enjoys spending time with his wife and three sons.
"We have a son who is 12, and then we have identical twin boys who are nine, which is why I stay at work so long—when I get home, I really have to work," he joked.
Although his children are still young, Dr. Matejicka is already preparing them for medical school like his parents did when he was a boy. He enjoys weightlifting, Broadway theater, and attending his sons' activities, particularly baseball. The family most recently saw a production of Aladdin, which quickly became a new favorite.
Most of all, he enjoys reading about leadership, a concept that he can easily apply to all areas of his life.
"I'm an avid reader of leadership—anything involved with different forms and roles of leadership and how to help in various areas. I think reading about leadership from all disciplines, even outside of medicine, can be extremely helpful and provide insights that you can bring into the work place. I only have two rules as a leader—one, be nice. Two, always do 'the right thing.'"
Back to March 2017 Issue of IMpact