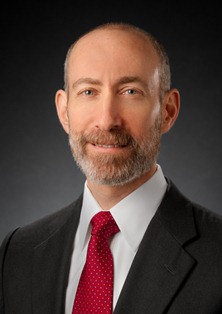 ACP Fellow:
Daniel M. Sosin, MD, MPH, FACP
Current Occupation:
Deputy Director and Chief Medical Officer, Office of Public Health Preparedness and Response (PHPR) at the Centers for Disease Control and Prevention (CDC)
Residencies:
University of Chicago Hospitals and Clinics
Medical School:
Yale University School of Medicine
---
Daniel Sosin, MD, MPH, FACP is Deputy Director and Chief Medical Officer of the Office of Public Health Preparedness and Response (PHPR) at the Centers for Disease Control and Prevention (CDC). His medical career spans 28 years with the CDC and includes 14 concurrent years as an attending physician at Grady Hospital in Atlanta and Clinical Assistant Professor of Medicine at Emory University. He holds the rank of retired Captain, U.S. Public Health Service, is board certified in preventive medicine and internal medicine, has a master's degree in epidemiology, and is the lead author and co-author of more than 50 articles published in medical journals.
Despite his credentials and impressive career as a public health physician, Dr. Sosin is still asked on occasion by one of his curious relatives, "Dan, when are you going back to being a real doctor?"
Disease detectives
Dr. Sosin laughs good-naturedly at the suggestion he is not a "real" doctor. These days, he may not have a stethoscope or prescription pad in his pocket, but he and his associates at the CDC do have a sizeable patient load. Charged with maintaining the health of the communities we live in, the CDC and its cadre of epidemiologists, medical officers, and scientific advisors are responsible for measuring the pulse of the nation's health. Like internists, they are disease detectives, relying on science, investigation, and evidence to discover what makes people sick and the most effective ways to prevent it.
As a medical student at Yale University School of Medicine, Dr. Sosin found himself drawn to internal medicine because internists were considered the "brainy docs." "That appealed to me," laughs Dr. Sosin, "I enjoyed the challenge of piecing together a thoughtful history and using diagnostic skills to solve clinical challenges."
While completing his internal medicine residency at the University of Chicago Hospitals and Clinics, his advisor, Dr. Pierce Gardner, an infectious disease specialist who had previously worked for the CDC, encouraged him to pursue a CDC Fellowship program. And the rest as they say, is a 28-year career in the field of public health.
Data and the promise of Electronic Health Records (EHR)
"What drew me to the CDC, is what drew me to internal medicine," says Dr. Sosin, "they are both data-driven health disciplines." A passionate advocate for the advancement of EHR, Dr. Sosin wants more resources dedicated to improving the nation's management of knowledge and technology. "Gathering and understanding data," he insists, "is the most vital piece of the health care puzzle, essential to both clinical practitioners and public health physicians alike."
His reasoning is both thorough and thoughtful, "As physicians, we are entrusted by individuals or communities to make the best use of information and resources available to mitigate the impact of disease and injury to allow people to make the most of their lives. To do this, we are expected to know the medical literature and understand our patients/communities health status and needs, interpret findings of a careful work-up against an enormous backdrop of possibilities, and then select the best and effective treatment. Sometimes, we only have a small window of time to make those decisions and present options to our patients. If we are to provide the best patient care possible," says Dr. Sosin, "we must effectively collect data and manage information."
Dr. Sosin understands the transition to EHR has been painful, but he insists there's no better way to manage information. "When 16 different hospitals in a region see common symptoms in many patients," says Dr. Sosin, "it can take days to become aware of that, but with further development and more effective use of EHR we will spot health trends much faster."
Variety, the spice of public health
Dr. Sosin began his CDC career in 1986 as an Epidemic Intelligence Service (EIS) officer assigned to Kentucky where there was no acting director of epidemiology in place. He adapted quickly, learning a great deal about epidemiology along the way while fielding calls, collecting data, and preparing reports on rabies and other bites, food-borne outbreaks, hospital infections, and HIV. "I discovered I loved what I was doing," he says, "the diversity and complexity of issues and the satisfaction of solving problems and providing system solutions was exciting."
After completing a CDC Preventive Medicine residency, Dr. Sosin earned his M.P.H. in Epidemiology from the University of Washington School of Public Health, and over the years he has continually sought and received new challenges and greater supervisory responsibilities. He has applied his knowledge and skills to a wide range of activities, from conducting scientific investigations of traumatic brain injury, including research into helmet laws and injuries at playgrounds, to serving on emergency deployment teams, providing support and coordinating resources in response to health threats posed by H1N1 Influenza, Hurricanes Katrina and Rita, and the 2010 earthquake that devastated Haiti.
In 2009, Dr. Sosin was assigned acting Director of the Coordinating Office for Terrorism Preparedness and Emergency Response (COTPER), and prior to that served as COTPER's Senior Advisor for Science and Public Health Practice and Director for the Biosurveillance Coordination Unit.
His unique career is essentially a blend of multiple careers in the fields of science (employing his training in medicine, epidemiology, statistics, and informatics), management (supervising hundreds of personnel and billion-dollar budgets), and leadership (developing strategy and policies, and serving as an advisor to CDC Directors, Congress, the White House, federal, state, and local governments, and federal agencies like Homeland Security and the EPA).
Pearls of wisdom
Growing up in the suburbs of Detroit, the second of four children, Dr. Sosin was greatly influenced by his father, a pediatrician. "My dad was that old-fashioned kind of doctor who spent a lot of time with his patients," says Dr. Sosin. His father, however, did not encourage his children to become doctors. "My dad certainly had a significant influence on me, especially my drive to excel academically," says Dr. Sosin, "but he saw changes that were making medicine harder to practice and an environment that was shifting from doctors focusing on patients to doctors focusing on business practices and insurance."
In addition to his father, Dr. Sosin credits his wife Jacalyn, a social worker, for adding depth and dimension to his life. "Jacalyn has helped me to evolve as a friend, parent, member of the community and to recognize the power and strength of being present and connecting with others." The couple has two children. Their daughter, Abby, 27, completed her master's degree in museum studies and lives/works in her field in New York City, and their son, Noah, 25, is taking a year to travel before starting graduate school; after which, he plans to pursue a career in environmental health and urban planning.
Dr. Sosin admits he is not a person who likes to relax. "I've always been a person driven to work," he says. At home, he relaxes by working around the house, doing remodeling projects and yard work, and refinishing furniture. He loves being outdoors and since his son was eleven years old, the two have done an annual back country camping trip.
In addition to his family, Dr. Sosin says he has been inspired by many of the amazing people he has worked with at the CDC. One of the most memorable is Dr. William Foege, a former CDC director who served under two U.S. presidents. An epidemiologist and medical missionary, Dr. Foege dedicated more than four decades to a career in public health including his work for the CDC, Carter Center, and Gates Foundation. "I met Bill when he was Chair of the Federal Advisory Committee for Injury Prevention and Control," says Dr. Sosin. "He was never in a hurry, always generous with his time, and would share inspiring stories and pearls of leadership, some of which I keep posted in my office and still refer to."
If Dr. Sosin could pass along some of his own pearls of wisdom to medical students, the list would include: Be clear about why you entered medicine and remember that it is a privileged career; it's a tumultuous world, but keep at it, there are so many ways to leverage a medical education; don't be impatient; find mentors who inspire you; be open to opportunities that appear; and learn to work effectively in teams, because whether you are taking care of the health of communities or individuals it's a critical skill that will serve you well.
"Overall, what I have found most appealing about being a public health physician and the field of epidemiology," says Dr. Sosin, "is the variety of the work, the room to develop professionally, the room to ask a good question and the liberty to follow up with investigation and scientific discovery to find the best answer." A member of ACP since 1989, Dr. Sosin regards ACP's commitment to lifelong learning essential and is proud to have the FACP designation behind his name.
"Learning new things and staying on the steep part of the learning curve," says Dr. Sosin, "is where I find the most reward and excitement." Spoken like a true internist, epidemiologist, and "brainy doc," Dr. Sosin's words make it clear he is without a doubt a "real" doctor.
Back to March 2015 Issue of IMpact