Name: Florence Momplaisir, MD, MSHP, FACP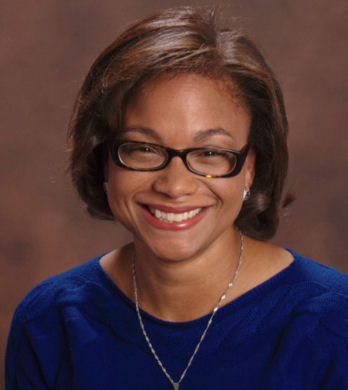 Current Occupation: Assistant Professor, Division of Infectious Diseases,
Drexel College of Medicine
Residency: UMDNJ-Cooper University Hospital
Medical School: Penn State College of Medicine
---
Q: Where did you grow up?
A: I was born and raised in Port-au-Prince, Haiti. I came to the U.S. when I was 17 and went to college at Louisiana State University. From there, I went to medical school at Penn State, and I've been in Pennsylvania since then, even after my residency and fellowship training.
Q: Can you tell me about your childhood in Haiti?
A: I grew up in a middle-class environment in Haiti—I was fortunate enough to go to a French school, and I got a very good education there. My dad is an engineer, my mom is a pharmacist, and I have one sister, she's nine years younger than I am. I think that my upbringing gave me the ethical foundation to always move forward. In Haiti, because there are so many socioeconomic disparities, the one driver to success (particularly for a woman) is education, so I was drilled very early on to really focus on education and do the best that I could.
In high school, I loved science, particularly biology, and so I stayed in the scientific track. I felt really prepared when I came here—it was a really easy transition. My kids go to the French International School of Philadelphia in Bala Cynwyd. Although there's been a lot of instability in Haiti, I really cherish my upbringing there. It really gave me the foundation to be sensitive about social justice issues and to care for people who are marginalized.
Q: When did you realize that you wanted to be a physician?
A: I didn't think I wanted to be a doctor growing up. I was one of those people who took a long time to figure out what to do—this was a decision that I made in college during my sophomore year. Having my mom and dad as role models as well as family members who were physicians, I never felt that it was something out of reach for me. I thought that I wanted to be a teacher or a pharmacist just like my mom—I thought about a lot of different things before wanting to be a physician.
I also loved to read and write, and particularly with what I do now, I've been able to combine all of these things—my love for science, but also for reading and writing and thinking about social issues. I have to say that my parents never pushed me to be a doctor—in some cultures, including the Haitian culture, parents often push their kids to be a doctor or a lawyer, but it wasn't the case for me. They always told me that I should find what my talents are and nurture them because that's how I would be successful. They were very open with whatever I chose, so it also helped me to do some soul searching and figure out what I really wanted to do.
Q: How did you get involved with internal medicine and ACP?
A: When I got into medical school, I thought I wanted to be a pediatrician because I had volunteered at a children's hospital in Haiti. I loved the interaction with the kids, and it turned out that when I did my clinical rotations, I felt that the role of the pediatrician was really to treat the parental anxiety, so I felt that was a real limitation.
When I did my internal medicine rotation, I surprisingly loved it—I loved the patient interactions, I loved the interdisciplinary environment with the different teams and the pathophysiology. I really fell in love with internal medicine.
I was inspired to be involved in ACP during medical school when one of the faculty members came in the classroom to tell us about ACP and that as a medical student, it was free to join. He told us about advocacy within ACP for primary care, and that really resonated with me. When I started residency, I applied to go to the Leadership Day in Washington, D.C., and I loved that experience so I wanted to be more involved. At the time, the regional chapter met in New Jersey so I would drive an hour to go to those meetings. It was great to be part of the conversion about primary care delivery and advocacy, and I really enjoyed doing that.
Q: Can you tell me how you began your work in HIV treatment and research?
A: I always had an interest in HIV, and during my third year of residency, I substituted my primary care continuity clinic for the HIV clinic and I loved it. When caring for patients with HIV, it is easier to think of research questions and I found that there are so many social determinants driving HIV infection—so I decided to undergo training in epidemiology and research methods to be able to engage in HIV research.
One of the reasons that I decided to work in HIV and women's health is because they are a vulnerable group. In general, when people think about vulnerable populations among people who are infected with HIV, they tend to think of men who have sex with men, and it's true that men who have sex with men are disproportionally affected by HIV because the incidence is highest in that group. But women, and particularly those who are pregnant or postpartum, suffer from poor outcomes, and so through my work, I really want to be a voice for those women.
I've found that women with HIV in the postpartum period tend to prioritize their kids over their own health. That's a problem specific to women—women will attend their OBGYN visit, the HIV clinic, they'll take their medications during pregnancy, and then as soon as the baby's born and the baby's negative, they feel that they're done their job to protect the baby. As providers and members of the medical community, we need to advocate for these women because they tend to be caregivers more than having to really worry about their own health—we need to help them understand that if they don't do well, their kids are not going to do well, either.
Q: When you're providing clinical care to HIV patients, do you also incorporate mental health services?
A: Yes, it's such a big part of HIV care. When people are depressed, it can definitely be a barrier to adherence to medication. In the clinic, I administer a depression screen during every single visit. This gives me a score, and based on the score, I can figure out how severe patients' depressive symptoms are, and I have to say that since I've incorporated the screen, I found that the majority of people are depressed.
We have therapists on site, so it's easy for me to link patients to therapy when needed. The therapists are trained for depression support, but also for HIV related support in terms of adherence to HIV medications, sexual and drug risk behaviors—they're very skilled at going through specific educational modules so that patients really understand the importance of taking their medication and staying in care. We do this as providers, but the therapist goes through a series of modules in detail with them. It's really helpful to have that support. The therapists are also well connected with mental health programs in the community and can help refer those patients for further treatment, whether it's for drug abuse treatment or care with a psychiatrist because of medication. Mental health treatment is definitely embedded within the care that we provide.
Q: Is there any advice that you would give to medical students and aspiring physicians?
A: I would say the same advice that was given to me, just follow your dream. I think that particularly for female medical students, we can feel very intimidated and sometimes inadequate, but I would tell them to just be confident and go out there, do their thing, and to know that they're valued. It's also important for minority medical students to know that the care that they provide is very valuable to underserved communities, and to really just be dedicated—it's a lot of hard work, but it pays off.
Q: Can you tell me about your family?
A: I have two girls, Francesca is nine and Natalia is five. After the earthquake in Haiti, our nephew Antonio came, and he's 11, so he's been with us for the past six years now. They all go to the same school, the French International School. My husband is also a physician, he's an interventional cardiologist, so we're very busy, but we definitely take time to spend time with our kids—it's important to us.
Q: Are there any other areas besides your work in medicine that you feel committed to or passionate about?
A: Yes, social justice in general. I just feel that providing and receiving care is an issue of human dignity. I don't think anyone should be deprived from access to healthcare, and that's why I felt very strongly about being involved in ACP— I felt that it was a very good conduit to fight against health disparities. That's something that I care and worry about outside of what I do, specifically with women and HIV.
Back to June 2017 Issue of IMpact