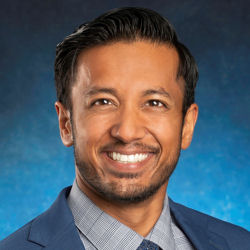 Jacob Mathew Jr., DO, FACP, FACOI, FAWM, CHSE
— OCCUPATION —
Staff, Primary Care
Clinical Faculty/Instructor, University of Colorado School of Medicine
Adjunct Professor, Colorado State University Pueblo School of Nursing
Chief Medical Officer, Weltri

— MEDICAL SCHOOL —
Arizona College of Osteopathic Medicine

— INTERNAL MEDICINE RESIDENCY —
Tripler Army Medical Center, Honolulu, HI

What is your current position?
I am a general internal medicine physician in Pueblo, Colorado (population 111,000).
Where did you attend medical school and postgrad training?
I attended medical school at the Arizona College of Osteopathic Medicine and residency at Tripler Army Medical Center in Honolulu, HI.
Why did you choose to become a physician?
To this day, I cannot think of a profession more rewarding than medicine. I believe the most important thing a person has is their health. To not only trust someone with that but potentially cure them of an ailment is the most rewarding part of my job.
I first became interested in medicine as a young teenager. Every night, my mother would field calls from the hospital on her psychiatric patients. She was knowledgeable and able to provide treatment recommendations. The relief I heard in the voices of the nursing staff and physicians who consulted her made a big impact on me. I thought to myself, "Is there any other job in life that is that rewarding?" To gain medical understanding, I would go on to volunteer in medical clinics and physical therapy offices during my years in college. I feel great satisfaction in being able to quickly listen to a patient's concerns, ask questions, perform an exam, and potentially provide a solution to their disease. While working with my preceptors, I learned that medicine was about not just diagnosing and treating but connecting with patients and teaching/mentoring other individuals such as myself who wanted to go into medicine.
This further strengthened my calling in life to be a physician. I love to teach, mentor, and connect with people. My never-satisfied mentality, curiosity, and investigative personality seemed to be a perfect fit to be not just a physician but an internist.
What field of internal medicine did you select and why?
I have chosen to practice in primary care. During residency, I explored multiple specialties but chose internal medicine specifically because of the breadth of conditions that I had to know, the constant zebras that we came across in clinic, and the need for more primary care physicians in the United States. I love getting to know my patients, earning their trust, and learning about their personal lives. I spend time during my visit to understand their skills, habits, and talents and how they pass time. Medicine is about not just connecting symptoms to diagnoses and determining treatments but forming a strong relationship with your patients and earning their trust. By staying in primary care, I have the honor of following my patients for years and walking hand in hand in their journey through life.
Please describe a typical day in your practice.
My day begins the day prior. I look up my patients who are scheduled for the following day, review their notes from their last visit, and preload a note for the following encounter. I do this so that I can spend more time talking to my patients, face to face, and less time looking at the computer screen. My first appointment starts at 8:00 a.m.; however, I get to work an hour prior to go through any messages from patients and medication refill requests and to review labs that have resulted since I was last on the computer.
Currently, I do 2 days of face-to-face clinic visits and 3 days of telemedicine visits through the phone or video conferencing. The pandemic forced the medical field to adopt telemedicine faster than was expected, but it has allowed the veterans who I see—who may live up to 2 hours away—to be able to have medical care without having to drive long distances. Regardless of the day, I typically see 13 patients a day. I work closely with my nurse to ensure that emergent medications are refilled, consults are placed or followed up on, and walk-in patients are taken care of. Our patient care team also includes a clinical pharmacist and mental health professional whom I coordinate with throughout the day on consults and management decisions.
When I am finished with my last patient, I complete my notes, call back patients who had left messages for me on our online secure messaging portal or through my nurse, and prepare my notes for the following day.
What are some of your special interests professionally?
I am involved in various activities outside of internal medicine. I currently am part of the Wilderness Medicine Society, which allows me to grow the adaptive medical skills I learned during my first combat deployment. What makes it such an interesting field is the need to be adaptive to situations and develop nontraditional ways to provide medical care in an austere environment.
Next, I am also interested in sports medicine. I joined Colorado State University—Pueblo in 2020 as their team physician and continue to provide medical support to athletes. It gives me the opportunity to see younger patients who I otherwise would not have exposure to in the Veterans Administration, as well as identify and manage orthopedic injuries that I rarely am exposed to in my day-to-day job.
Subsequently, I am an adjunct professor at Colorado State University—Pueblo and the University of Colorado, where I teach both nurse practitioner students and medical students in the clinic and classroom. Having been faculty previously at two different internal medicine programs before arriving at the VA, this allows me to continue my passion for teaching, mentoring, and nurturing the next generation of medical providers. I also serve as one of the team physicians for the student athletes of Colorado State University—Pueblo, which allows me to teach their athletic trainers on internal medicine conditions that present in young athletes.
I also stay active locally in medical issues that affect our city and state by sitting on the executive board of the Pueblo County Medical Society and the Ethics Committee of the Colorado Medical Society and am the medical liaison for the Pueblo City County Foundation.
Finally, I am currently completing my masters of business administration at the University of Massachusetts. I have always had an interest in not just medicine but business. Even if you do not have an interest in business, many of us have asked ourselves at some point in our day, "Why are we doing things this way?" or "Who makes the decisions around here?" To be able to understand decision making at the administrative level and have a larger impact on patients outside of my local population, I knew that pursuing leadership opportunities, and an MBA, would be crucial. The Certificate in Physician Leadership Program offered by ACP was a first step for me that introduced me to many of the topics of business medicine and to people within ACP who make those high-level decisions at their hospitals. It helped me to complete a project that helped me see the bigger picture at my local hospital. It has served as a perfect steppingstone as I continue my pursuit of my MBA.
What are your interests and hobbies outside of medicine?
I have an abundant curiosity in new talents and skills that has led me to developing interesting hobbies. Furthermore, it is essential to discover new hobbies and explore things outside of medicine to prevent burnout.
Two years ago, I was browsing through Pinterest and came across "pyrography," which is a form of art where designs are burned into different forms of wood. I had grown up drawing since I was in middle school, eventually progressing to graphic design, and was intrigued about the prospect of transferring art onto wood. I watched videos on YouTube and immediately was hooked. I purchased a wood-burning set and multiple types of wood, and the rest is history. I have since created and sold different categories of pyrographic art varying from anatomy (such as the heart, lungs, and brain) to mountain landscapes based on actual mountains in Colorado.
I have also recently built up my supply of power tools and have started woodworking. This is something I never was exposed to in childhood. However, I curiously watched videos on YouTube of people of all ages and experiences building pieces for art and function. At the challenge of my fiancé, I bought a set of power tools, watched videos, and started building. I started with small, simple furniture and eventually worked on larger and more complex pieces. It has been extremely rewarding to challenge myself in areas outside of medicine, but it has led to a lot more unnecessary furniture around our house!
Living in Colorado allows me to pursue activities in the great outdoors. I enjoy decompressing by golfing, going on walks with my golden retriever, hiking, and kayaking. In the winter months, you can find me on the slopes either skiing or snowboarding, both of which I taught myself through the help of my fiancé and YouTube.
What advice would you like to share with medical students, or what do you wish someone would have told you while you were in medical school?
"Life is not all about medicine."
You cannot be a great physician and take care of your patients if you do not take care of yourself. Prior to and now during the pandemic, we are seeing increasing rates of burnout—in not just staff physicians and residents but medical students. This ties into our personality of wanting to be the best. We are the first ones in, last ones out. We put our heart and soul into our profession but too often may find ourselves defining our self-worth in our outcomes, numbers, and successes in the hospital or clinic. I cannot stress enough the importance of taking time for yourself, and with your family. Making sure that having hobbies is just as important as studying. The balance is essential to being not just a well-rounded person but the best physician possible.
If you could change one thing about yourself, what would it be?
My expectation to be perfect. One of the reasons I went into internal medicine is that I wanted to know everything about everything. I quickly realized during residency that this was clearly impossible, and it led to me getting burned out quickly. More importantly, I appreciated that it is not important to know every condition, treatment, or lab test possible but rather to know your own limitations regarding these. I have since learned to balance how to efficiently work up a patient before referring them to specialists. This prevents me from delaying consultation longer than needed due to my own pursuit of diagnosing everything myself. When a patient presents with a new symptom or condition that eludes me, I do get upset when I cannot diagnose it immediately. Yet, I have found in my time as a physician that patients are equally happy when you believe you know what diagnosis they have and are able to admit when you do not know. You then reassure them that you will do everything you can to find out what it is. This reminds me of one of my favorite quotes by Maya Angelou, "We may encounter many defeats, but we must not be defeated."
What do you consider your greatest achievement?
When I joined the military and went into operational medicine, I was completely out of my comfort zone. I had been training for the previous seven years in medicine, and now I was faced with the task of quickly understanding military customs and courtesies along with how to mentor my young medics and ensure they progressed within the military. I took the time to read and seek out officers in the military to understand how I could best serve my medics and patients. I would consider my greatest achievement to be when I was present for my youngest medic's promotion during our deployment to Afghanistan. This brought me extreme pride, as I quickly relived the late nights studying with him and practicing his interviews come to fruition.
What is your most treasured possession?
As birthdays come and go, I am reminded of how fragile life is. Despite not wanting to accept it, I know that my parents will not always be here on Earth. My most treasured possession is the first birthday card my parents sent me after I became a physician. For the first time, I saw my parents change my title from "Mr." to "Dr." They have been so important in my life and progression as an adult. They were there every time I needed them. I would not be a physician if it were not for them, which is why the writing on the card means so much to me.
What is your motto?
"If at first you don't succeed, try, try again."
This famous motto is important in not just the practice of medicine but life. Most physicians have a type A personality; we are impatient, proactive, ambitious, and outgoing. While these traits do make great providers, they can lead us to being hard on ourselves when we are not successful in every challenge we take on. This motto is important to me because it has led me to explore abilities that I always wanted to have. From woodworking to fixing cars, I have challenged myself to learn a new skill every year. While I do not ever expect to be an expert in these skills, doing so has taught me to be patient and understand my limitations but also appreciate that when you do not give up on yourself, you will gain the courage to explore areas you never thought you would ever explore.
Back to the July 2021 issue of ACP IMpact
More I.M. Internal Medicine Profiles