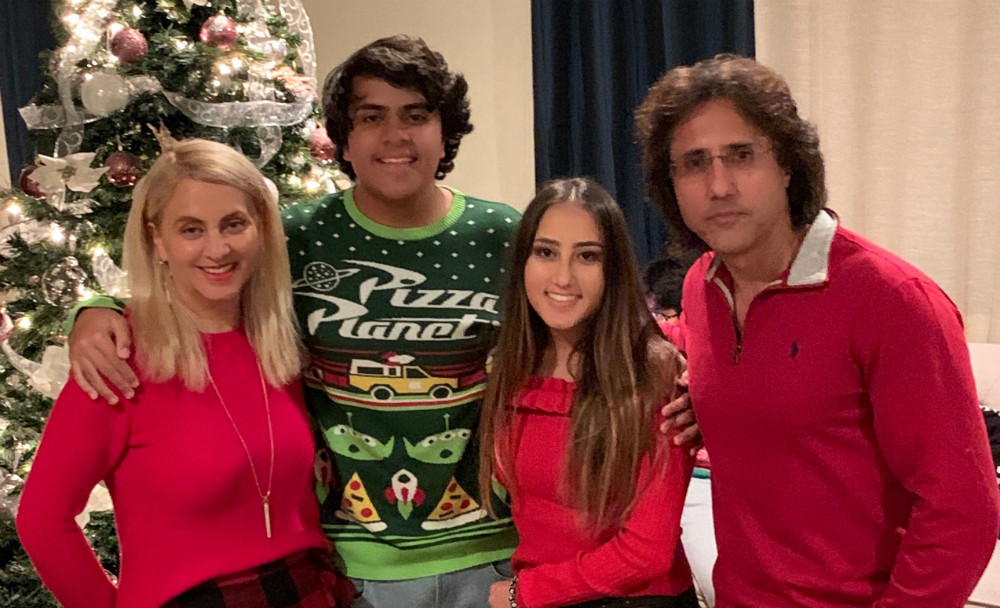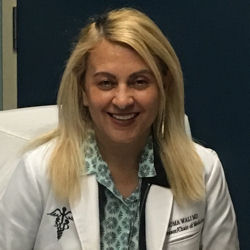 Soma Wali, MD, MACP
— OCCUPATION —
Chair, Department of Medicine at Olive View-UCLA Medical Center, Sylmar, CA; Executive Vice Chair of Medicine; Professor of Clinical Medicine at David Geffen School of Medicine at UCLA

— UNDERGRADUATE —
University of California, Los Angeles, CA

— MEDICAL SCHOOL —
University of Illinois at Chicago College of Medicine, Chicago, IL

— RESIDENCY —
UCLA-Olive View Internal Medicine Residency Program, Los Angeles, CA

She's traveled the world to treat the underserved. She's also made it her mission to educate medical students, residents, and young physicians and swell the ranks of internists across the United States and around the globe. So it shouldn't come as a surprise that Dr. Soma Wali has found a way to combine the things she holds most dear.
Dr. Wali, the child of Afghani parents, lived in Europe prior to coming to the United States and says she either wanted to be a doctor or a teacher. She thought a career in medicine or education would allow her to contribute significantly to society.
"I was introduced to the health field early on by my father who spent his career focusing on improving health outcomes for the underserved patient population by providing access to medication and immunization," she says. "But I always wanted to become a doctor, even when I was a child. I never really changed my mind about what I wanted to do. Some people are undecided all the way through college. But I always wanted to go into medicine and education," she explains.
I always wanted to become a doctor, even when I was a child. I never really changed my mind about what I wanted to do. Some people are undecided all the way through college. But I always wanted to go into medicine and education.
After finishing high school, it was off to the United States and UCLA for undergraduate studies in Southern California. It was UCLA's academic reputation, as well as having family nearby, that brought her west. She attended the University of Illinois College of Medicine, Chicago and then returned to UCLA for her residency at the UCLA-Olive View Medical Center. She's been at Olive View-UCLA Medical Center ever since where she is Chair of the Department of Medicine.
"I specifically picked UCLA Olive View because it's a county hospital," she says. "It's part of UCLA where we provide care to the underserved patient population. I've devoted my career to serving the underserved."
But a medical career didn't mean a life without teaching. "When I started my chief residency, I found out that I could do both by being in academic medicine. After chief residency, I completed a two-year fellowship in Medical Education at UCLA and found that opportunity to teach, I said 'Wow, this is it. That's my calling.' I wanted to be a doctor and a teacher and I get to do both."
Dr. Wali has worked to give her students the same opportunities she's had when it comes to caring for the underserved. "Last year, I helped start a global health rotation in Belize where they have very limited access to health care in parts of that country. I'm sending resident trainees and faculty and I've gone there multiple times myself trying to provide care to patients and to improve access to care," Dr. Wali says. Her global health projects for the underserved have seen her spend time in Africa, India, Thailand, Vietnam, Cambodia, Indonesia, Argentina, Jordan, Egypt, Morocco, Cuba and Belize. She also has been invited as a speaker at International conferences on medical education or as a visiting professor to Australia, Canada, Europe, and Japan. And she's global when it comes to languages as well. She speaks a number of different languages which helps her communicate and connect better with patients with different cultural and ethnic backgrounds.
After her chief residency, she served as an assistant residency program director at UCLA-Olive View and became director of the program in 2003. "I served as the residency program director as well as a clerkship director for about 14 years and devoted a lot of my time to medical education, training the next generation of physicians. I have trained more than 1,000 medical students and residents over the years. I had the opportunity to serve as their mentor and train them to become great physicians."
Dr. Wali is also active in the research world. She devotes her time to Health Services research and is serving as the principal investigator on a number of NIH funded studies at Olive View-UCLA to help improve the health outcomes the underserved patient population.
Pushing for primary care
Putting the pieces of the puzzle together and being an investigator in trying to make your diagnosis makes it so much fun and so rewarding.
Due to a shortage of primary care providers, Dr. Wali helped establish a new residency track in primary care at UCLA-Olive View. "We take six additional residents every year and train them specifically in primary care so they can go out there and meet the needs of patients across the country," she says of the program, now in its second year.
In the past, Dr. Wali says it was a challenge to recruit students for careers in primary care. "You really had to be passionate about it to go into primary care. But now, with all the effort we've put into it, I'm happy to say that the best and the brightest in medical schools are choosing internal medicine and primary care as a career choice, but the need is still significant. My hope is that more and more students consider internal medicine and primary care as a career choice."
Dr. Wali says internal medicine is the most rewarding specialty that a student could consider. "In internal medicine, you can have 5 to 10 different presentations of the same disease. And that's what makes it so exciting. Putting the pieces of the puzzle together and being an investigator in trying to make your diagnosis makes it so much fun and so rewarding."
The other reason she recommends internal medicine so strongly is because of the opportunities that are available. "When you go into internal medicine, you have a choice between staying in primary care, which is an extremely rewarding career or becoming a hospitalist which is fun, exciting and rewarding as well. But if that's not what the medical students want, they have an opportunity to become an invasive cardiologist, a gastroenterologist, a rheumatologist and the list goes on and on in different subspecialties of internal medicine," she says.
She got involved with ACP as a second-year resident when she submitted a poster to the California chapter meeting. "I was fortunate enough to present at that meeting and win the best poster for a resident. As a result of that, I was able to go to the national meeting and that was my first exposure to ACP. Ever since then, I've been an active member." That exposure led to more involvement at the chapter level, where Dr. Wali chaired the poster sessions, and Doctor's Dilemma (a competitive medical Jeopardy game) and also chaired the California chapter planning committee meeting on multiple occasions. She served as an ACP Governor for Southern California Region 1 in the Los Angeles area and got involved nationally with Education and Publications Committee and the Internal Medicine Meeting planning committee. She is currently serving as the President of ACP's political advocacy group for the State of California.
Everything you need
For Dr. Wali, ACP's appeal is that the organization is the leader in medical education and providing guidelines for medical care. "Those of us who are in medical education always look to ACP for guidance to see when the latest clinical guidelines come out. Everything that ACP does is evidence-based. And that's something that is very meaningful to all of us. To me, ACP stands for the best in the field of internal medicine. The national meeting that ACP offers, there isn't anything else like it. As a clinician, when you go to the ACP meeting, you can get everything you need. You get the latest updates, receive all the continuing medical education credits you need, and collaborate with other people. It brings everyone together."
To me, ACP stands for the best in the field of internal medicine.
ACP is also a national leader in advocating for physicians, for patients' rights, and for doing the right thing, she adds. "One ACP sponsored activity I really appreciate is the Leadership Day event we have every year in Washington, DC, where we have the opportunity to meet with members of Congress and legislative staff and make them aware of the major issues in patient care, like access to care as well as issues related to graduate medical education or payment for physicians. ACP always takes a leading role in representing the physicians and the members. ACP has so much to offer." She's made the Washington trip every year for the last 14 or 15 years, says Dr. Wali, a member of the California State Chapter Board of Directors.
A good internist needs to be well rounded to be able to work with patients of different backgrounds, Dr. Wali tells her medical students. "Knowing a little bit about everything, helps you relate to people. Most physicians are scientists and everything has to be evidence based and scientifically proven. But art and music and dance and theater are a whole new world." She loves to listen to a symphony orchestra, especially the music of Bach, and Mozart. She is a jazz fan as well. She loves the Broadway musicals, "But at the same time, I have two teenagers–a daughter who's a sophomore in college and a son who's a sophomore in high school. Because of them, I've been exposed to pop music and know of all the new artists through them. I was at a meeting recently and the discussion turned to pop artists and I knew every one of them. My colleagues were shocked about my knowledge of new pop artists. I owe this to my children Hayley Bry and Jonathan Bry.
Dr. Wali says her son is leaning toward a career in engineering, like her husband, an electrical engineer in the aerospace engineering field. But her daughter is following her path – she's studying global health at the University of Southern California.
She says her career in medical education has been extremely rewarding for her, and she's glad she chose internal medicine as her specialty. "You always use your knowledge and you never get bored in internal medicine. It's a great field," says Dr. Wali.
Back to the January 2019 issue of ACP IMpact
More I.M. Internal Medicine Profiles