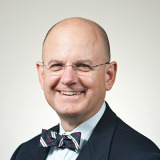 Name:
Stephen L. Boswell, MD, FACP
Current Occupation:
President and CEO of Fenway Health
Residency:
Mount Auburn Hospital, Cambridge, Massachusetts
Medical School:
University of Washington, Seattle, Washington
---
Dr. Stephen Boswell began working at the Massachusetts General Hospital's HIV clinic during the height of the AIDS epidemic in the 1980s. Now, he's continuing to advance the quality of LGBTQ health care as the President and CEO of Fenway Health in Boston, Massachusetts.
"I became fascinated by medicine:"
Dr. Boswell grew up in Spokane, Washington, a medium-sized town in the eastern part of the state. As a young man, he earned the rank of Eagle Scout and spent his free time exploring the region's natural beauty through hiking, camping, and skiing.
Dr. Boswell participated in band in school and developed a passion for math and science, eventually earning bachelor's degrees in chemistry and chemical engineering from the University of Washington. After graduation, he was exposed to the daily routines of physicians through his work as an engineer.
"My particular area of expertise was in mass transfer, and I worked for a company that manufactured hemodialysis equipment. I used to design blood pumps and dialysis membranes, and we started taking those devices into clinical settings. I became fascinated by medicine more generally in the different kinds of challenges that medicine sees, including the technical issues, but the interpersonal and policy issues were fascinating to me," Dr. Boswell said.
Eventually, his interest in these subjects inspired him to study internal medicine when he returned to the University of Washington to pursue a medical degree.
"After the first two years of medical school, I just became increasingly interested in adult medicine. I went to a school that certainly offered family practice, but I was also doing a Master of Public Health and became increasingly interested in public policy issues relating to health care delivery," he said.
As he learned more about health policy and management, Dr. Boswell made the decision to become a member of ACP. In 1993, he became a Fellow of the College.
"It's an amazing group of people and clearly the professional organization with which I am most engaged at this point. It's been a huge resource for maintaining CMEs or staying up to date on issues—both issues technical and clinical, but also larger policy issues as the ACP has become increasingly engaged in many of those, and represents internists at the federal level and state level quite well," he said.
"Part of our responsibility:"
When Dr. Boswell was chosen to be a Kaiser Scholar at MIT in the 1980s, he began working part-time in the HIV clinic at the Massachusetts General Hospital and eventually became the clinical director of the hospital's HIV program. He continued working there until 1994, when he became the medical director at the Fenway Community Health Center in Boston.
"It's an important community health center that serves a large number of LGBTQ people, so early on, even before I got here, Fenway was well known for providing very culturally-competent care to young people and to LGBTQ people. As a consequence, some of the first cases of HIV and AIDS were seen here because such a disproportionate number of people who were receiving care were gay men," he said.
As he assumed higher leadership roles at Fenway, Dr. Boswell enjoyed the opportunities to work in many different areas of health care and medicine. In 1997, he was appointed President and CEO of the organization.
"I've had opportunities to work with presidents and to be in meetings in the oval office when I was on President Clinton's HIV and AIDS Advisory Council, so there's been a lot of policy work that I have enjoyed. I love the clinical work that I do, and I have a couple of NIH grants. I'm an epidemiologist by training so I get to do research and participate in that as well. I get to run a big organization, which is always fun, especially when there's so much change happening—it makes so many things possible in terms of improving care delivery. It's a very exciting time to be in my position."
Dr. Boswell believes that the growing awareness of LGBTQ issues in the United States helps to advance general improvements in LGBTQ care across the country, and by developing research in a clinical environment, health centers like Fenway are an important resource for the greater medical community.
"What we've been moving towards is trying to encourage everyone to understand who they're caring for, so we need to also track sexual orientation and gender identity, because it's by tracking and studying those numbers that we come to better understand how to improve our care for those communities. We've been advocating for that a long time and we're one of the centers that conducts a large amount of research related to the care of those communities."
Due to the high volume of LGBTQ patients at Fenway, the center has become a destination for physicians who seek to refine their skills in caring for the LGBTQ community.
"In order for people to become much better at caring for people who are LGBTQ, they need to be able to know how to ask questions, to understand the culture that people are coming from, and then to also understand the technical issues in caring for LGBTQ people. We have limitations in regards to how much of training we can do, but we do see it as part of our responsibility to try to help those people who seek out experiences in learning to care for the LGBTQ community."
"We've made a lot of progress:"
Like any other population, the LGBT community has its own set of characteristics that require health care to be delivered in ways that are sensitive to its specific needs.
"There are technical issues around caring for the LGBTQ community that are clearly important for clinicians to understand—some of those relate to preventing HIV transmission in gay men, how to treat STDs appropriately, and having all of the tools at hand that you'd need to actually treat those STDs efficiently and correctly," Dr. Boswell said.
Organizations like Fenway have also worked to advance the quality of health care available to the transgender community. Recently, Fenway worked with the Human Rights Campaign and the Center for American Progress to create a provision in the 2017 Meaningful Use Criteria ensuring that certified electronic medical records in the United States be able to record sexual orientation and gender-identity.
"There's a great deal to know about how to provide that care appropriately, and not all of these things are technical with regard to the actual clinical management of the patients, but the environment that you create that's respectful of the transgender-community—using correct pronouns, preferred names, having flexibility in your electronic medical record to accurately describe the patient that you're caring for are all things that we've been working on for the last ten or twenty years, and we've seen significant progress in the last few years," he said.
Treatment of patients with HIV and AIDS has drastically improved since Dr. Boswell began working part-time at the Massachusetts General Hospital's HIV clinic in the early 1980s.
"Now, it's possible in many circumstances to give people one pill a day to manage their HIV infection. We're looking at additional approaches to this that could potentially, one day, be quite useful—we're looking at long acting agents that are injectable. It might be possible someday to give someone an injection every few months that contains a regimen designed to maintain control of an infection, and patients might not even have to take daily pills. I think the overall movement is towards continuously trying to improve the ease of controlling the infection," he said.
As many of these advancements were happening, Fenway collaborated with ACP on "The Fenway Guide to Lesbian, Gay, Bisexual, and Transgender Health," a comprehensive textbook designed to address gaps in knowledge surrounding LGBTQ issues for health care professionals across the country.
"A number of years ago, we realized that there were significant enhancements to the health care of the LGBT community that just weren't well understood by the larger medical community, so we decided to take it upon ourselves with the ACP to produce the first medical textbook for the care of LGBTQ people about fifteen years ago. We're now in the second edition of the book, and we keep adding content and refining the text overall," he said.
"I would consider it home:"
When he's not practicing medicine, Dr. Boswell prefers to remain active through outdoor recreation and traveling.
"I still love to ski, I love to travel. My husband and I travel around the world whenever we can—those are really the major things that we enjoy," he said.
Dr. Boswell and his husband seek to gain new perspectives by immersing themselves in different cultural experiences when they travel.
"Almost every new place is always fun for us—we like to see things that we've never seen before. Of the places that we've been, Europe is always fun and interesting, Africa is a very special place, South America is also fascinating and we like differences in culture. There are still a fair number of places we haven't been, we're still thinking about some of those trips and where we want to go," he said.
After spending his childhood on the West Coast and traveling all over the world, Dr. Boswell loves returning to the city where he's worked for over thirty years and the place that he now considers home.
"I've lived here now longer than I've lived anywhere else in my life, so Boston really very much is home. It's where my entire professional career—with the exception of some of my early engineering work in the Bay area in California—virtually all the rest of my professional career has been here," he said.
"It's a wonderful academic city, a beautiful old city with a great history, wonderful people, fascinating people, very dynamic city—a lot of exciting things happening here, some of the greatest academic institutions in the world are here. It's a vibrant, great city, and I would consider it home."
Back to January 2017 Issue of IMpact