IMpact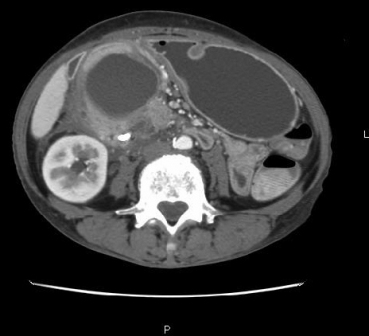 Which of the following is the most likely diagnosis?
A. Ampullary carcinoma
B. Annular pancreas
C. Pancreatic ascites
D. Pancreatic pseudocyst

Answer A is incorrect. Try again.
Answer B is incorrect. Try again.
Answer C is incorrect. Try again.
Correct!
Correct Answer:
D. Pancreatic pseudocyst
Educational Objective:
Diagnose a pancreatic pseudocyst on the basis of CT findings.
Critique:
This CT shows a large fluid collection at the head of the pancreas with well-defined margins, features that are characteristic of a pancreatic pseudocyst. Pseudocysts of the pancreas are caused by pancreatic inflammation and necrosis. They may be single or multiple, small or large, and within or outside the pancreas. Most pseudocysts communicate with the pancreatic ductal system and contain high concentrations of digestive enzymes. The walls of pseudocysts are formed by adjacent structures, such as the stomach, transverse mesocolon, gastrocolic omentum, and pancreas. In this case, the pancreatic pseudocyst also is causing gastric outlet obstruction.
Back to January 2012 Issue of IMpact