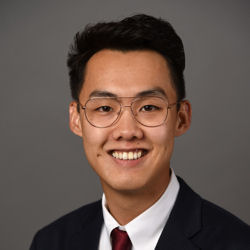 Steven X. Chen
Chair, ACP Council of Student Members

— MEDICAL SCHOOL —
Indiana University School of Medicine

— GRADUATING CLASS —
2023

The year 2021 is off to a rocky start. A new SARS-CoV-2 variant that is 50% more contagious has spread across the country. A slow vaccine rollout has yet to decrease the surging number of new COVID-19 cases. The presidential transition was overshadowed by a deadly riot at the U.S. Capitol and the specter of a second impeachment. Amidst all that is happening in the world, it remains difficult not to feel helpless in our positions as medical students. After all, we're just doctors in-training. How much can we contribute to society without those two hallowed letters after our names? It turns out, a lot—especially with the support of the ACP community.
Of the over 163,000 ACP members, about one quarter are medical students. We benefit by receiving access to abstract competitions, free registration to the annual Internal Medicine Meeting, professional webinars, and interest group sponsorship. However, my message here is not to extoll the values of becoming a member—after all, membership is free for students. Rather, my time on the Council of Student Members has shown me the representation we have on influencing national policy that affects our future professional work and our patients' health.
As physicians, our responsibility should go beyond research and patient care. We are primary witnesses of health and disease, and we have a duty to share our experiences with the public and policymakers. Yet, many of us tend to shy away from discussing anything that might be construed as political.
In November 2018, the National Rifle Association tweeted that physicians should "stay in their lane" regarding ACP's recently updated position on sensible firearm regulation. In response, thousands of physicians responded back using the hashtag #ThisIsOurLane along with firsthand accounts of treating patients affected by firearm-related injury. I recall being especially proud of ACP leading this movement: None of it would have started without the publication of the well-researched position paper—a position that originates from the views of its membership.
In January 2020, ACP once again demonstrated its forward thinking by publishing a call to action envisioning a better health care system for all. Included in this vision are what seem like common sense: a need for universal coverage and access, eliminating barriers to care, and addressing social and racial determinants of health. The foresight of ACP's New Vision policy papers was underscored by a year marked by the devastating COVID-19 pandemic and a greater awareness of racism and discrimination in society. In the wake of the death of George Floyd, ACP expanded its policy by committing "to being an antiracist organization dedicated to action and policy to confront and eliminate racism."
This month, ACP published A Comprehensive Policy Framework to Understand and Address Disparities and Discrimination in Health and Health Care, accompanied by three companion papers to address the issue in education and the health care workforce, for specific populations, and in criminal justice practices. In the words of Jacqueline W. Fincher, MD, MACP, President of ACP, "Research shows us that many people experience inequities and disparities in health access and outcomes, simply because of their race, ethnicity, religion and cultural identities, and where they live. This is unacceptable. At ACP we are committed to good health care for all, poor health care for none." The new framework lists 17 recommendations directed at U.S. policymakers to address disparities in health.
These examples highlight the strength of collectivism at ACP to magnify our voices and mobilize influence in support of public health. With the election of President Joseph R. Biden Jr. and Democratic control of both houses of Congress, expect to see many changes in this space. ACP is already recommending several policies to the new administration, including improving the Affordable Care Act, women's and LGBTQ health, environmental health, and health information technology. See the American College of Physician's entire advocacy impact in 2020.
We can only begin to appreciate the advocacy efforts of ACP. But first, we must be aware of where these policies begin: at the grassroots level. ACP listens to its members' needs, and we comprise 25% of membership. So, how do we get heard? The first step is to get involved at your school's local interest group and with your state chapter. Seek out whether your chapter has its own council of student members or a health and public policy committee you can join. ACP also sponsors a Leadership Day each May to enable members to bring our issues of concern to U.S. lawmakers. The 2-day event is free for trainees, and travel costs are often covered by your local chapter. If you are truly passionate about health policy as a career, ACP sponsors an elective rotation in Washington, DC, in May.
Finally, to be an effective advocate, you need to remain informed. It might seem difficult to stay on top of current events in between memorizing that the mitochondria is the powerhouse of the cell. You may try engaging on #MedTwitter with @ACPinternists and such leaders as @DarilynMoyer and @BobDohertyACP. The value of our membership in ACP truly lies within our collective ability to advocate for our patients, their families, our communities, our colleagues, and our society.
Want to get involved and don't know where to start? ACP has an "Advocacy in Action" page which includes a virtual advocacy toolkit.
Back to the February 2021 issue of ACP IMpact