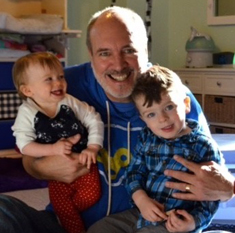 Name:
Mark Loehrke, MD, FACP
Current Occupation:
Western Michigan University Homer Stryker M.D. School of Medicine
Program Director, Internal Medicine Training Program
Chair, Department of Medicine
Associate Professor
Residency:
Southwestern Michigan Area Health Education Center
Medical School:
University of Illinois
---
Growing up with a father who suffered from multiple sclerosis, Dr. Mark Loehrke became comfortable in a hospital setting at a young age. Now, he's delivering healthcare himself and teaching a new generation of physicians at the Western Michigan University School of Medicine.
Q: Where did you grow up?
A: I grew up in La Grange, Illinois, which is a southwest suburb of Chicago. I'm a Cubs fan—this was the year.
Q: What were your interests when you were a child?
A: I love sports, and I'm really tall—I'm 6'8", I'm the tallest internal medicine program director in America, so that's my claim to fame. I played a ton of basketball, I also really loved all kinds of sports—I loved watching them, loved playing them. That was my big passion when I was a kid.
Q: When and how did you make the decision that you wanted to be a physician?
A: I had an uncle who was a hematologist-oncologist that I was very close to and who was a tremendous influence on my life. I think he made me feel like it was possible to be a doctor, like it wasn't some kind of pipe dream.
I think the other big influence was my father—he was diagnosed at a young age with multiple sclerosis. He needed lots of care from the time I was in grade school, so every night I'd spend 30 or 45 minutes doing physical therapy and occupational therapy with him—stretching exercises, strengthening exercises. He was in and out of the hospital fairly often, and so I think I just grew comfortable with the medical model. There are a lot of people out there who almost have a phobia about doctors and hospitals, but it was just a part of my life growing up, so I think that played a major part.
Q: Once you began studying to become a doctor, do you think it was the patient care aspect that made you decide to go into internal medicine?
A: I actually thought I was going to do pediatrics, and then I did my pediatric rotation and I couldn't stand it. I didn't like looking at the patients' ears, and I was so big that the kids were afraid of me right away. I didn't like talking to parents—I wanted to talk directly to the patient. I was kind of panicked for a little while because I didn't like any of the surgical stuff and didn't know what I was going to do, but then I rotated in internal medicine and absolutely fell in love with it.
I really love talking to people, I really love getting to know people, and I'm very comfortable asking hard questions and all that kind of thing that goes along with internal medicine, and I think the comfort level that I had with my father and his care definitely translated to that—it was a place where I was very comfortable.
Q: How has ACP helped you as an internist?
A: I used to think that the important thing was the knowledge that you'd gain—going to the meetings, the conferences, the great lectures and learning from Annals, and that is important—but as your career goes on, the connections and support that you get within the ACP are so important.
One of my favorite things to do in the ACP is to judge posters at the regional and national meetings because you realize that we're all internists—we all have the joys in our lives, we've had the same frustrations, and it's always so great to talk to other people who are going through what you're going through. They give you new ideas, inspiration and ways you can conquer your problems, and hopefully I give them some good advice from time to time, too. Without those other people, I don't want to say the job would be impossible, but it'd sure be a lot less enjoyable.
Q: Can you describe the work that you do now?
A: For over 28 years, I've been a full-time faculty member at the internal medicine department at the Western Michigan University School of Medicine in Kalamazoo, Michigan. For the last 15 years, I've been the program director for the internal medicine training program, and more recently since the medical school started, I'm also the chair of the medicine department.
I still do a lot of clinical work. I think it's really important to do clinical work because being a doctor is still the best thing in the world and it's still a very humbling experience—I round in the hospital at least eight weeks a year and staff the clinic two or three times a week. I'm also very active in medical education, working with students and residents, and as program director and chair I do a lot of administrative work as well.
Q: What initially drew you to teaching?
A: When I was a resident, I was asked by my program director to be a chief for a year and I really loved the job, and then I went out into a primary care internal medicine practice in a very small town in Minnesota. I was kind of the ultimate primary-care internist—I did inpatient work, outpatient work, everything from rounding in the nursing home to rounding in the units every day. It was a really great job, but it was an overwhelming job as well. Back in the days before we had hospitalists, we didn't even have emergency medicine physicians in the ER, we staffed everything ourselves so the hours were really crushing.
At a certain point, I was offered a teaching position by my former program director back in Kalamazoo, so I took that job and the plan was that I would do that for a couple years and then join one of the groups in town. I absolutely loved it—I couldn't believe that I actually got paid to work with these amazing young people every day because it was so fulfilling and so full of joy.
At a certain point, I did start to look for a primary care practice job in town, and then a very good friend of mine asked, "If you really love doing what you do, why would you change that for something else? Why would you take the chance that you wouldn't like it as much?" I had no argument for that, and so I decided to keep doing this as long as I still loved it. If anything, I love it even more now than when I started.
Q: What is your best advice to medical students?
A: I think the key is to figure out what you're passionate about, and to try to follow that the best you can. It disturbs me a little bit when people choose specialties just for monetary interest, or what they could be gaining financially by a certain career choice or subspecialty, because I think that will only sustain you for so long.
Being a physician is so difficult and it just keeps getting more difficult every day, so you have to make sure that you're picking a job where you're going to be working with a patient population that you really love, that every day you're doing something that fulfills you much beyond any kind of financial gain. I've always found that the choices that I've made that are made purely for things that I love doing are always the best choices for me.
Q: What achievements are you most proud of?
A: The teaching awards that I've gotten from lots of classes at Michigan State University. I think I've won 17 teacher of the year awards, and at a certain point, people say, "Doesn't that get kind of old, do you really need to win it that many times?" But you know, every class has different students with different viewpoints that you need to try to teach and connect with, and for every one of those awards, you've had to connect with lots of different personalities and learning styles to motivate students in different ways.
In my personal career, the thing I'm most proud of is having the two most amazing children in the world, and they have now become amazing parents themselves—nothing gets better than that. On the personal side, having your children be successful at life and then become amazing parents themselves is definitely my proudest achievement.
Q: Can you tell me more about your family?
A: I've been married for 37 years. I met my wife Judy in medical school when she was the medical illustrator for the University of Illinois—she's been my companion and biggest supporter for the past 37 years. We have an older son, Nathan, and a daughter, Carly. Nathan and his wife Kimberly have two children, Josiah and Magnolia, and my daughter and her husband Alex have one son, Forrest. They're just terrific.
Nate lives outside of New York City and works in the film business, and my daughter Carly and her husband work for the State Department in Foreign Services and are currently on a two year assignment in Shanghai, China. They both have done great things with their lives, and are the two nicest and coolest people I know.
Q: In your opinion, how is the medical field different for students and residents today, as opposed to 20 or 30 years ago?
A: The knowledge base is so much more immense than it was when I went to medical school and when I was a resident. The patients are so much sicker and much more complex. The students and residents of today handle it all with such grace, wisdom and courage. I am humbled every day at how smart our current medical students and residents are.
One of the things that really disappoints me is that it's so difficult to be a medical student and a resident—the hours are so consuming, the lack of ability to divide your time to other social and family things is so difficult—and yet at times, there are people who take shots at them, who belittle them or say that they aren't working as hard, or aren't trying as hard as back when they were a student or resident, and I can flatly say that's nonsense.
The medical students and residents of today are smarter, harder working, and better than we've ever had in the past, and I think the future of medicine is incredibly bright because these young people that I work with every day are the best of the best. It upsets me a great deal when I hear people criticize today's students and residents, because they are an incredible inspiration to me every day.
Back to February 2017 Issue of IMpact