My Kind of Medicine: Real Lives of Practicing Internists: Diane Rachel Fingold, MD
From Zoology to Internal Medicine
Dr. Diane Fingold has ventured a long way from being a zoology major at University of Massachusetts (Amherst). Her initial plans of becoming a veterinarian changed to becoming a primary care physician at Massachusetts General Hospital (MGH) in Boston after winning a challenge from a professor during her undergraduate studies led her to pursue a career in medicine. While taking a required introductory botany course, the professor offered a book as a prize to the student who received the highest grade on an exam. Dr. Fingold was elated when she won, not only because of the grade but because this offered her an introduction to Professor Seymour Shapiro, who helped her ultimately decide on a career in medicine. "Not only did he guide me through my education and helped me get a job in a lab during college, but he was someone who was really invested in me and my career." Professor Seymour's investment in Dr. Fingold's career has extended well beyond her undergraduate education. She has remained close to her mentor and refers to him as a second grandfather to her children. When her mother decided that she wanted to finish her Bachelor's degree at age 50, Professor Seymour sponsored Dr. Fingold's mother to allow her to participate in the University of Massachusetts rigorous program called "University without Walls." The program allows participants to earn their Bachelor's degree in a nontraditional setting.
Dr. Fingold has been part of the Harvard Medical community since receiving her medical degree in 1987. While enrolled, she enjoyed several of the disciplines that she studied during her rotations. "While I was in medical school, I was really blessed in the fact that I loved lots of things that I was exposed to, there was not one discipline that I had to specialize in." She was ultimately drawn to primary care because of the opportunity it allowed her to take care of the patient as a whole. "I realized that I wanted to be an advocate for patients, and becoming an internist would allow me to do that. Even if I can't solve a problem that a patient comes to see me for, then I want to guide them to the person who can. For me, it was all about the relationship with the patient."
An Internist and a Professor
Dr. Fingold completed her residency and postdoctoral training at MGH and then completed a fellowship in medical education at Beth Israel Deaconess Hospital and Harvard Medical School. She has worked as an internist within the Massachusetts General Hospital Primary Care Department of Medicine since completing her residency. In addition to her work as a primary care physician within the MGH health care system, Dr. Fingold is an Assistant Professor at Harvard Medical School. For the past 20 years, she has been a member of the Harvard Medical School faculty, teaching the course Patient Doctor II that she co-directs with two other faculty members. Second-year medical students are required to take the course, which focuses on history taking and physical exams and provides the students with their first hands-on clinical experience in medical school. "One of the reasons that I keep teaching this course year after year is the feeling of excitement when the students eyes light up when they witness a patients' reflexes react for the first time. It helps ground me and helps me to remember why I am here and how lucky I am to be doing what I do."
Dr. Fingold splits her time between seeing patients in her practice 3 days a week and teaching. She credits the flexibility she has been afforded within her practice to allow her to balance her duties as a physician and as a professor. She cross-covers her patients with her course co-director and clinical partner so their patients have proper coverage at all times and neither physician, nor their practice, is unfairly burdened. They share a mutual understanding that balancing career and family is very important.
Dr. Fingold enjoys the variety of patients that she sees and the relationships that she has formed over the years. "I have patients that I have seen for more than 20 years, and I have had the opportunity to take care of three generations from the same family. There is a special bond that forms when you have a patient who is suffering and in need of care and your desire to help them is so genuine because of that longstanding relationship. Even if the patient is suffering from a terminal illness, you are still taking care of that patient. You are still traveling with them along that path and fighting the fight with them. It is a sense of satisfaction that is hard to find in any other profession."
Putting Family First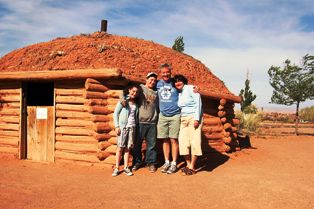 ---
Dr. Fingold (right) with her husband, Paul Howard, and their children, Leah and Ben at a Navajo Reservation in Kayenta, Arizona where Dr. Fingold did a rotation while in medical school.
---
Although Dr. Fingold enjoys her hectic work schedule, she admits that it is not without its challenges. "I think the most difficult thing for me was learning how to balance everything. I realized that I couldn't always have all of my paperwork done and my house completely clean. You have to learn how to accept imperfection." Through her ability to balance teaching and running a practice along with taking care of her family, Dr. Fingold has been able to keep her family as her number one priority.
Outside of her career, Dr. Fingold enjoys spending time with her husband, son, and daughter. She finds gardening to be therapeutic and spends many hours watching her son and daughter's sporting events. She feels lucky to have an excellent work-life balance, which her career in internal medicine has enabled her to have.
Back to February 2012 Issue of IMpact