Feature: Medical Students Needed to Work at Internal Medicine 2012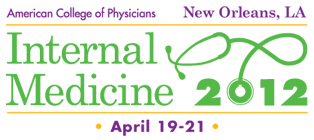 Earn while you learn!
The American College of Physicians is looking for medical students to act as standardized patients in a number of ultrasound-related workshops to be held at Internal Medicine 2012 in New Orleans, LA. Students will be paid a small honorarium ($100 per half-day, $200 for a full day) for their time.
If you live in the New Orleans area or are planning to attend Internal Medicine 2012 and would like to help, please contact Lisa Rockey at (800) 523-1546 ext. 2588 or lrockey@acponline.org.
More

Medical Student Perspectives: Love in the Time of Cholecystitis: Helpful Hints on Making Relationships Work During Medical School
Medical school is not easy. With lectures, rotations, class exams, shelf exams, and board exams, even remembering to eat can be a Herculean task; it can really take a toll on you. This is doubly so if you are in a relationship. Your partner is trying their best to support you at a point in your life when you simply cannot devote an equal share of time. He or she might be understanding and patient, but your insane schedule can affect your partner deeply. Although there is little you can do to change your medical curriculum, you certainly can work toward goals that help your partner to feel appreciated, loved, and equal.
More
My Kind of Medicine: Real Lives of Practicing Internists: Diane Rachel Fingold, MD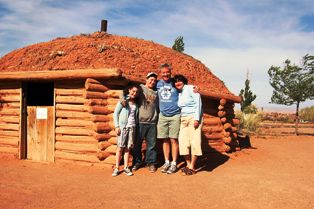 Dr. Diane Fingold has ventured a long way from being a zoology major at University of Massachusetts (Amherst). Her initial plans of becoming a veterinarian changed to becoming a primary care physician at Massachusetts General Hospital (MGH) in Boston after winning a challenge from a professor during her undergraduate studies led her to pursue a career in medicine. While taking a required introductory botany course, the professor offered a book as a prize to the student who received the highest grade on an exam. Dr. Fingold was elated when she won, not only because of the grade but because this offered her an introduction to Professor Seymour Shapiro, who helped her ultimately decide on a career in medicine. "Not only did he guide me through my education and helped me get a job in a lab during college, but he was someone who was really invested in me and my career."
More
Internal Medicine Interest Group of the Month: Top Five Recruiting Clubs
The 2011-2012 IMIG recruitment period closed at the end of December with 58 schools reaching the 30% participation goal for Student Membership. Currently there are approximately 22,000 ACP Medical Student members! Find out who the top recruiting clubs are for this year...
More
Ask the Program Director: Pursing a Combined Academic and Clinical Career in Internal Medicine

What is the best way to pursue a combined academic/clinical career in IM and its subspecialties, especially if one's pre-medical education does not include a PhD? Should one pursue research or a PhD?
See what six different Program Directors have to say!
Advocacy Update: Advocates Get Social
Along with a new program name, Advocates for Internal Medicine Network, AIMn is also active in social media, which will make engaging with lawmakers much easier, effective and enjoyable. Follow AIMn's Twitter account and like ACP's Facebook page for regular advocacy updates.These changes and new resources will help increase Advocates' interest in advocacy at a time when so many pivotal changes are occurring in health policy; changes that undoubtedly will have bearing on your future patients and how you will practice medicine. We encourage Advocates to take advantage of these other ways to engage lawmakers, outside of traditional e-mails and call-in campaigns -where social media has taken on an increasingly important role.
More
Commentary Corner: The Importance of Medical Humanities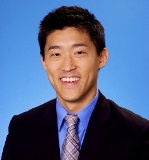 Medical humanities is an interdisciplinary field encompassing areas like literature, ethics, sociology, history, psychology, anthropology, and arts, as they relate to the practice of medicine. Though broad in topic area, it highlights the obvious but profound fact that doctoring cannot occur apart from the human condition; that clinical practice is sometimes as much about understanding suffering, joy, grief, and social responsibility as it is about learning the science of modern medicine. Though variable in implementation, it is driven by the belief that study of these fields will help develop crucial interpersonal skills, emphasize the empathy and self-reflection required for humane patient care, and underscore the need for physicians who are culturally and socially aware. And though often underemphasized in undergraduate medical education, medical humanities represents perhaps one of the most important lessons for students: the more that medicine is practiced with respect for these larger cultural, psychological, and social settings, the more holistically these settings will be able to promote health.
More
Winning Abstracts from the 2011 Medical Student Abstract Competition: Cigarette Package Labeling In 12 Countries
With increasing restrictions on cigarette advertising, the cigarette package has become a primary marketing tool. Health warnings are associated with decreased cigarette use while promotional labels minimize perceptions of the harm caused by cigarettes, thus increasing initiation and reducing quit rates.
More
Subspecialty Careers: Combined Internal Medicine and Pediatrics
Combined Internal Medicine and Pediatrics (Med-Peds) is the dual training in and dual practice of Internal Medicine and Pediatrics. Physicians practicing Med-Peds see both adults and children in a wide variety of practice settings and practice styles. Practice settings range from outpatient primary care to inpatient hospitalist practice, and practice styles range from urgent acute illness care to the longitudinal chronic illness care of patients with congenital heart disease.
More
In the Clinic: Asthma

Asthma, which is characterized by airway hyperresponsiveness and inflammation, is one of the most common respiratory illnesses. The global prevalence of asthma is increasing despite the development of new therapeutic approaches. Over the past 20 years, asthma mortality in the United States has declined; however, morbidity, as measured by hospitalizations and emergency department visits, continues to climb. Currently, about 1 in 20 Americans have asthma; in children, recent estimates suggest an incidence as high as 10%.
In the Clinic is a monthly feature in Annals of Internal Medicine that focuses on practical management of patients with common clinical conditions. It offers evidence-based answers to frequently asked questions about screening, prevention, diagnosis, therapy, and patient education and provides physicians with tools to improve the quality of care. Many internal medicine clerkship directors recommend this series of articles for students on the internal medicine ambulatory rotation.
Virtual Dx - Interpretive Challenges from ACP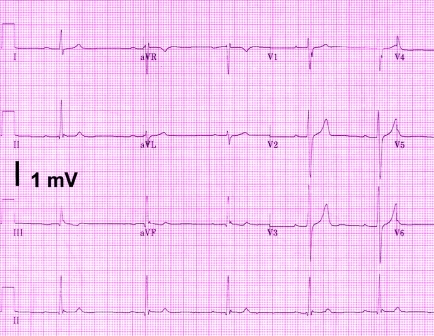 Which of the following abnormalities is seen in this electrocardiogram of a 52-year-old woman with lightheadedness?
Answer