Feature: Medical Students Needed to Work at Internal Medicine 2012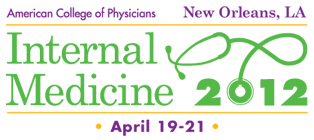 Earn while you learn!
The American College of Physicians is looking for medical students to act as standardized patients in a number of ultrasound-related workshops to be held at Internal Medicine 2012 in New Orleans, LA. Students will be paid a small honorarium ($100 per half-day, $200 for a full day) for their time.
If you live in the New Orleans area or are planning to attend Internal Medicine 2012 and would like to help, please contact Lisa Rockey at (800) 523-1546 ext. 2588 or lrockey@acponline.org.
Back to February 2012 Issue of IMpact