My Kind of Medicine: Real Lives of Practicing Internists: Russell Cowles, III, MD, FACP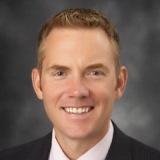 Growing up, Dr. Russell Cowles, III was first exposed to medicine by his mother who is a nurse. Since he has always considered himself a "goal-driven guy" and has always been interested in science, medicine seemed to be a natural fit. While pursuing a master's degree in nutritional biochemistry, he was faced with a decision to either continue on toward a doctorial degree or to attend medical school. He realized that medicine was what he really wanted do and that it would allow him to continue to pursue his interest in science while helping people.
Dr. Cowles spent his childhood living in Nebraska, Iowa, and South Dakota. Seeking a change of pace from that part of the country, he chose the University of New Mexico (UMN) for his undergraduate degree. After graduation from UMN, he attended medical school at the American University of Caribbean School of Medicine, where he decided on internal medicine because of the broad nature of the field. "I knew I would never be bored if I went into internal medicine and there would always be lots of stimuli and challenges to keep me busy."
He was drawn to hospital medicine during his residency at The University of Nebraska Medical Center in Omaha. He jokes about his decision to become a hospitalist; "I am a talker and I could not stay on task in clinic to save my life. People would come in and bring donuts and I would talk to them for 20 minutes about their kids and I would be having such a great time that I would forget to talk about medicine with them."
Dr. Cowles was drawn not only to the flexibility of hospital medicine but the freedom it allows him in structuring his day. "If my patients need time with me, then they get it. That's what I really enjoy about hospital medicine, the freedom to adjust what's needed throughout the day."
On a typical day in the hospital, Dr. Cowles spends two-thirds of his work day seeing patients beginning with a morning huddle at 7:30 at which he distributes all the admissions for the day among his team. He and his team review all the patients under their care to see which patients are scheduled to be discharged that day and what they need in terms of instructions, and how to address the needs of their patients that day. The majority of his day is spent making rounds with the team, talking with consultants and visiting with each patient to ensure that they are receiving the proper care.
As the lead administrative hospitalist at Bergan Mercy Hospital in Omaha, Dr. Cowles is responsible for making sure that the hospital is in compliance with the Physician Quality Reporting System codes and regulations, creating the schedule for physicians, hiring the staff, and ensuring that patients receive the highest quality of care.
Dr. Cowles enjoys the variety involved in his daily work but admits that hospital medicine is not without challenges. He recalls a particular learning experience that had a profound impact on him. While treating a female patient for severe myeloma, a form of bone marrow cancer, the patient's husband asked Dr. Cowles to speak frankly about his prognosis for his wife. Dr. Cowles gave his honest opinion that he thought that the patient was not doing well and that he was concerned for her. The patient's husband was angry with Dr. Cowles for giving his opinion of his wife's prognosis in her presence and fired him from his wife's case. "In that situation, I felt like I was doing the right thing by being honest and straight forward but it was clear that the patient's spouse needed a prognosis that I could not give. It was difficult to experience that first time when someone tears you apart professionally, but I had to realize that it is part of the job."
Although Dr. Cowles has faced many challenges in his job, he finds his career extremely fulfilling. "The most rewarding parts of the job are the things that you least expect. When a patient's family writes you a letter and tells you that it was great having you as a physician and you really took to the time to talk to their family or that the patient's family felt like you really cared, those are the most rewarding experiences as a physician." He strives to make sure that all of his patients and their families are treated respectfully. "My philosophy is that "patients and their family members are people and they deserve to be treated like people."
Dr. Cowles flexible schedule allows him to cultivate his many hobbies. He enjoys running for stress relief and completed a marathon last summer. He takes great pride in brewing his own beer as well as perfecting his barbequing technique on a slow smoker. He admits that his greatest pastime is spending time with his wife and two daughters, ages two and five.
Back to December 2011 Issue of IMpact