IMpact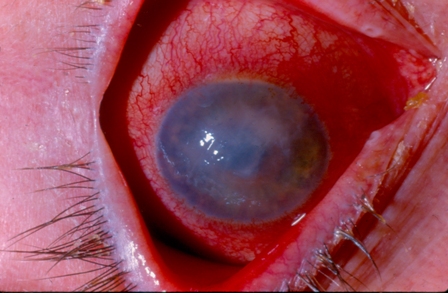 What is the most likely diagnosis for this painful ocular condition with an acute onset in a contact lens wearer?
A. Acute angle glaucoma
B. Anterior uveitis
C. Cataract
D. Corneal ulcer
E. Hypopyon
Answer A is incorrect. Try again.
Answer B is incorrect. Try again.
Answer C is incorrect. Try again.
Correct!
Correct Answer:
D. Corneal ulcer
Educational Objective:
Diagnose corneal ulcer.
Critique:
This eye shows an opaque to white corneal opacity characteristic of corneal ulcer. Note also the presence of an irregular corneal reflex, which is indicative of epithelial disruption. Patients with corneal ulceration usually have pain, a prominent foreign body sensation, and excessive blinking and tearing. Pus may be visible in the anterior chamber (hypopyon).
Answer E is incorrect. Try again.
Back to December 2011 Issue of IMpact