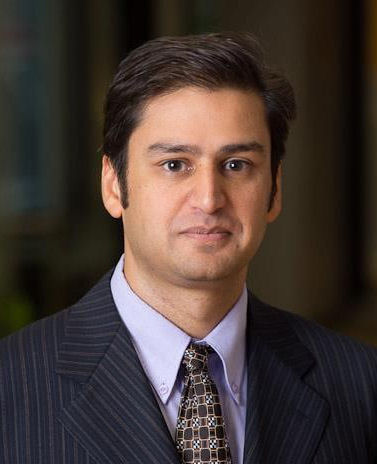 Name:
Amesh A. Adalja, MD, FACP
Current Occupation:
Senior Associate, Center for Health Security-University of Pittsburgh Medical Center
Residency:
Allegheny General Hospital-Pittsburgh (Combined Internal and Emergency Medicine)
Fellowship:
University of Pittsburgh Med. Center—Infectious Diseases and Critical Care Medicine
Medical School:
American University of the Caribbean, St. Maarten
---
Dr. Amesh A. Adalja spent his childhood solving detective mysteries and self-publishing a local skateboarding magazine in his hometown. Now that he's one of the nation's leading biosecurity experts, he spends his time solving real-life mysteries and sharing his findings in outlets such as MSNBC, BBC and the New York Times.
Drawn to Detective Work:
Growing up with doctors for parents, Dr. Adalja was exposed to medicine at an early age and rapidly developed an interest in science and problem-solving. As he progressed further into his education, Dr. Adalja eventually concluded that studying infectious disease was the best way to satisfy his intellectual curiosity.
"I was always drawn to detective work, mysteries, and trying to solve problems—trying to use your mind to solve interesting problems that nobody had thought about before, or looking at things in a different way. When you look at the field of infectious disease, it's probably the heaviest on detective work—it happens basically in every case you see because you're trying to figure out how this invading micro-organism got into this person, what they did to come into contact with it and what the implications of that are," he said.
In order to specialize in infectious disease, it was necessary to first study internal medicine as a resident. During a combined internal and emergency medicine residency at Allegheny General Hospital in Pittsburgh, Pennsylvania, Dr. Adalja had his first experience with ACP and became a dedicated member of the College.
"I think ACP is an organization with a long and storied history, and really harkens back to the history of medicine in this country. It provides resources and a network of physicians that can really help advance one's career and keeps one abreast of knowledge of both the science of medicine, as well as some of the policy issues—I think there are a lot of benefits that a physician gets from being a member of ACP."
Thinking about how to respond:
These days, Dr. Adalja splits his time between clinical work and research at the University of Pittsburgh.
"I work in infectious disease and see patients at the University of Pittsburgh as part of the infectious disease service here, but I also work at the University of Pittsburgh Medical Center, Center for Health Security which is a public-health think tank that's focused on pandemic preparedness, bioterrorism, emerging infectious disease, healthcare system preparedness for that—I do a lot of policy work there," he said.
According to Dr. Adalja, the decision to pursue biosecurity came naturally as a result of his intersecting pursuits in infectious disease and public policy.
"I was always captivated by infectious disease, and I also like some of the national security and the socio-political implications of infectious disease outbreaks—that will often lead you to think about bioterrorism and biosecurity because that's one of the best examples of how infectious diseases can be very different than any other type of disease. That's kind of the tip of the spear for what infectious disease could be like and how it could bring you into contact with many other interesting fields."
In the aftermath of the September 11th attacks, the United States experienced an anthrax outbreak that became one of the greatest biosecurity threats in the nation's history. A decade later, Dr. Adalja was called upon to use his expertise in response to several incidents involving anthrax. Although the immediate threat has subsided, preventing anthrax attacks remains a high priority for biosecurity experts, and Dr. Adalja continuously collaborates with organizations to ensure the public is safe from future outbreaks.
"I spent a lot of time at the think tank working on preparing the country for bioterrorism and thinking about how to respond to bioterrorism attacks. I've been involved in certain efforts, for example—helping with some guidelines regarding treatment for anthrax, and I've written on how the treatment of anthrax has changed—how it will be recognized and treated in any kind of a setting."
However, not all biosecurity issues in the United States are the result of terrorism; many incidents arise when global travelers unintentionally bring diseases into the United States. With the outbreak of the Zika virus during the past year, Dr. Adalja has made several appearances on international news outlets to better educate the public about the realities of this particular disease.
"This is kind of part of the whole interest I have in emerging infectious diseases—how a country or an area who does not have a disease prepares itself for a novel infectious disease, and how they ramp up the ability to detect and prevent and treat these infections. I've been doing a lot of media outreach, talking to the general public about Zika, giving a lot of lectures to medical students and to physicians to get them thinking about it," he said.
"I'd also been part of some of the efforts with the Infectious Diseases Society of America, to help the Centers for Disease Control and Prevention (CDC) and serve as someone who they can quickly bounce their new guidance off of to make sure it all makes sense and they have the best information available, and it's kind of evolving as the Zika virus outbreak continues."
Thinking about what's coming next:
Although infectious disease specialists aren't typically compensated as well as procedural based specialists, Dr. Adalja finds the intellectual stimulation of his field more rewarding than profit-based pursuits.
"It is challenging to maintain cutting edge knowledge while at the same time being able to see patients enough to maintain your lifestyle—essentially, you get paid for seeing patients, and you don't get paid for all the things in your background work that you're doing. That can be sometimes hard, because the most fun part is not actually the one that's financially rewarded as well."
However, for Dr. Adalja, rewards often come in the form of national recognition, honors or influence in public policy—benefits that not only raise his profile in the field of infectious disease, but also serve the general public during times of crisis and uncertainty.
"I was the lead author of a paper that was published in the New England Journal of Medicine, which is usually the pinnacle of most physician's careers, so that was a really great thing that happened to me. I think it's great when I'm included, for example, in the botulism guideline committee for the CDC—those are really big honors," he said.
During the recent Ebola outbreak in the United States, Dr. Adalja made numerous appearances on television, radio and print to explain the nuances of Ebola and what needed to be done in order to combat the disease.
"As part of that, I was recognized by many different societies, including getting an invitation to the White House for a communications event highlighting good communicators on Ebola."
Ultimately, working in a field that he's been passionate about since childhood provides Dr. Adalja with endless opportunities for growth and personal satisfaction—finding professional fulfilment comes easily because aspects of his work often resemble a hobby more than a job.
"The part of my work that I enjoy the most is the problem solving and thinking about what's next—especially infectious disease because I work a lot on outbreaks and emerging infections, I'm always thinking about what's coming next," he said.
"I almost track outbreaks the way most people track sports teams—all of that's really fun for me."
Back to August 2016 Issue of IMpact