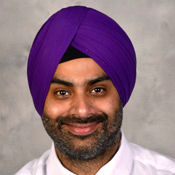 Harvir Singh Gambhir, MD, FACP, CPL, CPHQ
— OCCUPATION —
Associate Professor for the Division of Hospital Medicine, Department of Medicine, Upstate University Hospital
Associate Program Director, Internal Medicine Residency, Department of Medicine, Upstate University Hospital
Vice Chair for Patient Safety and Quality Improvement, Department of Medicine, Upstate University Hospital

— MEDICAL SCHOOL —
Santosh Medical University, India

— INTERNAL MEDICINE RESIDENCY —
Postgrad Training: SUNY Upstate Medical University, Syracuse, NY

What is your current position?
I am the Associate Professor for the Division of Hospital Medicine and the Associate Program Director of Internal Medicine Residency of the Department of Medicine at Upstate University Hospital. I am also the Vice Chair for Patient Safety and Quality Improvement in the Department of Medicine at Upstate University Hospital.
Where did you attend medical school and postgrad training?
I went to medical school at Santosh Medical University in India and did my postgrad training at SUNY Upstate Medical University in Syracuse, NY.
Why did you choose to become a physician?
Because I grew up in a family of physicians, the environment around me led me to think about how my grandfather as a physician had an impact on his patients. I was fascinated, and this led to my journey into medicine.
What field of internal medicine did you select and why?
I am an academic hospitalist. I love to manage all diseases and collaborate with and learn from subspecialties. Being in academic settings helps me grow with my residents in all dimensions.
Please describe a typical day in your practice.
As a hospitalist, I work in a 1-week clinical block schedule; other weeks I work on quality-related matters in my role as a quality officer.
The 1-week clinical block starts from Wednesday to Tuesday, and my day begins early with accepting and listening to the new admissions admitted to my team overnight by the admitting team. I then spend time on computers reviewing charts. Now the fun starts: Doing rounds on my patients with my residents and functioning as a team to either manage and talk to patients and their families or discharge patients. During rounds, we exchange intellectual knowledge both ways and discuss the nonmedical stuff to make it lighter.
In the other week serving as a quality officer, I do quality reviews, education, and rounds to address and discuss quality and process improvement and patient safety.
What are some of your special interests professionally?
I am passionate about quality and process improvement to improve our patients' quality of care and service. I also love to mentor residents.
What are your interests and hobbies outside of medicine?
I love to spend time with my family and play tennis with my son.
What advice would you like to share with medical students, or what do you wish someone would have told you while you were in medical school?
I always encourage learners to ask questions and never hesitate to do so, because there is no right or wrong question at any stage of learning. If you ask a question and have a correct answer, you grow in confidence. If you are incorrect, you get feedback. Both ways, it is a win–win situation!
Which living person do you most admire?
My wife.
Which talent would you most like to have?
I am able to listen to and enjoy music. I would love to be able to understand the musical notes and play the drums!
What is your most treasured possession?
My grandfather's stethoscope.
What is your motto?
Always do your best and be sincere and honest with yourself.
Back to the April 2022 issue of ACP IMpact
More I.M. Internal Medicine Profiles