You are here
Coronavirus Vaccine Resources
Coronavirus Vaccine Resources
These COVID-19 vaccination resources reflect ACP's guidance in the realms of clinical, public, and ethical policy, as well as educational materials and recent developments concerning COVID-19 vaccines and their distribution.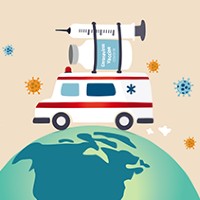 COVID-19 Forums
Presented by The American College of Physicians and Annals of Internal Medicine, these virtual forums feature a panel of experts providing practical information related to what physicians and other health care professionals need to know about the COVID-19 vaccine.

ACP Advocating for Physician Offices on COVID-19 Vaccines
As the federal government has been working on how to best distribute COVID-19 vaccines to physician offices, ACP has been advocating on behalf of our members to make it easier for them to administer vaccines directly to their patients. Published May 21, 2021.
Read more
As the COVID-19 vaccines roll out, physicians are spending hours of time counseling their patients with questions about the vaccines. However, since many physician offices are not administering the vaccines directly, much of that time is not being reimbursed. ACP is advocating with Medicare to improve reimbursement to physicians for vaccine counseling. Published March 19, 2021.
Read more
Read ACP's letter to CMS
Latest from Annals of Internal Medicine
More Annals of Internal Medicine vaccination content.
Clinical & Public Policy
COVID-19: An ACP Physician's Guide
This ACP-produced resource can be easily accessed on handheld devices and provides a clinical overview of infection control and patient care guidance. A section dedicated to vaccination is now included. CME credit and MOC points available.
COVID-19 Vaccine Practice Management
COVID-19 Vaccination Advocacy
COVID-19 Education Toolkits and Materials
Resources to help educate and increase vaccine confidence and support community outreach are available through HHS's COVID-19 "We Can Do This" Public Education Campaign. Materials come in a variety of languages and formats, providing tailored information for at-risk groups.