You are here
Coronavirus Vaccine Resources
Coronavirus Vaccine Resources
These COVID-19 vaccination resources reflect ACP's guidance in the realms of clinical, public, and ethical policy, as well as educational materials and recent developments concerning COVID-19 vaccines and their distribution.
COVID-19 Forums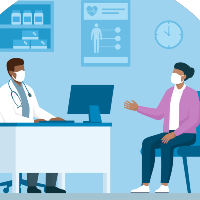 Presented by The American College of Physicians and Annals of Internal Medicine, these virtual forums feature a panel of experts providing practical information related to what physicians and other health care officials need to know about COVID-19.
COVID-19 Forum VII: Challenging Clinical Questions
December 8, 2021, 3:30-5:00 p.m. ET
Past Forums

Busting COVID-19 Vaccination Myths
Misinformation and disinformation campaigns have contributed to the death toll of the COVID-19 pandemic. Internists can effectively counter this and encourage vaccinations. Published in ACP Internist, November 2021.
Read more
Vaccine Requirements
ACP says employers and schools may require vaccines, including those for COVID-19, for health care workers and others against highly transmissible diseases during a public health emergency. Published September 15, 2021.
Read more
Latest from Annals of Internal Medicine
More Annals of Internal Medicine vaccination content.
Clinical & Public Policy
COVID-19: An ACP Physician's Guide
This ACP-produced resource can be easily accessed on handheld devices and provides a clinical overview of infection control and patient care guidance. A section dedicated to vaccination is now included. CME credit and MOC points available.
COVID-19 Vaccine Practice Management
COVID-19 Vaccination Advocacy
COVID-19 Education Toolkits and Materials
Resources to help educate and increase vaccine confidence and support community outreach are available through HHS's COVID-19 "We Can Do This" Public Education Campaign. Materials come in a variety of languages and formats, providing tailored information for at-risk groups.