You are here
Coronavirus Vaccine Resources
Coronavirus Vaccine Resources
These COVID-19 vaccination resources reflect ACP's guidance in the realms of clinical, public, and ethical policy, as well as educational materials and recent developments concerning COVID-19 vaccines and their distribution.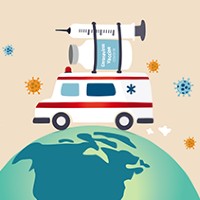 COVID-19 Vaccine Forum III
January 22, 2021, from 4:00 to 5:30 p.m. ET
Special members-only virtual live event being held: COVID-19 Vaccine Forum III—Allocation and Distribution: What Physicians Need to Know. Our panel of experts will provide practical information related to what physicians and other health care professionals need to know about the allocation and distribution of the COVID-19 vaccine.
Previous Vaccine Forums: Vaccine Forum II: Promoting Vaccination | Vaccine Forum I: What Physicians Need to Know

ACP Urges Ethical Allocation of COVID-19 Vaccines
ACP is concerned about the COVID-19 vaccine rollout and emphasizes that reaching the appropriate populations with COVID-19 vaccines has taken on even greater significance with recent daily death rates soaring in the U.S. and the arrival of a highly infectious variant of the virus. Published January 13, 2021.
Read more
ACP also recently made a statement on the provision, distribution, and payment of COVID-19 vaccines that addresses the role of physicians as vaccinators, informing physicians, clinicians, and the public about COVID-19 vaccines, the importance of communication and collaboration among physicians and other vaccinators to ensure patient safety and continuity of care, information technology issues, and reimbursement and billing. Published January 12, 2021.
Read more
Latest from Annals of Internal Medicine
More Annals of Internal Medicine vaccination content.
Clinical & Public Policy
COVID-19: An ACP Physician's Guide
This ACP-produced resource can be easily accessed on handheld devices and provides a clinical overview of infection control and patient care guidance. A section dedicated to vaccination is now included. CME credit and MOC points available.
COVID-19 Vaccine Coding
COVID-19 Vaccination Advocacy