---
---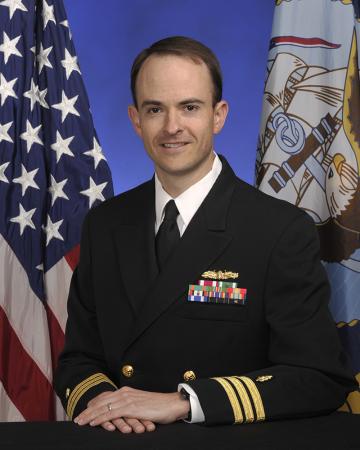 CDR Mark P Tschanz, DO, FACP, ACP Governor
---
Governor's Welcome
"…without a respectable Navy, Alas America!" (Captain John Paul Jones in 1776)
I had expected to send a newsletter commending our new Fellows, our associate poster presentations at the National Meeting, and the Walter Reed Navy ACP Doctors' Dilemma team for an outstanding performance at IM 2020 in Los Angles. How times have changed over the past two months! Conferences have been halted, military travel is frozen, many of our colleagues are deployed in CONUS (and OCONUS) assignments, and our focus both at work and in our daily life has shifted.
Not surprisingly, the United States Navy, the Internal Medicine community, and Navy Internal Medicine specifically has been at the center of the response to COVID-19 here and abroad.
Thank you to each of you for your incredible work in this pandemic – if behind the scenes planning, on the front line providing care, or deployed in support of the medical mission in our country. There are not enough internists in this country, so I appreciate that many of you are doing the work of many!
I think it has become apparent that life will not return to the "old" status quo anytime soon. Our jobs may never look the same as they did in January 2020. Virtual health has made more gains in the past 2 months than in the past 10 years. Many of you have been and will be instrumental in designing the new virtual health platforms for the Navy and DoD. Our hospital wards may not look the same – with any febrile patients quickly isolated and daily rounds conducted via virtual link. We have an entire cohort of residents and medical students who missed any entire quarter (or more) of their curriculum, who will be looking to make up lost time in future clinical experiences. Finally, we as a medical community have (again) learned many lessons about disaster response, our deployed platform strengths and weaknesses, and the value IM provides to the military medical system (what divestitures???).
As we transition into the sustainment phase of this pandemic, and watch for flares of virus around our world, I encourage you to remain engaged with ACP, review the regularly updated COVID-19 information, and share your experiences with the community. The Navy IM "Lessons Learned" from the pandemic response will be critical to our response to the next emergency.
Finally, to open and close with Captain John Paul Jones: "I have not yet begun to fight!"
Please be safe (wash hands!), get rest, watch out for your shipmates, and be prepared for the next wave of the fight! As always, please let me know how I, or ACP, can help you!
Very Respectfully,
Mark
CDR Mark P. Tschanz DO, MACM, FACP
Governor, Navy Chapter, American College of Physicians.
---
Save the Date
We are still planning an in-person meeting for the Tri-Service meeting in September. We will obviously be flexible and smart with our plans, and adjust as needed. We hope travel will be easier by September, and know that this meeting will be an ideal opportunity to share our tri-service lessons-learned from our pandemic response thus far.
2020 Tri-service ACP Scientific Meeting: San Antonio, TX
September 10-12, 2020
Pre-course (skills lab for the internist) on September 8-9, 2020
---
Call for Abstracts: First call for abstract competition!
Deadline: 01 June 2020!
The chapter is already accepting abstracts for the Tri-service meeting to be held in September. Please note – this is different than our usual timeline for abstracts! The call for abstracts with submission information and the online portal for submission is online.
---
Chapter Awards: First call for award submissions!
The chapter will begin accepting award nominations for 2020, to be awarded at the Tri-service meeting in September 2020. Please see the information below regarding the awards and nomination process. Past winners are listed on the chapter website.
Due by 30 June 2020. Please email your nomination letters to the Chair of the Chapter awards board, LCDR Matthew Russell.
Spark's Award: Awarded to the most outstanding Internist at a non-teaching MTF or Family Medicine training program.
VADM Nathan Young Leader's Award: Awarded to the top performing junior Internist at any MTF (LTs and LCDRs only).
Master Teacher Award: Awarded to a faculty member with at least 7 years of experience (at least 3 as IM training staff).
Volunteerism Award: Awarded to any Internist for consistent and/or extraordinary volunteer activities outside the military setting.
Captain Patricia V. Pepper Senior Leadership Award: Awarded annually to an outstanding female internist at the rank of Commander (O-5) or above who has proven herself to be an exceptional leader at her command and across Navy internal medicine; a mentor and educator for residents, medical students, and junior attending physicians; and, above all, a compassionate and dedicated advocate for her patients.
Laureate Award: The Laureate Award is presented to long-standing and loyal supporters of the College who have rendered distinguished service to their chapters and community and have upheld the high ideals and professional standards for which the American College of Physicians is known.
---
Congratulations to the chapter's newest fellows!
Please join me in congratulating all new FACP physicians in the Navy Chapter. I hope to see you all in 2021 to walk in the convocation ceremony!
LCDR Catherine Berjohn, MD, MPH, FACP
LCDR Daniel L. Bowers, MD, FACP
LCDR Wesley R. Campbell, MD, FACP
LCDR Christa A. Eickhoff, MD, FACP
LCDR Jeffrey Eickhoff, MD, FACP
LCDR Daniel K. Hodge Jr, MD, FACP
Dr. Ian A. Lang, DO, FACP
LCDR Joseph Lopreiato Jr, MD, FACP
LCDR Karen G. Zeman, MD, FACP
---
College Update
ACP Leadership Programs Available in Hospital Medicine or Primary Care
In partnership with the American Association for Physician Leadership, the ACP Leadership Academy offers a flexible, 18-month-long Certificate in Physician Leadership program with tracks in Hospital Medicine and Primary Care.
The program includes a combination of formal training through 46.5 hours of online coursework, online group discussions facilitated by leaders in internal medicine, and a capstone project that demonstrates successful mastery of leadership concepts.
Participants may apply online by May 1, 2020 to enroll in the cohorts that begin work in July 2020.
This program offers exclusive training by leadership experts and important career-building skills. In addition, ACP provides participants with access to a number of professional development and membership engagement opportunities.
If you have any questions, please contact us at lead@acponline.org.
---
FY2020 – 21 Dues Invoicing Update
Due to the COVID-19 pandemic, ACP has slightly altered its dues invoicing and renewal schedule for FY2020/21.
Originally, dues invoicing was to begin on March 17 with an email out to all dues paying members, followed by a print notification on April 9. Given current circumstances with COVID-19, ACP made the following decisions related to dues collections:
•Delay the first email notice from March 17 to March 31
•Delay the first print notice from April 9 to April 24
•Send a pre-dues email notice on Wednesday, March 24, letting members know that the College is prioritizing providing them with resources related to the COVID-19 pandemic
•Extend access to member benefits through September 30 instead of July 1
Starting on March 31, ACP began their usual dues invoicing schedule.
As this pandemic unfolds, ACP will be flexible and adjust dues communications plan as needed. Nonetheless, dues are a major revenue source for both the national and local ACP. ACP also believes that the work done at the national and local level to support the internal medicine community during this pandemic goes to the very core of their mission as a professional society and illustrates the value of being a member of ACP.
Please email Rebecca Moore at rmoore@acponline.org with any questions.
---
Wellbeing Resources
A number of online/virtual resources are available, and many are offered free for healthcare workers during this pandemic. I have tried a number of these, and while I cannot endorse any certain product, I do want you to be aware there are a number of resources out there!
Headspace: offered free to healthcare providers during this outbreak. A number of mindfulness resources available through an app.
ACP Wellbeing site: A number of webinars and other resources for physicians
VA Mindfulness Coach: App-based coaching on mindfulness techniques
---
Clinical Corner
What has been published recently that your residents know before you???
It seems all the clinical updates right now are COVID-19 related.
COVID-19 related topics:
If you haven't seen the latest version of the DoD COVID-19 Clinical Practice Guideline, I recommend you check it out! Visit the DHA website and search or scroll down the "DoD COVID-19 Practice Management Guide Version 2". I would recommend you link this page, as this is a living and frequently updated document. If you are deployed or shipboard and cannot download, please let me know and I will send it to you!
If you are not a critical care trained physician, it might be a good time to brush-up on your ICU medicine! Please consider working through some of the modules offer by the Society for Critical Care Medicine as a great refresher on ventilator management, pressor agents, and other critical care topics. In addition, make sure you attend the pre-course for the Tri-Service meeting to brush-up on your procedural skills!
Non-COVID-19 related topics:
Low Testosterone:
In an attempt to keep our Navy Endocrinologist happy, please see the recently published ACP Guidelines for Testosterone Treatment in Adult Men With Age-Related Low Testosterone. Only 2 recommendations to remember (actually 4, as there is a 1a, 1b, and 1c…)!
Recommendation 2: ACP suggests that clinicians not initiate testosterone treatment in men with age-related low testosterone to improve energy, vitality, physical function, or cognition (conditional recommendation; low-certainty evidence).
For those who regularly read guidelines, recognize that the word "suggest" means the evidence was thin. Please read the document for the full description of the evidence, overall the thin evidence showed very little to no benefit for the conditions described above.
VA/DoD Clinical Practice Guidelines:
Are you aware of these wonderful resources? Please save the hyperlink to the CPG website, and frequently check for updates!
Most recent update:
Diagnosis and Management of Hypertension (HTN) in Primary Care (2020)
Management of Chronic Kidney Disease (CKD) (2019)
Assessment and Management of Patients at Risk for Suicide (2019)
Coming soon! Update on Dyslipidemia, Obesity and Overweight, COPD, and Chronic Pain!